Anne Connell '10, Fulbright teaching assistantship recipient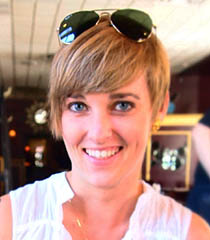 Anne Connell '10 has received an English Teaching Assistantship from the Fulbright U.S. Student Program. These grants support recipients in positions as teaching assistants abroad who work with local students on their English language skills and knowledge of the United States. As the same time, the teaching assistants pursue individual research.
Connell will teach in Germany. She feels a deep engagement with the work of breaching language barriers and exploring the circumstances of Germany's Turkish population.
This longtime student of German language and culture is ready to make the transition from visitor to social and cultural participant, and hopes that the Fulbright experience will enable her "to become an active, integrated and contributing member of a community in Germany."
Outside the classroom, Connell will continue exploring the intersections of race and women's healthcare policy in Germany, a topic she investigated for her 2009 senior politics thesis.
Leave a Reply
This is a forum for sharing your thoughts about the preceding post with the public. If you have a question for the author, please email the Bates Communications Office at communications@bates.edu.