Getting ready: Jim Taylor and the Bobcat equipment room
Jim Taylor has been Bates' head equipment manager for 14 years. He runs the show at Merrill Gymnasium and Underhill Arena, headquarters in the fall for football, women's soccer, and men's and women's cross country. His assistant, Dave Haefele, handles men's soccer, field hockey and volleyball at Alumni Gym.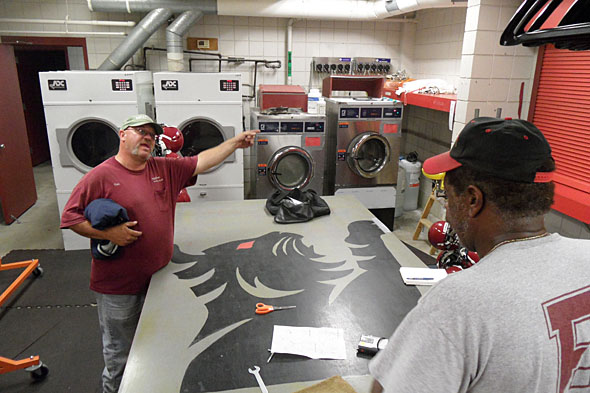 It's a bittersweet time of year for Taylor. He's got the locker rooms perfectly organized: players' names written old-school style on athletic tape atop lockers and equipment neatly organized inside. Even the football helmets are freshly buffed. Everything was ready for this week's first practices.
"Get a good look now," Taylor tells a visitor. "It's not going to look like this for long."
In 1914, Bates paid the Lewiston Steam Dye House all of $16.90 to clean the football uniforms and $7.12 to a local cobbler George Bartlett to repair shoes. Today, repairing and cleaning athletic gear – and keeping track of it — is still the core of Taylor's work. Which is why the towels issued to athletes are a really, really ugly shade of green — a towel color that you'd choose to wipe down your deck furniture. "At a conference, I learned that ugly green towels don't disappear as often as white ones," Taylor says. "And it's true."
As always, Taylor has student help when the bags of laundry come tumbling into the equipment room after practices. "If you're not used to it, it can feel overwhelming," Taylor says. "I usually go back to my office so I don't have to look at it coming in."
Students and laundry don't always make a clean fit. Taylor recalls talking to a student, who was with her mother, about a campus job in the equipment room. "The student says, 'Sure, I can do laundry,' and her mother just bursts out laughing and can't stop."
Leave a Reply
This is a forum for sharing your thoughts about the preceding post with the public. If you have a question for the author, please email the Bates Communications Office at communications@bates.edu.