Orientation is a way to make yourself at home
Orientation 2011 started out wet, but the rain was giving way to clearer skies and a gentle warmth as Josh Quint '14 moved into a ground-floor double in Parker Hall.
It took only about 15 minutes for Josh and his parents, Colleen Quint '86 and Bill Hiss '66, to haul Josh's stuff into the room.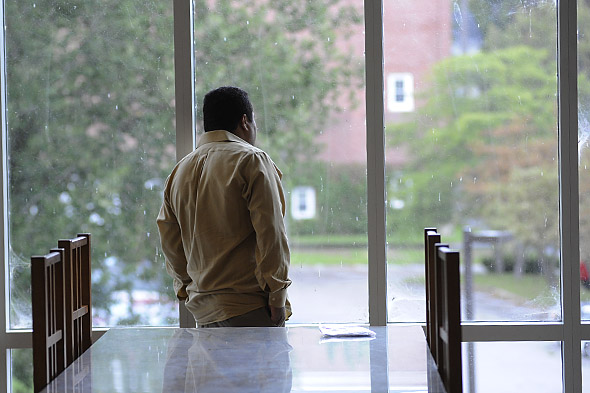 This despite the fact that the back of the family's SUV had been full nearly to the top: several shrink-wrapped flats of bottled water and soft drinks, paper towels, a laundry basket of clothing and linens, and myriad other belongings including a small stainless-steel refrigerator and a Keurig cartridge-style coffeemaker, still in its carton.
The family piled Josh's stuff on the bed. This was old hat for the 20-year-old Josh, who had taken his first year of college elsewhere and then spent two years in Washington, D.C. working for Maine Rep. Michael Michaud.
"I'm excited to be back here," said Josh, a tall sturdy guy with a friendly, open face. His father, now a senior leadership gifts officer at Bates, has had a long history in the college's administration. "I pretty much grew up on campus," said Josh.
The room in Parker seemed smaller to Josh than it had during a quick visit earlier in the week. The heaps of laundry in the middle of the floor between the two beds could have been a factor.
But the room "seems massive to me," said the laundry's owner, Quint's roommate, Matt Neal '14 of Indianapolis. He too was a transfer student, from a school back home. "It's like twice the size of my dorm room last year."
It's all a question of perspective. Looking back to 1962, Josh's dad said he had shown up on campus from New Jersey with two suitcases. "I certainly didn't have a coffee maker," mused Hiss. "I didn't have a refrigerator."
View Comments