Opening Day for the 520 members of the Class of 2026 dawned cloudy and rainy and ended sunny and warm. Nuff said! Here's how it went down, hour by hour.
8:10 a.m. Keep on truckin'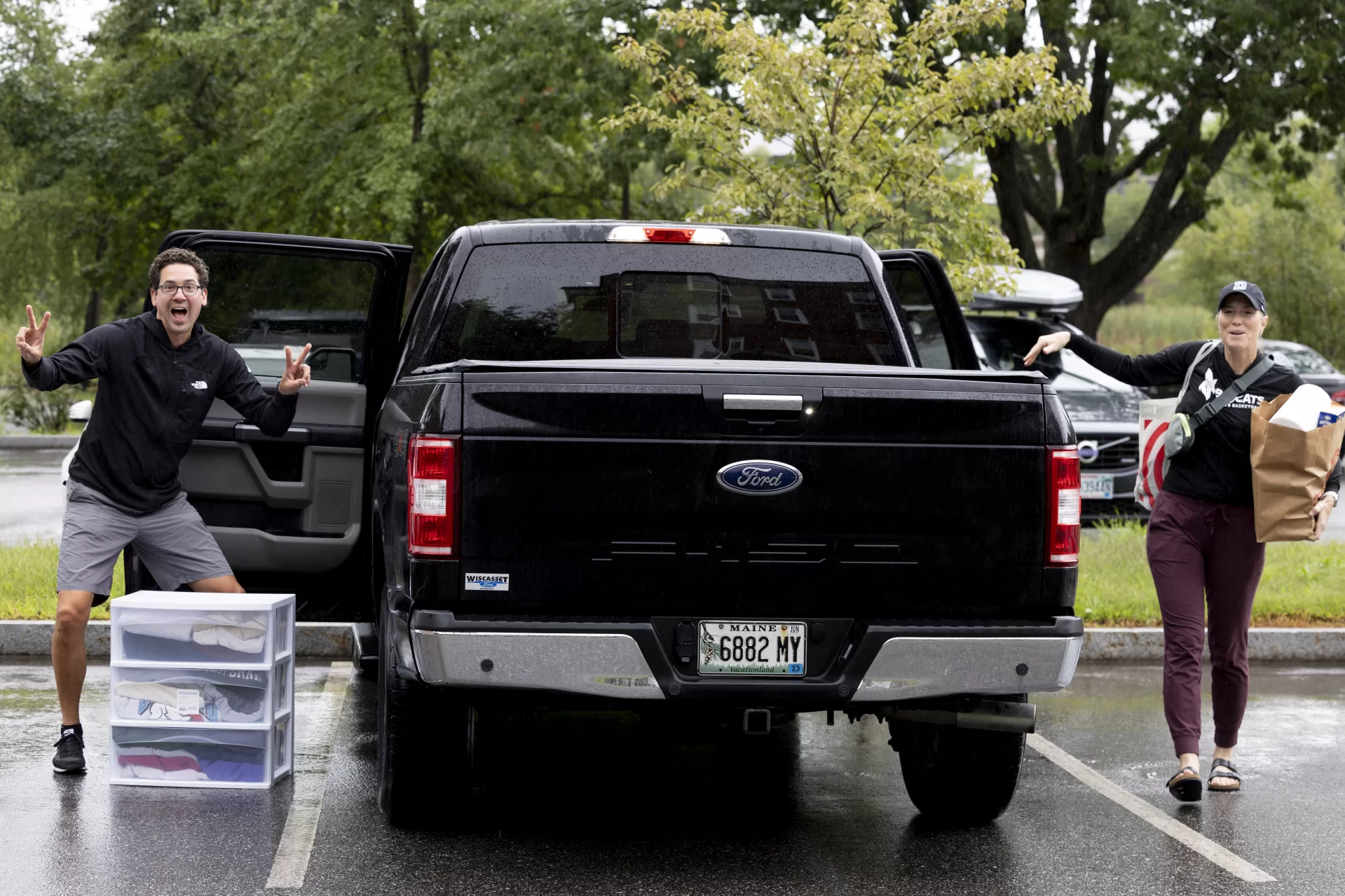 New Bates parents Kirk Daulerio and Adrienne Shibles '91 emerge from their pickup truck outside Lane Hall. Their daughter is Elsa Daulerio '26 of Harpswell, Maine. One of the all-time great Bates basketball players, Shibles is the head coach of the Dartmouth women's team.
8:27 a.m. Say cheese!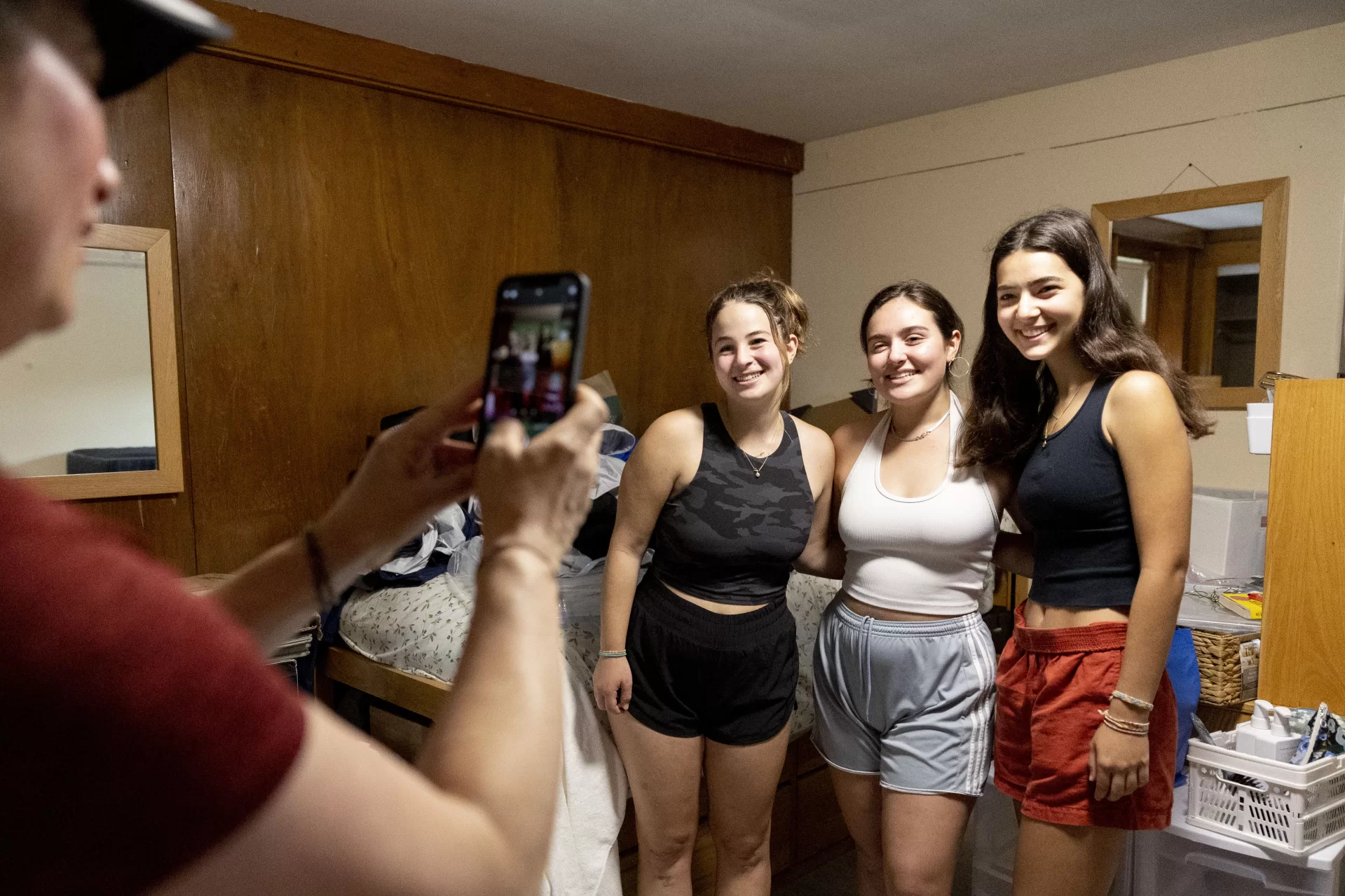 Don't forget to capture the moment! From left, Jill Einstein snaps a pic of her daughter, Amanda Yolles '26 of Bel Tiburon, Calif., and her roommates, Zara Ahmed of Burlington, Mass., and Maia Schifman of Minneapolis shortly after arriving in Room 404, a triple in Page Hall.
8:35 a.m. Fist-bump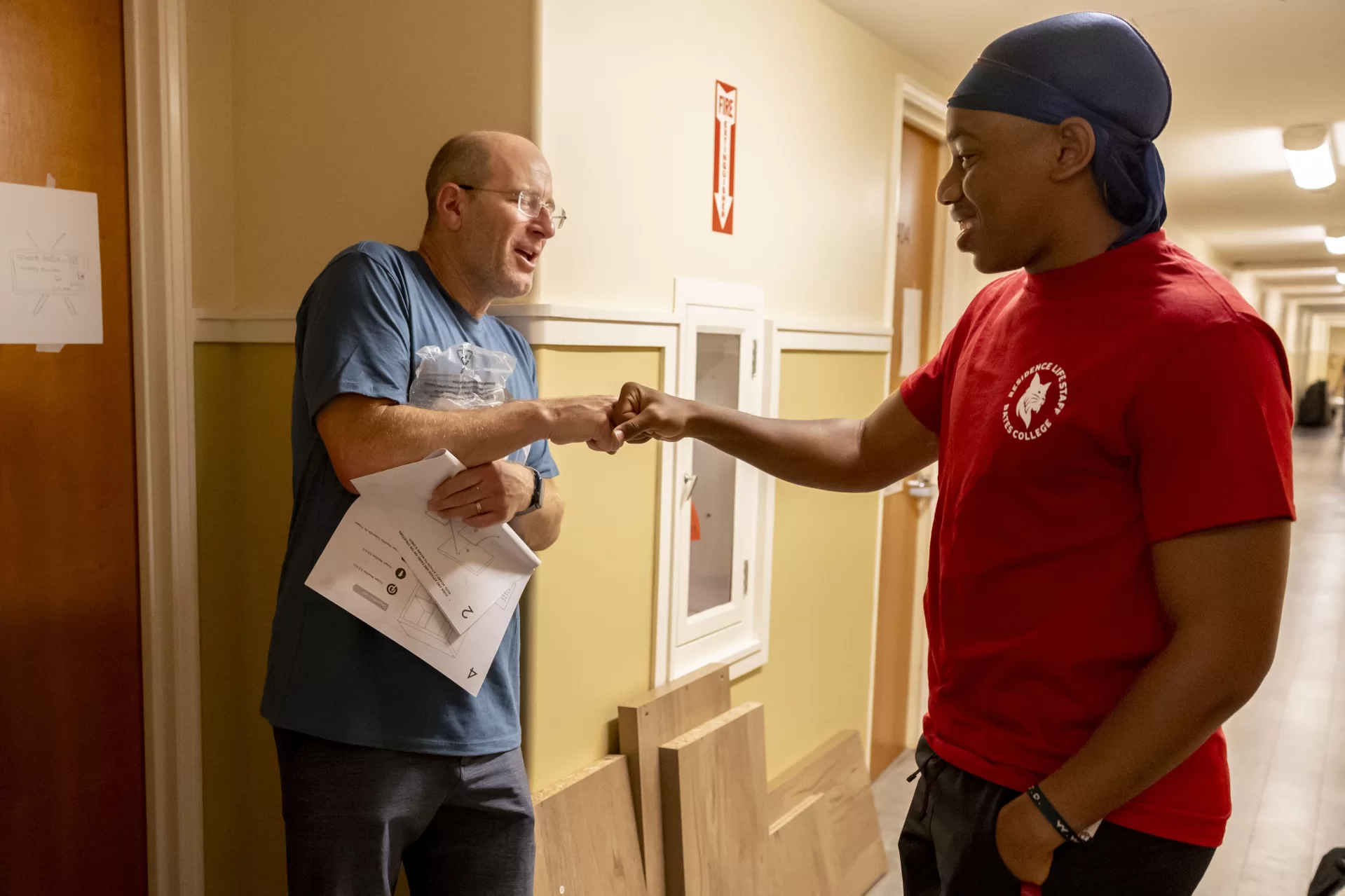 Out in the hall to assemble a storage unit, Peter Yolles P '26 fist bumps Jimmy Ndayikengurukiye '25 of Glendale, Ariz., who is helping out as a student member of the Residence Life team.
Nervousness, accomplishment, and a little relief echo with everyone. "I'm relieved, and also sort of excited, but like you want to throw up at the same time," says Kacie Lutz. She and her husband, Bob Lutz, are dropping off their daughter, Riley Lutz '26. They flew from Florida to Boston, then took off for Bates early in the morning for move-in.
9:03 a.m. Need a hand?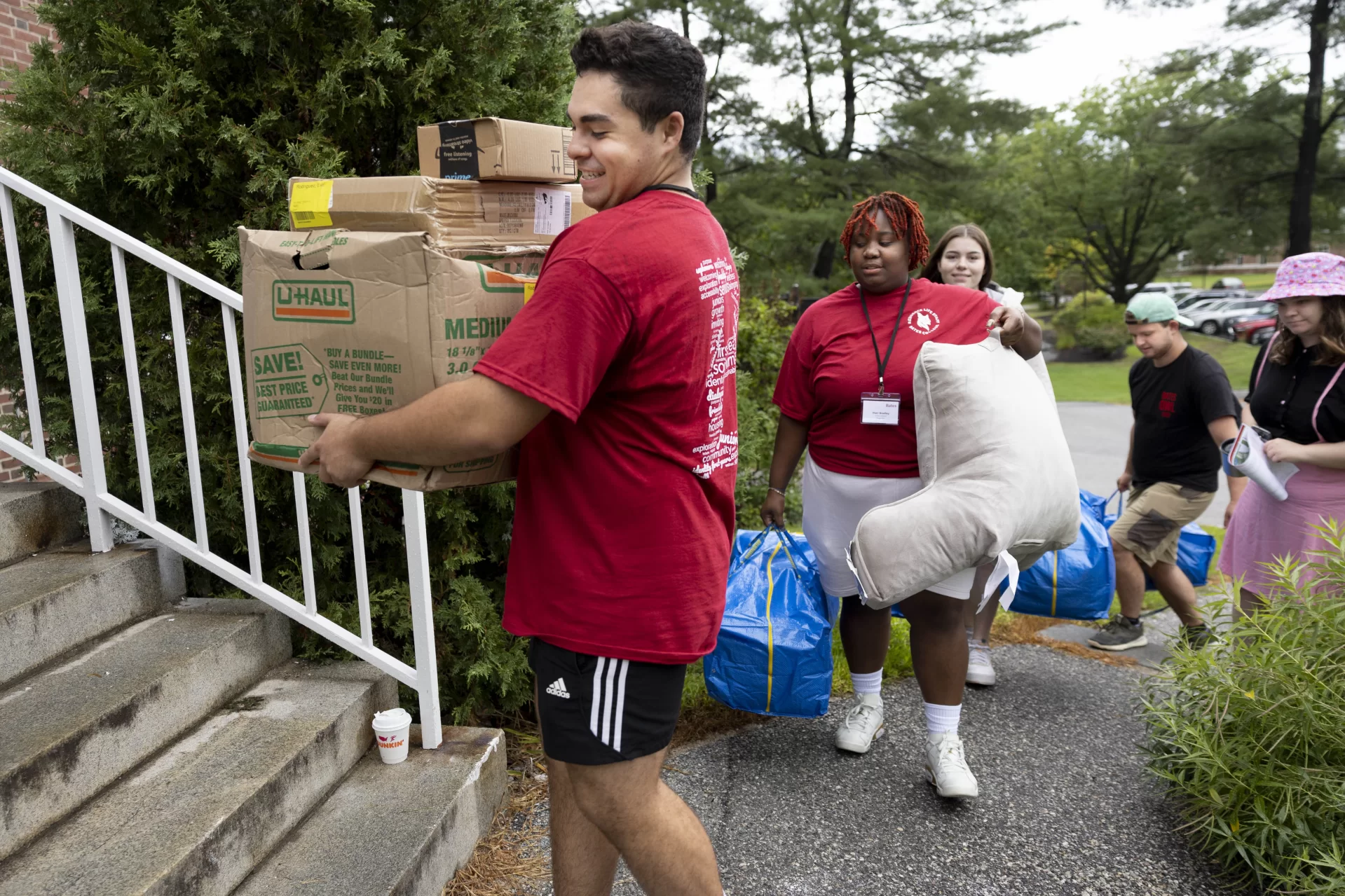 Marcos Pacheco Soto '24 of Santiago, Chile, and Starr Bradley '25 of Houston, carry first-year students' belongings into Page Hall.
The most common question being asked is, "Where do I park?" says Abby Ryan '21, an assistant dean of admission. "They're coming in spurts, but everyone's happy to be here." Upon arrival, students and their parents are surprised by how many people are willing to help, and how smooth the process is.
Students helping out on Opening Day come from far and wide. Some are Junior Advisors and Residence Coordinators. Others pitch in as needed throughout orientation as Orientation Week Leaders. Also on hand are student leaders of the outdoor trips, known as AESOP, that will begin in a few days. Plus members of Bobcat sports teams.
As cars arrive, the helpers swing into action with two key questions: "What room number?" and "Do you need any help?"
Soon, big appliance boxes are hoisted over shoulders, giant IKEA bags full to bursting are lugged inside, and trash cans full of anything but trash somehow make their way from car to room without many major spills.
"It just got busy," says Marianne Nolan Cowan '92, associate director of program design for the Center for Purposeful Work. She's helping direct the cars on Alumni Walk and keep things in some semblance of order.
One parent watches as the luggage is taken inside by helpers, and comments, "Maybe I'll finish my breakfast then," and then stands indecisively halfway in and halfway out of his Subaru Outback, tinfoil-wrapped breakfast sandwich in one hand.
Energy is high, and the tapering off of the rain is letting them catch their breath, and giving some space for some of the other emotions besides excitement. "There are a lot of smiles, and some tears," Ryan adds.
9:09 a.m. Group effort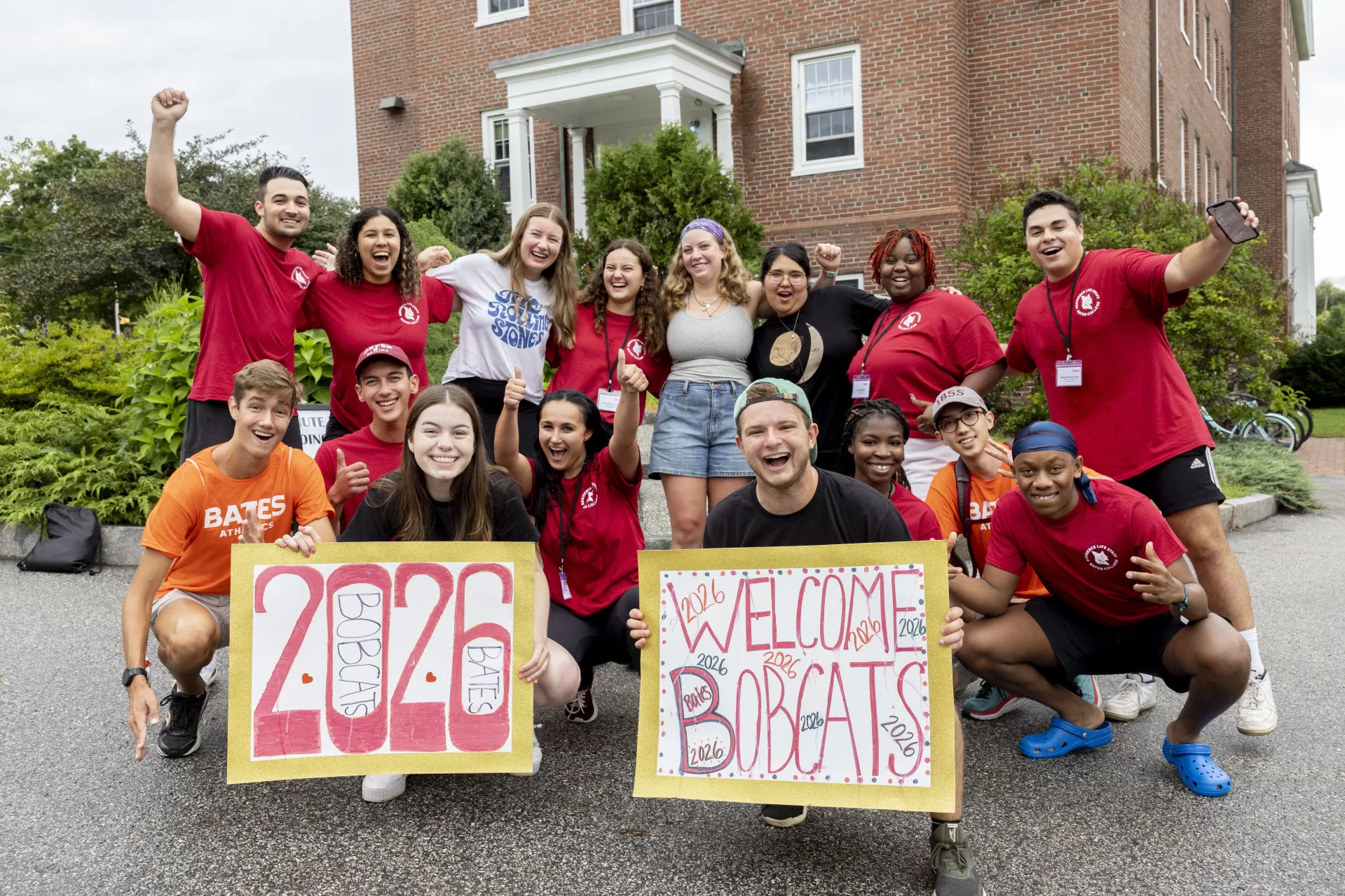 Page Hall's greeting team gathers outside for a mid-move portrait, after a rush of early students.
"We're almost done, really early. We had an 8 a.m. rush, but now it's calmed down," says Charlotte Gisborne '25 of Bishop's Stortford, England.
"We were all fighting over who gets to carry the pillows and blankets, and who gets a lower floor," they laugh.
Two standout moments: one family who packed entirely with IKEA bags, and the time a minifridge got stuck in the elevator.
9:17 a.m. Unlocking a new door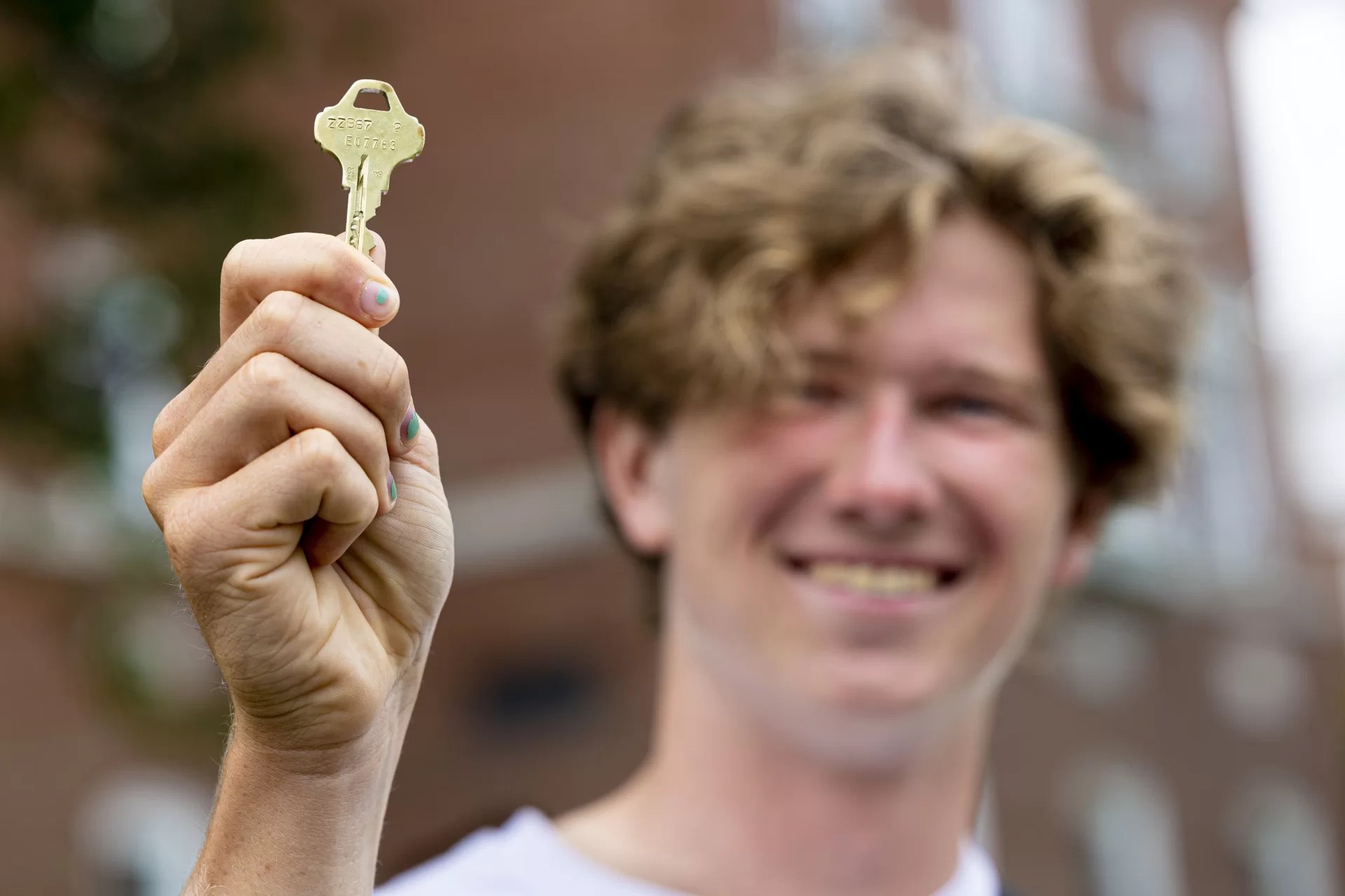 As cars are unloaded and rooms are filled, the new students are on their way back from Commons, where they have picked up their IDs, keys and other Bates gear. Kelly McKaige '26 of Seattle, Wash., holds up his newly-obtained room key, a vital addition to his key ring (and Bates-emblazoned lanyard).
Other goodies they grab are: a laundry card, a reusable mug, and a campus map.
9:27 a.m. Sign of the times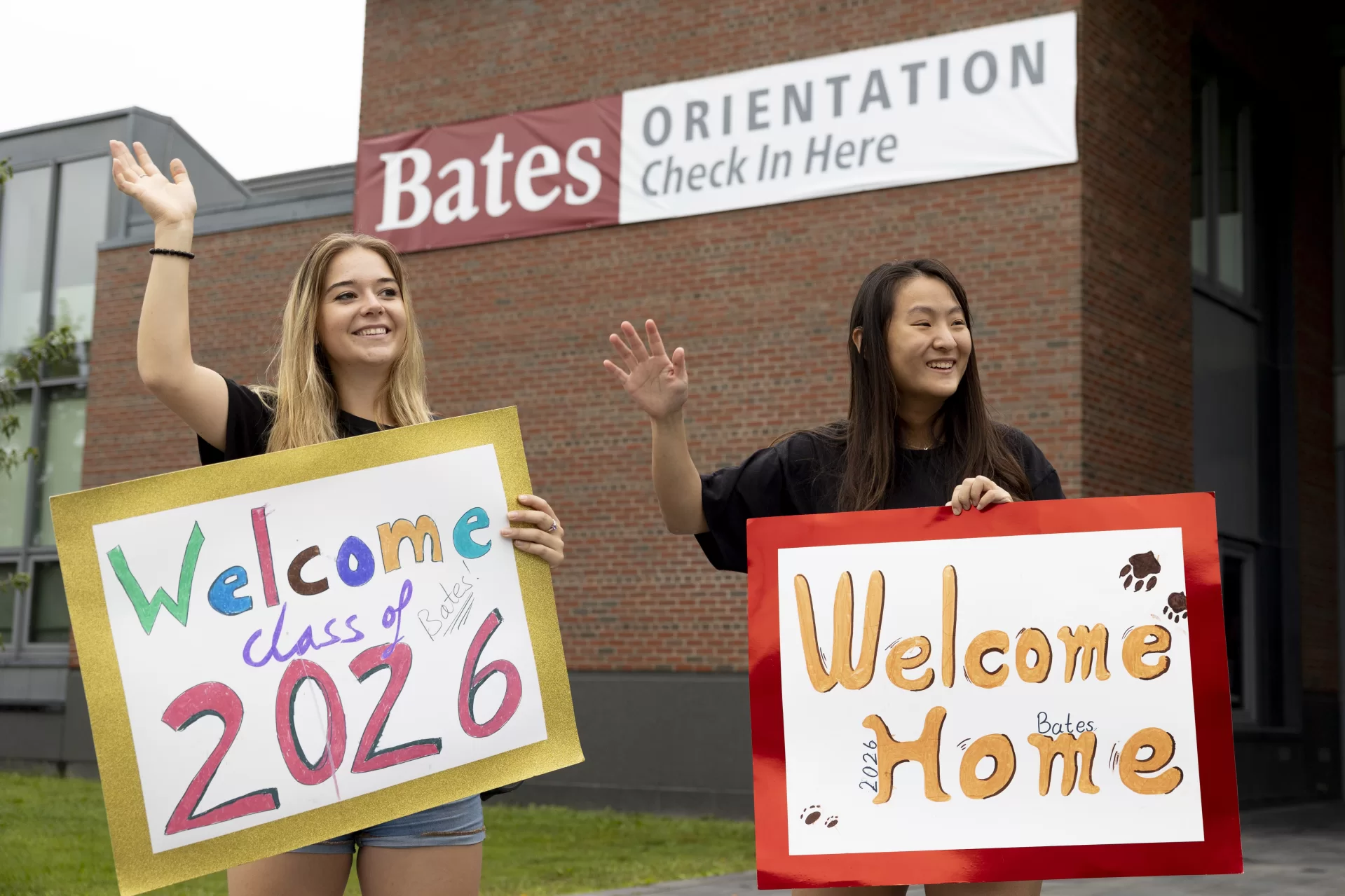 Handmade signs are the M.O. for the day, made at a pre-arrival party by the students who returned to campus early to help the new feel welcomed as they move in.
Linnea Selendy '23 (left) of New York City and Eva Wu '25 of Shenzhen, China, greet arriving students and their families as they pull up in their vehicles on the Alumni Walk side of Commons.
At Adams Hall, Alaina Rauf '25 of Yarmouth, Maine, welcomes cars with a sparkly, sticker-laden sign. "We all got together with the JAs and made signs earlier. I just finished this one. It was so fun! We had music, and Dunkin', and it was great."
Things are pretty calm at Adams Hall, "but it'll only get busier from here," Rauf laughs. There was a rush of arrivals, all fourth floor residents, so "we were carrying tons of mini fridges, and the elevators are being really slow today."
But at least the rain has stopped, since "weather affects the mood for sure," she says.
10:03 a.m. Athletic ability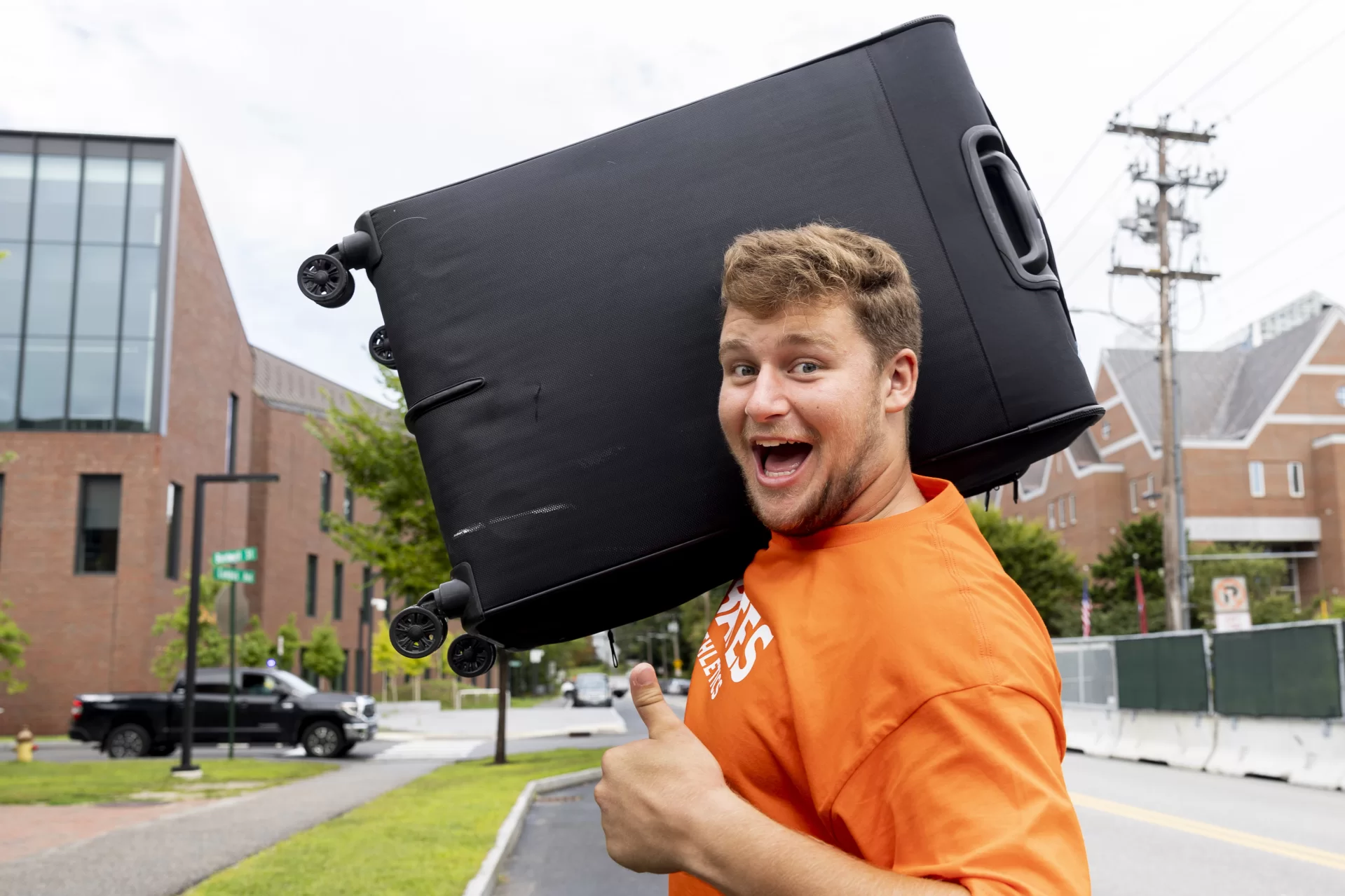 Moving in is a campus-wide effort, and everyone pitches in. After early-morning varsity practices conclude, even more Bobcats join the effort. "They're making everyone feel welcome," says Nina Carter, a junior adviser at Adams Hall.
Having finished football practice (he's an offensive lineman), Cole De Magistris '24, a double major in economics and rhetoric, film, and screen studies from Emerson, N.J., shoulders a suitcase into Kalperis Hall.
10:22 a.m. It takes a village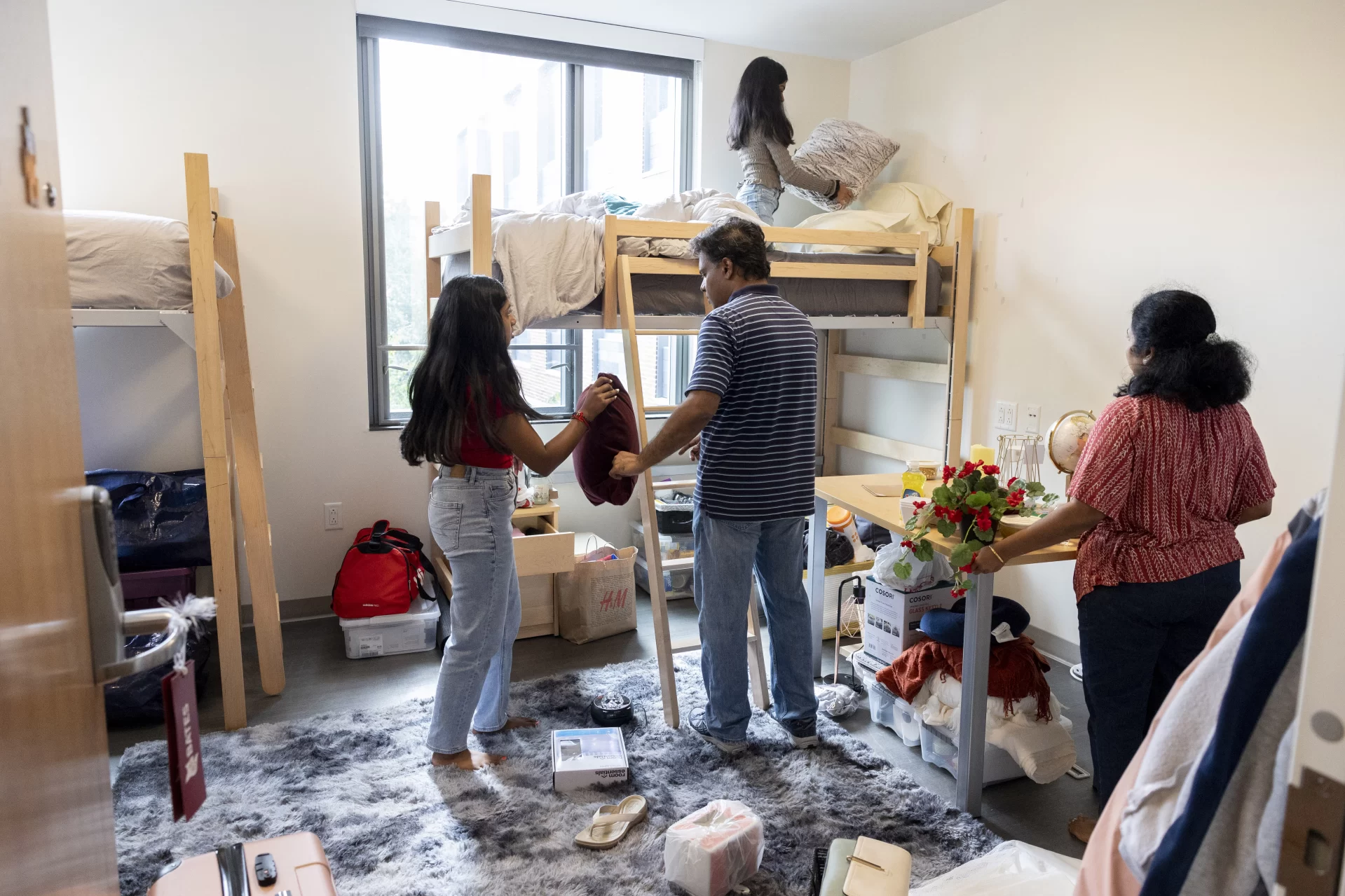 Rooms are a blank slate, and students are more than ready to make the spaces their own. Sreeni Kamal '26 of Tyngsboro, Mass., sets up her room in Chu Hall with the help of her sister Varsha Kamal, 11, and parents Kamal G. and Preetha Ponras.
Maddie Smith '26, from Freeport, Maine, came with her parents. "I'm excited to set up my room and decorate it. I was expecting it to rain and thunder all day, but it cleared up and I'm really thankful."
11:13 a.m. The presidential welcome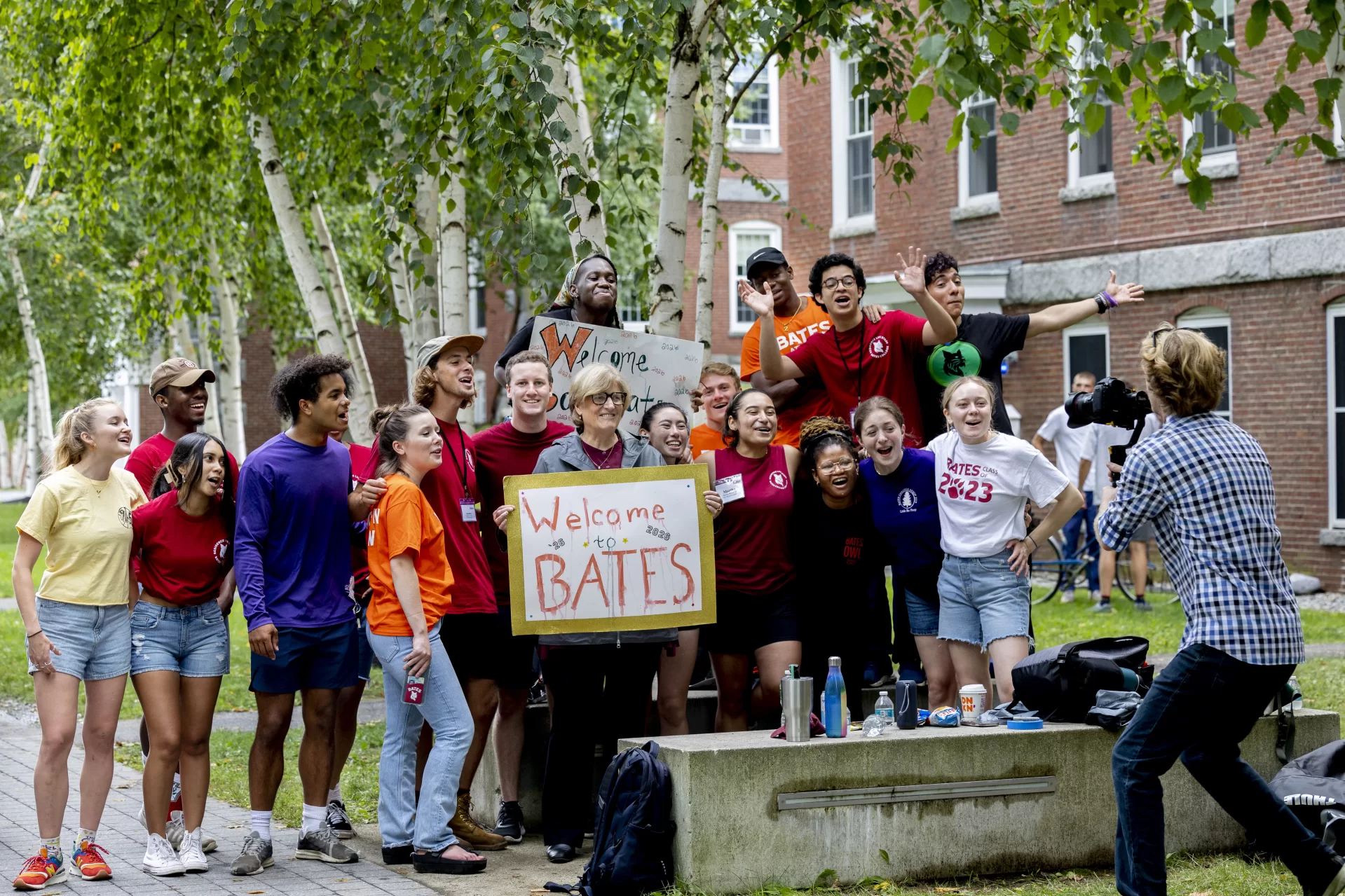 President Clayton Spencer takes a moment to pose with students outside Parker Hall during Move-In Day, as upbeat music pours from speakers.
Further down on Alumni Walk, the Bates welcome is loud and clear as a streamer-laden golf cart rolls by, two students yelling "Welcome to Bates!" along the way.
11:26 a.m. Hello, stranger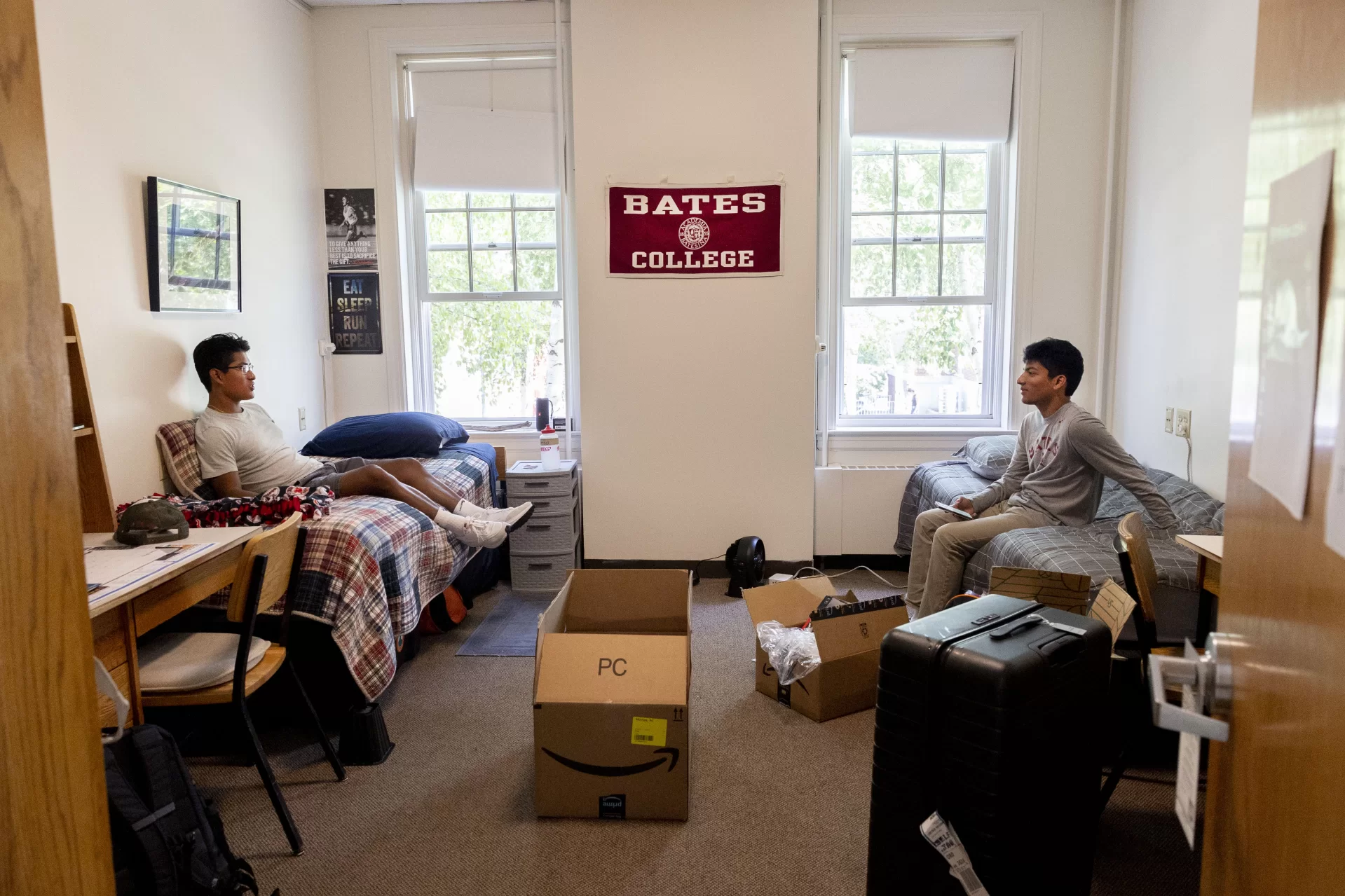 Two new roommates on either side of the room, with Bates at the center. Mario Ferra '26 of Manchester, N.H., Ali Minhas '26 of Palo Alto, Calif., will share this space in Parker Hall for the year.
11:32 a.m. Rolling out the welcome mat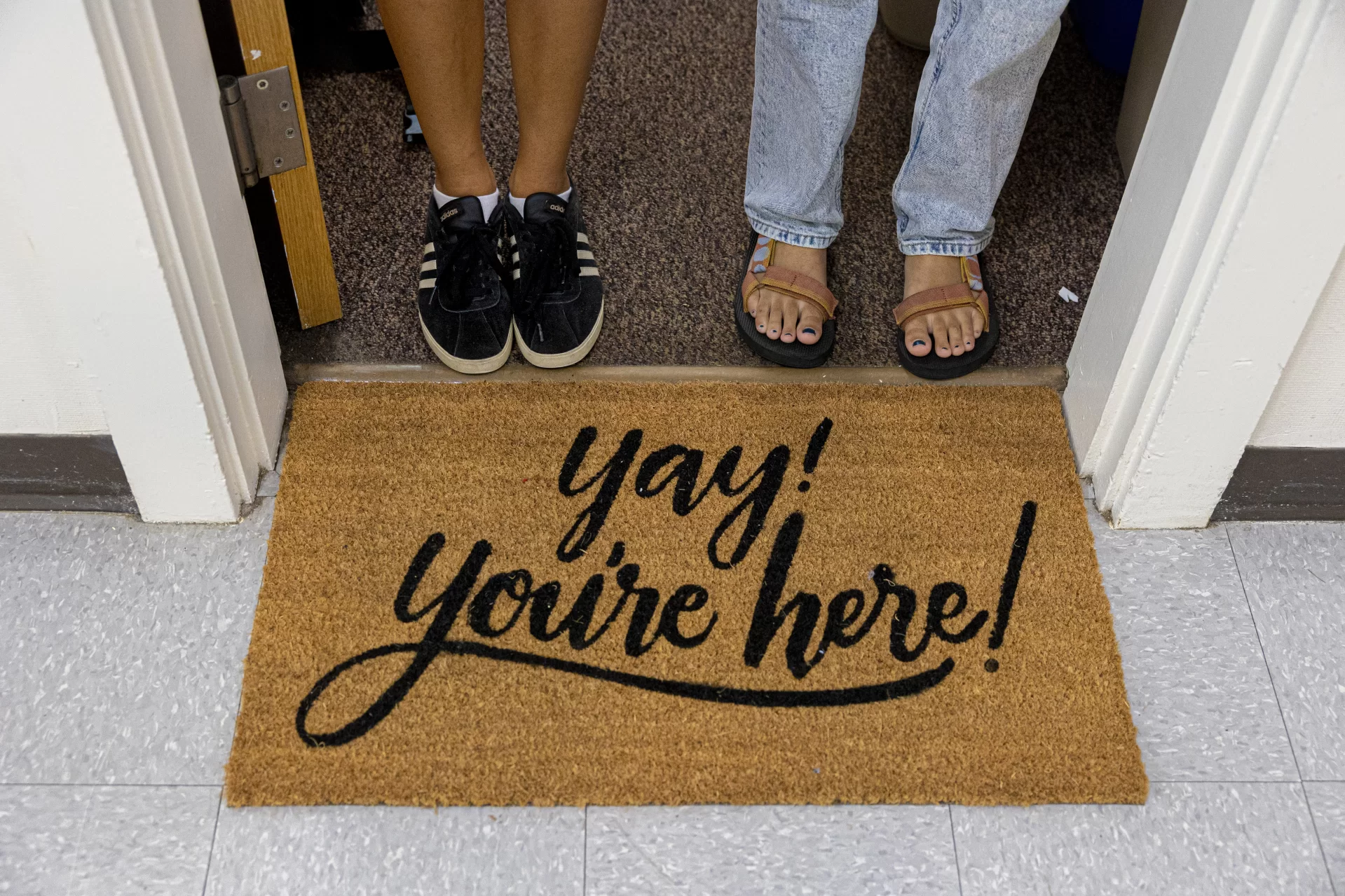 Trinity Poon '26 (whose feet are at left) of Sandwich, Mass., brought this welcome mat for the Parker Hall room she's sharing with her roommate, Tamrin Ghai '26 (whose feet at at right) of New York City.
11:35 a.m. Make way for deans!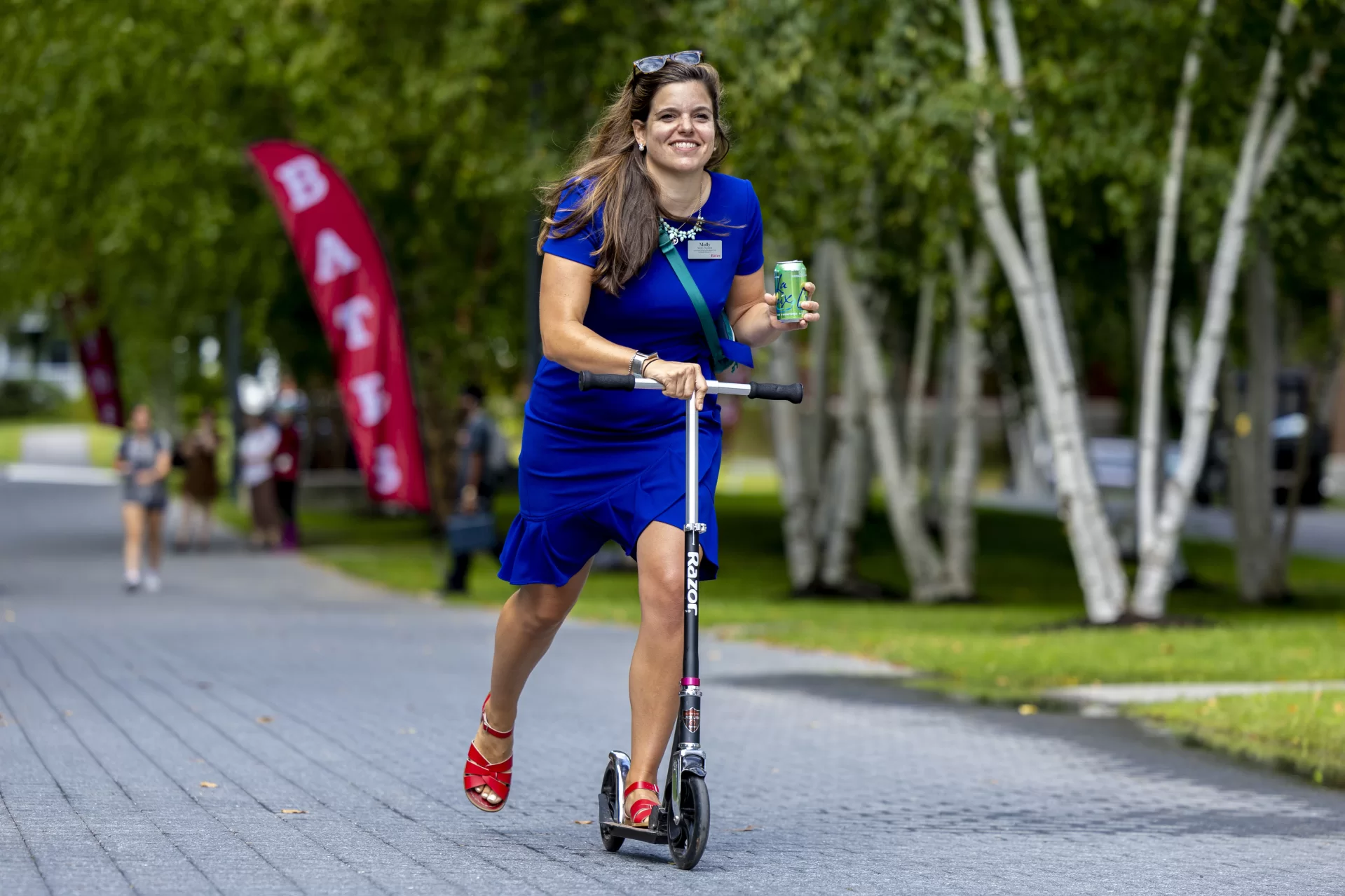 Associate Dean of Students for Residence Life and Health Education Molly Newton '11 rolls down Alumni Walk on a Razor scooter, her standard fair-weather mode of transportation around campus.
11:36 a.m. Heading to lunch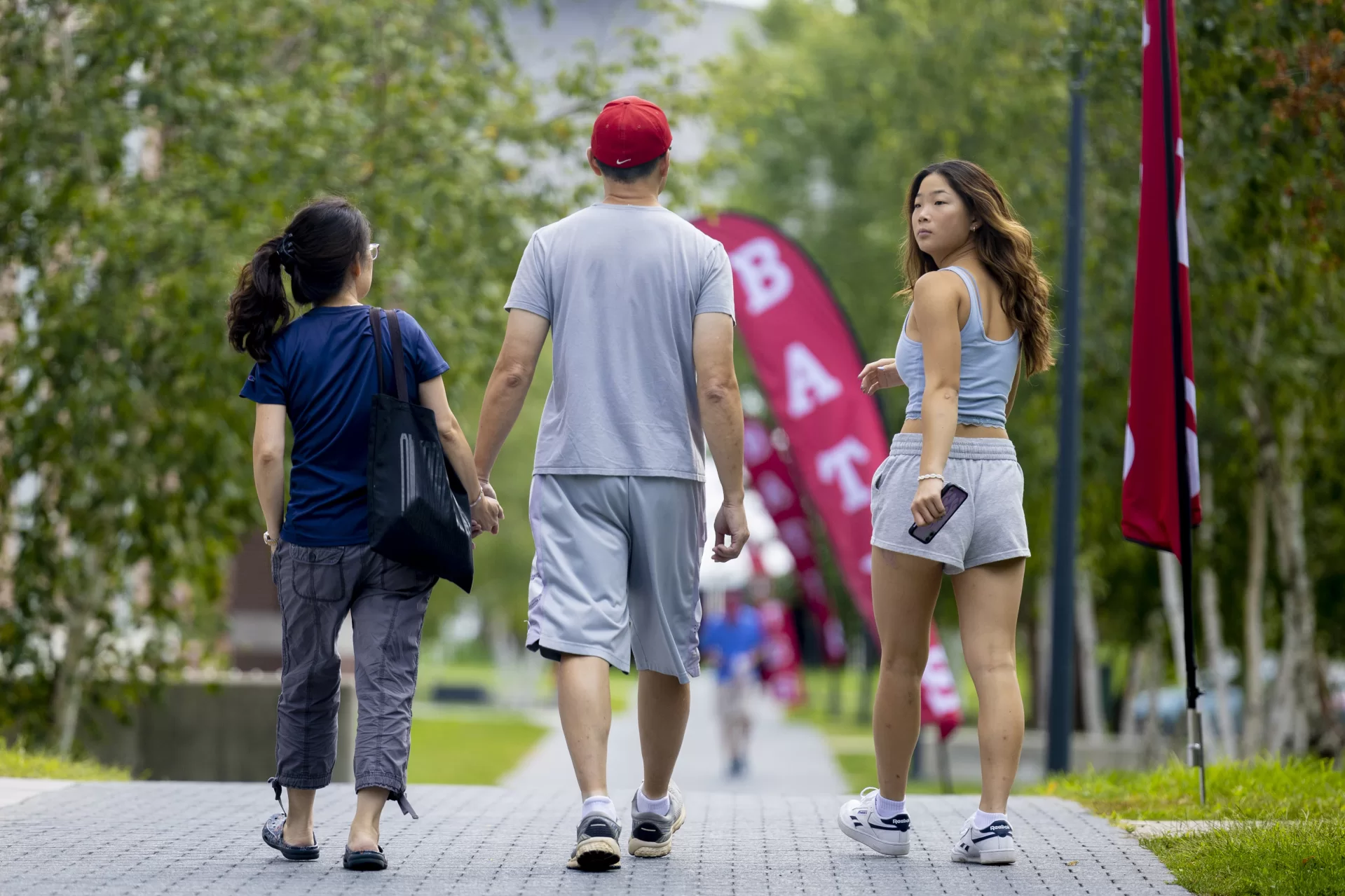 After moving in, a student takes a look at all that's new as she walks with her family down Alumni Walk toward Commons and a barbecue lunch.
But for at least one student, moving in was nothing new.
Sanae Hagino '26 of Newtown Square, Pa., arrived at Bates as a first-student last year, shortly after a severe ankle injury. Soon after arriving on campus, she decided to take a gap year. "That was a good idea," she says. "I feel ready now."
"So ready," echoes her mother, Grace Ashton, who is having the unique experience of dropping her child off for the first time, again. "We're so comfortable on campus already."
3:04 p.m. A spot of sunshine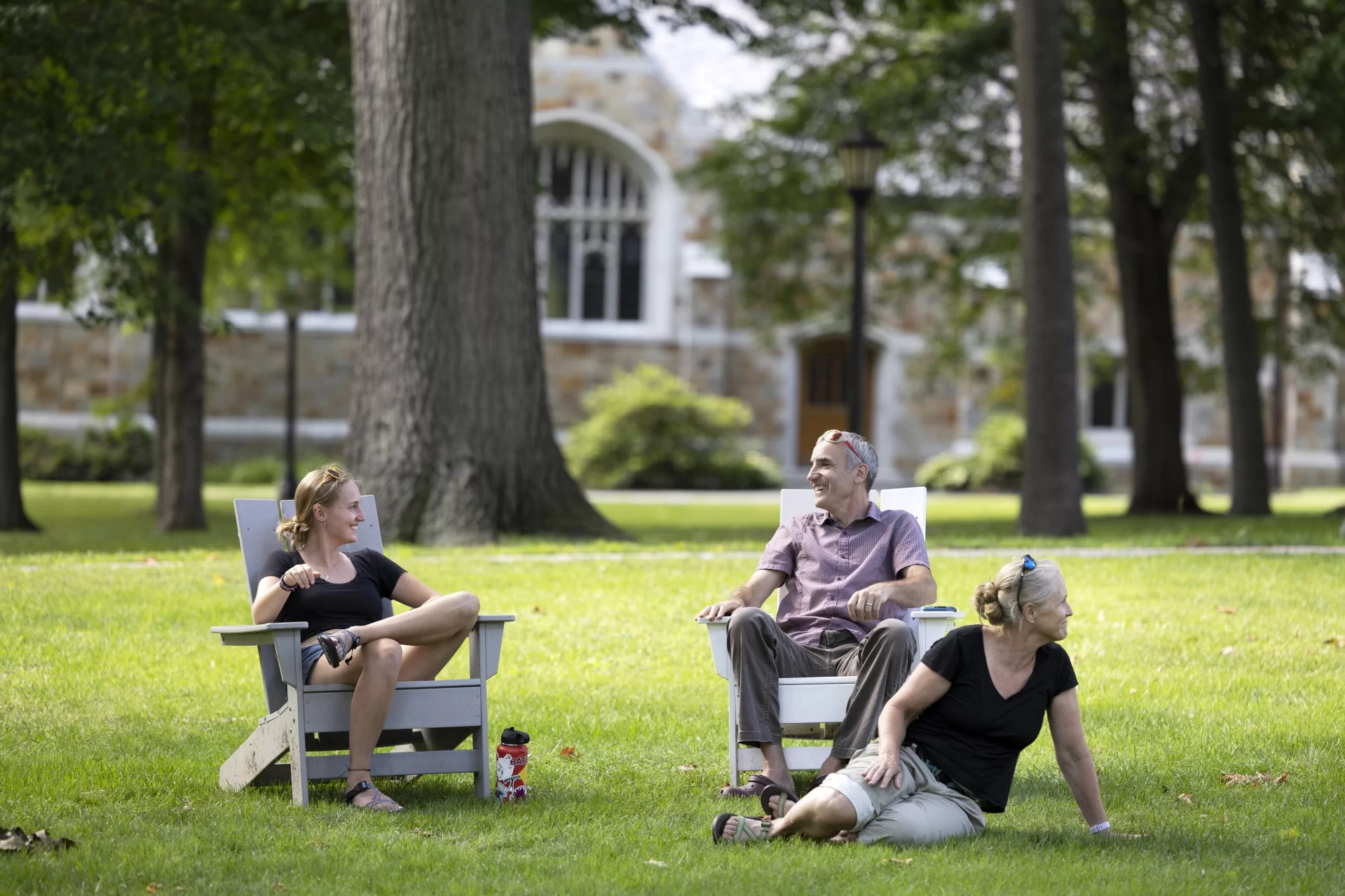 Following lunch (and maybe a nap?), families gathered on the Historic Quad for a welcome from President Spencer and Vice President for Enrollment and Dean of Admission and Financial Aid Leigh Weisenburger.
3:31 p.m. Welcoming Words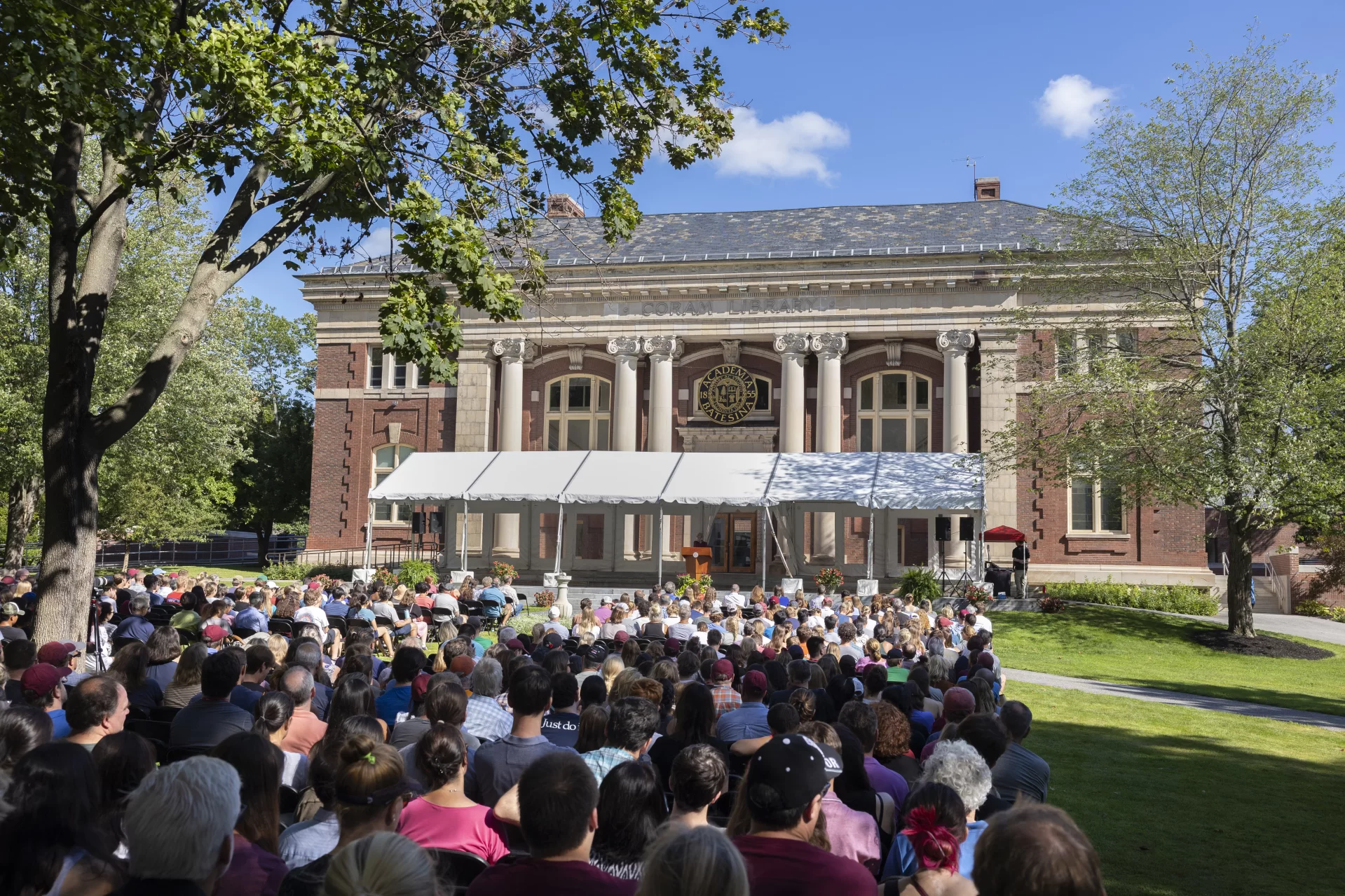 The morning showers gave way to a brilliant late-summer afternoon as Spencer and Weisenburger welcome everyone.
"A Bates liberal arts education prizes the relationship between knowledge and values," said Spencer. "The most important goal of a liberal arts education is not the accumulation of information and skills; rather it is meant to create the conditions under which you will become agents of your own destiny, possessing the knowledge, insights, and confidence to figure out what you want to do with your life and how your wish to move through the world. We are here to walk along with you on this journey."
3:43 p.m. A Hug for the Road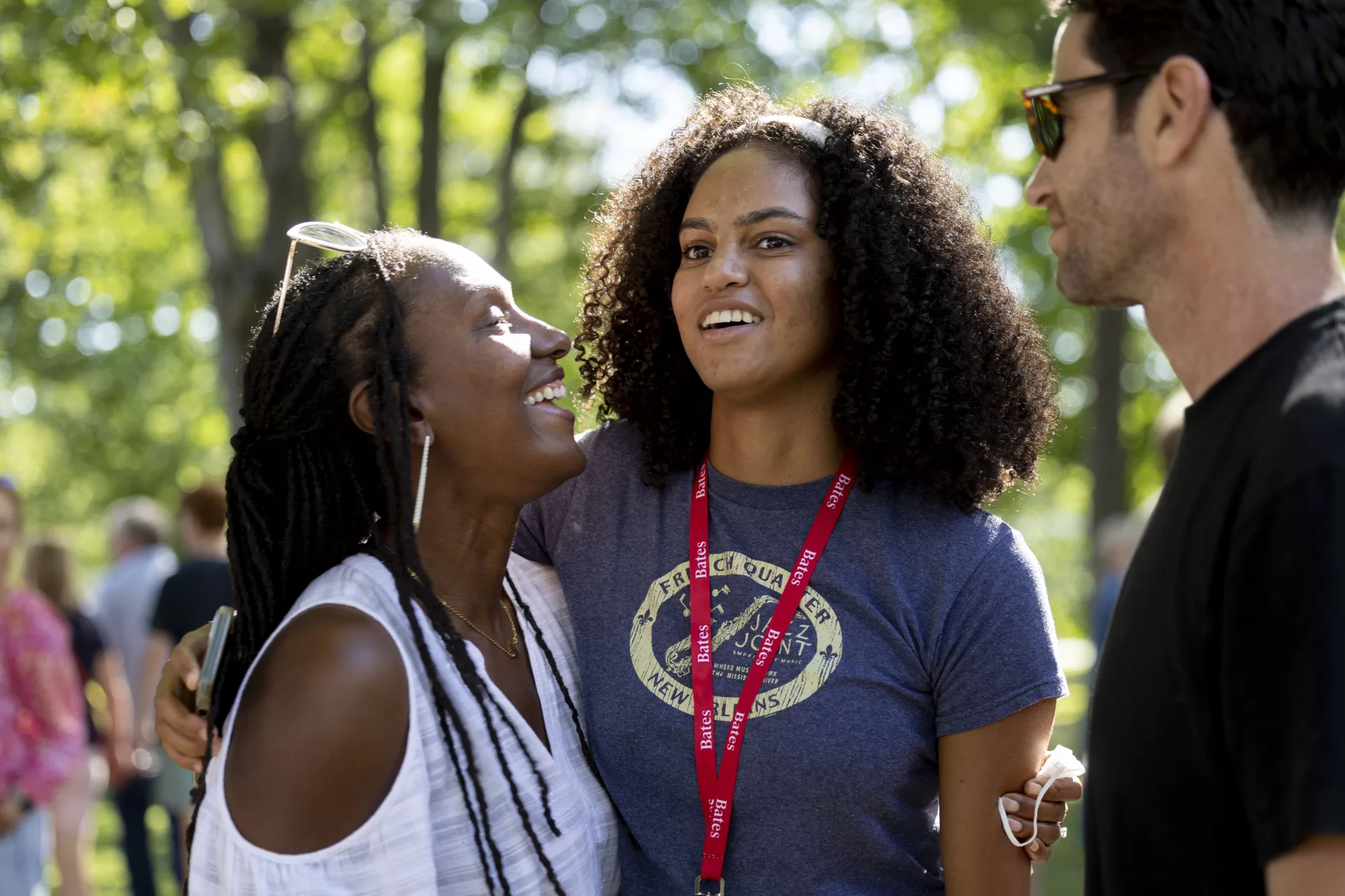 Then it was time for family goodbyes. Bella Saul '26 of Brooklyn says goodbye to parents Sophia Scantlebury and Jon Saul.
3:45 p.m. It runs in the family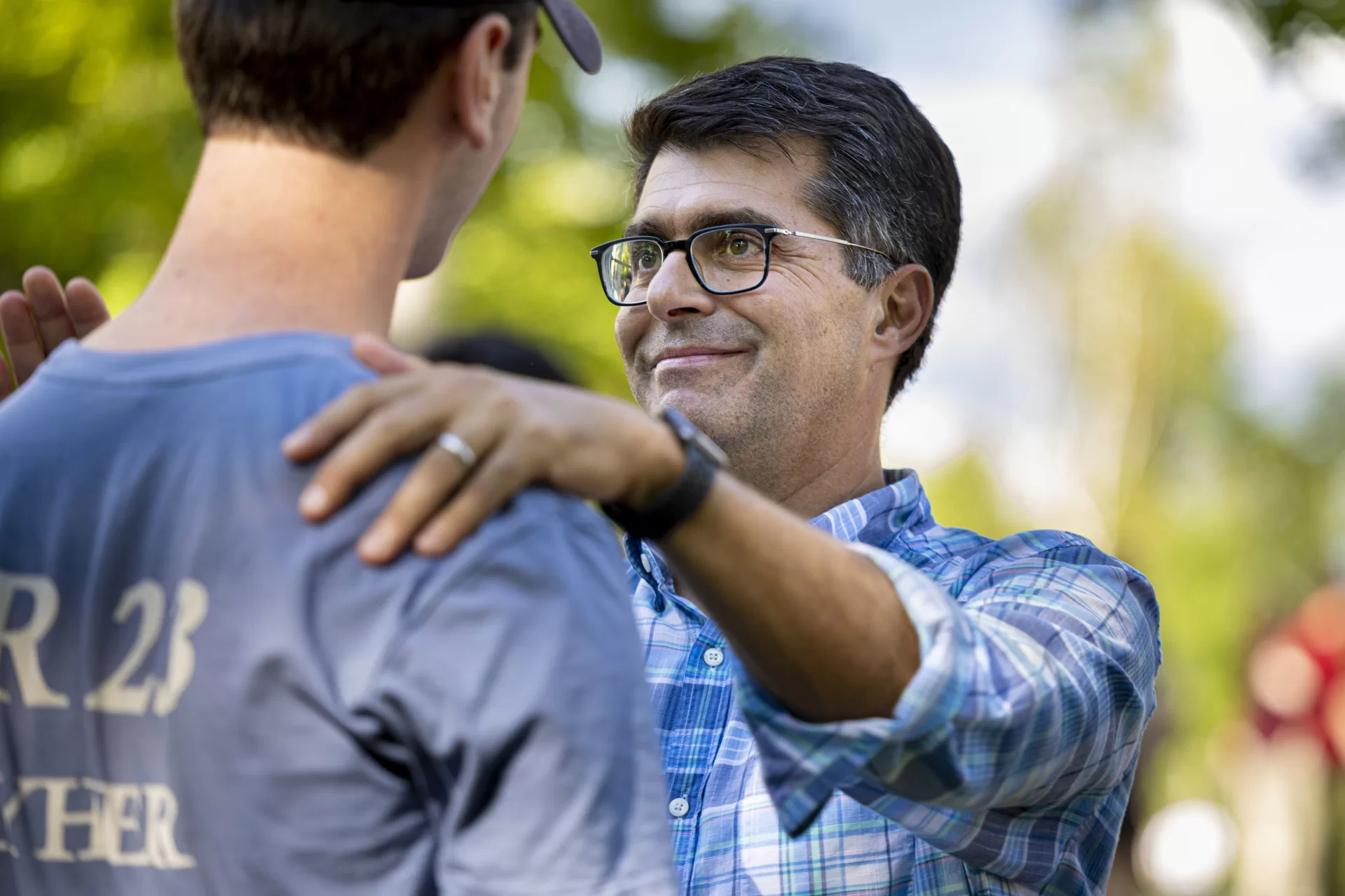 Goodbyes can involve extended Bates families. Here, Paul Scola says goodbye to his nephew, George Peacock '26. Nearby were George's parents, Brad Peacock '92 and Tracey O'Mara Peacock '94.
Scola's own first-year son, Sam '26 of San Mateo, Calif., was also close by as the families said their goodbyes. And, both Sam and George have Bates siblings.
View Comments