'Satisfying, challenging' poet launches Language Arts Live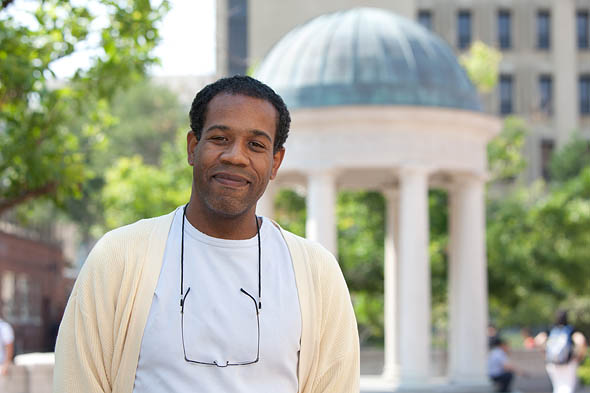 Gregory Pardlo, a poet whose prizewinning debut collection Totem explores what it means to shoulder the weight of cultural, racial and literary expectations, opens Bates College's 2011-12 Language Arts Live reading series at 7:30 p.m. Thursday, Sept. 22, in the Edmund S. Muskie Archives, 70 Campus Ave.
Open to the public at no cost, this literary reading series continues through the fall with appearances by Laura van den Berg, whose short-story collection was a Barnes & Noble "Discover Great New Writers" selection (Oct. 13); and veteran poet Sydney Lea (Nov. 17), whom author Michael Pollan called "as fine a companion on the page as American writing about nature has to offer."
The autumn installments in Language Arts Live all take place at 7:30 p.m. Thursdays in the Muskie Archives. The series is sponsored by the English department, the Humanities Fund, the Learning Associates Program and the John Tagliabue Poetry Fund. For more information, please contact 207-786-6256 or 207-784-0416, or rfarnswo@bates.edu.
Pardlo's book "just grew on me," says Language Arts Live coordinator Robert Farnsworth, himself a poet and a senior lecturer in English at Bates who chose Totem as required reading for an advanced poetry course in 2010.
Pardlo's work "is never self-regardingly cinematic, but offers undercurrents of wit and compact, emotionally informed thinking. It's satisfying and challenging," Farnsworth says.
In Totem (Copper Canyon Press, 2007), Pardlo's obsession is the role of the New World writer and his relationship to history, marginalization and the politics of representation. How does one defy a tradition that he loves? Pardlo's choice is to expand it, to take his cues from jazz musicians, those incorrigible reinventors and reshapers of meaning and expectation.
Totem won the 2007 APR/Honickman Prize. Pardlo also translated, from Danish, Niels Lyngsoe's Pencil of Rays and Spiked Mace (Bookthug, 2004).
Born in Philadelphia in 1968, Pardlo is a graduate of Rutgers University. As an undergraduate, he managed his grandfather's small jazz club in nearby Pennsauken, N.J. He received a master's in fine arts from New York University as a New York Times Fellow in Poetry in 2001.
Pardlo is poetry book review editor of Callaloo, a literary and cultural journal of the African diaspora, and is assistant professor of creative writing at George Washington University. He lives in Washington, D.C., and Brooklyn.
View Comments