Local students participate in art outreach program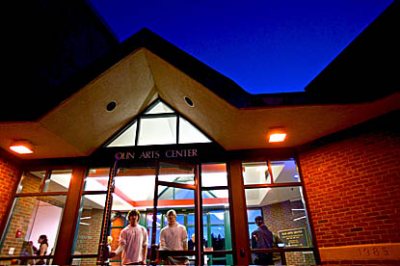 "Rollin' to Olin" is a new outreach program giving local schoolchildren a chance to experience music and visual art at the Olin Arts Center.
The program begins at 12:30 p.m. Wednesday, Nov. 2, with an hourlong session divided between a concert in the Olin Concert Hall and an art workshop presented by the college's Museum of Art. Students from Geiger Elementary and other local schools will be bused to the arts center, at 75 Russell St.
Additional sessions are scheduled for Nov. 9 and 16. A generous grant from Liberty Mutual pays for Geiger's transportation costs.
The concerts are open to the general public at no cost, taking the place of the Noonday Concerts in November. Because the students will visit three times that month, the performing musicians will represent a variety of styles and cultures.
The arts center is located at 75 Russell St. For more information, please call 207-786-6158.
"The inspiration for Rollin' to Olin came from Geiger Elementary teacher Carmen Dufresne," says Anthony Shostak, the museum's curator of education. She taught at Pettengill School, just a few blocks from the arts center, before that school was decommissioned.
"She walked her fourth-graders to Olin nearly every week for the Noonday Concerts," says Shostak. "The visits frequently also involved the museum, and it was always a great experience for everyone."
When Pettengill was decommissioned, students and staff moved to the new Geiger building — too far away to continue the walking visits to Bates. "Recreating the magic of those impromptu visits hasn't been easy," says Shostak.
"Liberty Mutual has generously given us the chance to show just how meaningful it is to connect schoolchildren with the performing and visual arts on a college campus."
Given the considerable cost of busing students to Olin, organizers are seeking additional sponsors to join Liberty Mutual in supporting Rollin' to Olin and enable the college to invite more schools to take part.
Museum intern Rebecca Rosen, a Bates sophomore from Newton, Mass., has worked with Shostak and Catherine Jones, the museum's education fellow, to develop the visual art component of the program. Rosen will be the presenter at the sessions. The featured topics include pre-Columbian ceramics and Japanese woodblock prints.
After their visit to campus, students will write about their experiences, connecting the program to their language arts curriculum.
The program comes as Bates is celebrating the 25th anniversary of the Olin Arts Center.
View Comments