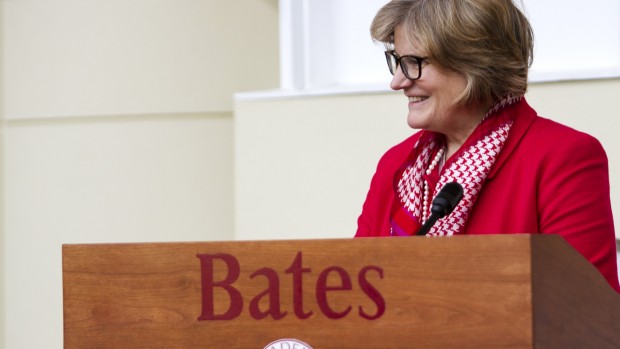 "We have ambitious goals for Bates, and I am inspired by this outpouring of support from the college community," said President Clayton Spencer.
Published on
Description

---

June 19, 2009
11:26 am

Hartford Courant columnist Jeff Jacobs talks to Phil Johnson '06 about his decision to leave the financial world of JP…

June 16, 2009
3:21 pm

Bates College's ninth annual Clean Sweep sale takes place from 8 a.m. to 3 p.m. Saturday, June 20, at the college's Underhill Arena, 145 Russell St.

May 22, 2009
2:50 pm

As students choose just one intensive course from a portfolio of offerings, Bates' Short Term is amenable to all kinds of academic experimentation. But one of its most desirable qualities is the precious time it affords for sustained concentration.

May 21, 2009
5:59 pm

This multimedia presentation features what has become a dynamic tradition at Bates: the annual Mount David Summit, held this year on April 3. An eagerly anticipated presentation of student scholarship, service-learning and creative work, the summit unfurls a panorama of the rich life of the student mind at Bates. Produced by Phyllis Graber Jensen.

May 21, 2009
4:38 pm

More than 280 students participated in the eighth Mount David Summit, Bates College's annual celebration of student academic achievement. In…

May 8, 2009
11:13 am

Bates College students spent a week of April encouraging Native American schoolchildren in Maine to picture themselves attending college in the state.

May 7, 2009
1:47 pm

Lisa Genova, a member of the Bates College class of 1992 whose self-published novel about a professor succumbing to early-onset…

May 4, 2009
10:44 am

By drawing on inspirational ancestors and marshaling its community, Bates moves forward.

May 1, 2009
12:20 pm

The Bates Swim Team offers the Bates Bobcat Swim Lesson Program to area children twice yearly, teaching skills and a love of water. Here Dany Aupi '12 demonstrates a stroke to his student in Tarbell Pool.

April 15, 2009
1:32 pm

Alexandre Dauge-Roth, an assistant professor of French at Bates College, is one of three Maine college professors to receive a 2009 Maine Campus Compact award for infusing public service and civic engagement into their teaching. Dauge-Roth will receive a Donald Harward Faculty Award for Service-Learning Excellence in the Maine Campus Compact's eighth annual faculty and student awards ceremony April 16 at the Maine State Museum.