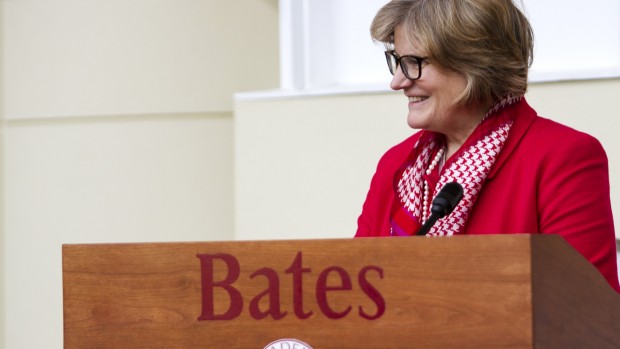 "We have ambitious goals for Bates, and I am inspired by this outpouring of support from the college community," said President Clayton Spencer.
Published on
Description

---

April 24, 2002
3:29 pm

The third annual Lewiston High School Science Fair takes place from 3 to 5:30 p.m. Thursday, May 9 in the high school gymnasium, 156 East Ave. Presented in partnership with the Bates College Center for Service-Learning, the fair features nearly 450 projects created during the school year by students in grades 9 through 12.

April 4, 2002
3:21 pm

Bates College invites residents of Lewiston and Auburn to "Affirming Our Community," an Earth Day celebration starting at 4:30 p.m. Thursday, April 25, in the Clifton Daggett Gray Athletic Building, 130 Central Avenue.

February 26, 2002
4:21 pm

Bates College is looking to Maine teachers and school administrators, as well as the college's own students and faculty, to propose initiatives designed to improve education in mathematics and the sciences.

February 22, 2002
3:09 pm

Students from Lewiston Middle School exhibit their artworks in a variety of media in an annual exhibit at the Museum of Art. The exhibit opens with a reception from 6 to 8 p.m. Thursday, March 7, and runs through March 24.

February 21, 2002
8:38 am

Senior Trung Trong Huynh of Portland is one of three students named to receive the Maine Campus Compact's 2002 Student Heart and Soul Award for outstanding contributions in community service and service-learning.

December 14, 2001
9:34 am

Fourteen Bates College students have received Arthur Crafts Awards to assist them in developing and implementing service-learning projects.

December 4, 2001
3:46 pm

Under the direction of a Bates College junior and two Lewiston Middle School (LMS) teachers, a group of eighth graders will host a hands-on "Diversity Day" for 30 preschoolers Wednesday, Dec. 5, in the Lewiston Middle School Library.

November 2, 2001
3:13 pm

To assure that the valuable relationships forged between Bates College and the community endure and grow, a new Center for Community Partnerships has been created, Bates President Donald W. Harward announced Friday, Nov. 2.

September 14, 2001
3:42 pm

The American Red Cross will host a blood drive at Bates College from 1 to 8 p.m. Tuesday, Sept. 18, in the Clifton Daggett Gray Athletic Building.

August 21, 2001
2:45 pm

The presidents of 18 Maine institutions of higher education joined former Sen. George Mitchell on Sunday, Aug. 19, to publicly commit their colleges and universities to a deeper involvement in civic responsibility to their communities.