Student elected to statewide Republican leadership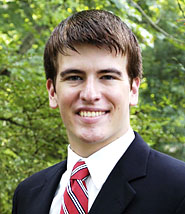 Nathaniel Walton '08, president of the Bates College Republicans, was elected state chairman of the Maine College Republicans on July 16.
Walton, of Marblehead, Mass., was unanimously elected by the statewide organization's executive board during a meeting in Bucksport. He succeeds Daniel Schuberth, a rising senior at Bowdoin College, who was elected national secretary of the College Republican National Committee in June.
"I am honored to lead the nation's finest state college Republican federation into what will surely be an exciting future for the Republican Party in Maine," Walton said. "We remain determined to continue energizing an interest in politics among young people in Maine and helping to elect Republican candidates to office at the local, state and national levels."
"I am proud to lead a team of officers who are committed to bringing conservative principles to college campuses and delivering great Republican victories in Maine in the months and years to come."
Walton previously served as communications director of the Maine College Republicans and was elected president of the Bates Republicans during his first year at the college. His accomplishments in the latter capacity include organizing a lecture by Weekly Standard editor William Kristol and introducing an "Academic Bill of Rights" passed by the Bates student government.
Active in student government at Bates, he became president of the Class of 2008 during his first year.
"I am pleased to see the Maine College Republicans look to Nate's proven leadership to ensure the continued success of their organization," said Maine Republican Party Chairman Randy Bumps, a member of the Bates class of 1995.
Boasting a membership of more than 2,000 students on 23 campuses, the Maine College Republicans gained earned national prominence last November when the organization was recognized as the "Best State Federation in America" for 2004 by the College Republican National Committee. The organization produces Maine's only statewide conservative student publication, The Pachyderm Press, and is the first state college Republican organization with a board of governors. Board members include Sens. Olympia Snowe and Susan Collins.
For more information on the Maine College Republicans, please visit the organization's Web site.
View Comments