National service day links Rebuilding Together, Bates volunteers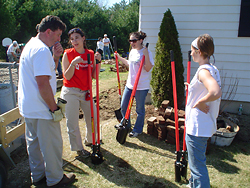 Two different service programs will bring more than 100 volunteer carpenters, painters, roofers and others together to refurbish two Lewiston homes on Saturday, April 30.
Saturday is both Bates College's National Day of Service and Rebuilding Together's annual National Rebuilding Day. The Bates program, new this year, will see some 200 Bates alumni, students and parents pitching in on service projects across the United States. Projects include building a home with Habitat for Humanity in Hartford, Conn., serving meals at a homeless shelter in Denver and stocking food pantries in Boston, Chicago and Washington, D.C.
"Service to the community is such an important part of a Bates education," said Beth Sheppard, associate director of Alumni and Parent Programs at Bates. "Each year our students contribute thousands of hours of service to the greater Lewiston-Auburn community. The National Day of Service is a great way for Bates alumni and parents to connect with one of the college's core values."
In Lewiston, the Bates crew of 65 will join 40 other volunteers from Banknorth, Countrywide Homes and Sisters of Charity Health Systems in repairing two homes in the Rebuilding Together effort. Rebuilding Together's mission is to preserve and revitalize houses and communities, assuring that low-income homeowners live in warmth, safety and independence. National Rebuilding Day will involve some 275,000 volunteers across the United States.
It's no coincidence that the two programs harmonize well. Rebuilding Together's Lewiston chapter was founded in 2002 by two Bates students, John Scott Johnson of Washington, D.C., and Rachel Booty, originally from Center Sandwich, N.H.
Booty, who graduated in 2004, remains in the Lewiston area, serves on the chapter's board and coordinates local volunteers. "Community service was an important part of my own Bates education," she said. "It is one of the core values of the college and I'm so proud that my fellow alumni are joining in this effort."
The Bates crew will work on a home at 91 Harold St. between 9 a.m. and 4 p.m. Participants range from members of the class of 1953 to high school seniors who will be entering Bates in the fall.
View Comments