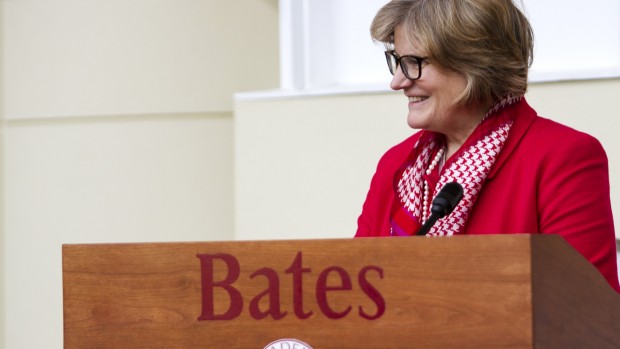 "We have ambitious goals for Bates, and I am inspired by this outpouring of support from the college community," said President Clayton Spencer.
Published on
Description

---

September 1, 2000
2:54 pm

The Maine Development Foundation (MDF) presented its 2000 Champion for Economic Growth Award to Bates College at the organization's 22nd annual meeting held in Lewiston on Sept. 12.

July 11, 2000
3:48 pm

Kari M. Jorgensen, formerly of Northfield, Minn., received a Fulbright scholarship to conduct research in Turkey on the transition of women's roles in Islamic mysticism and Turkish politics between the late Ottoman and early Republican periods. Jorgensen also will be studying Ottoman and modern Turkish.

June 13, 2000
1:50 pm

The Bates College Office of Admissions, with a grant from the Maine Humanities Council, will offer two Community Humanities Seminars for 30-40 intellectually curious and motivated high school students. The two groups, one based in Lewiston at Bates College and the other based in Paris, Maine, will meet one evening per week for five weeks.

May 26, 2000
2:07 pm

Eleven area residents will receive bachelor's degrees during Bates College's 134th commencement exercises Monday, May 29, in an outdoor ceremony on the main campus quadrangle.

May 26, 2000
1:58 pm

"Eloquent Objects: the Sense and Sensibilities of Still-Life Painting" will open the summer season at the Bates College Museum of Art at 7 p.m. Friday, June 9. The exhibition features 50 contemporary still-life paintings by 13 artists living or working in Maine. The public is invited to view the exhibition through Aug. 25, 2000, free of charge.

March 10, 2000
12:00 pm

Bates College senior Kirsten Walter of Los Gatos, Calif., has been chosen as a recipient of the 2000 national Campus Compact Howard R. Swearer Humanitarian Award and the 2000 Gleistman Foundation's Michael Schwerner Activist Award, both in recognition of the 1999 Hillview Community Garden project she developed in Lewiston.

January 11, 2000
3:31 pm

In an unusual cooperative effort between a private and public institution of higher education, the Bates College Center for Service Learning and the University of Southern Maine's Lewiston-Auburn College (LAC) share the services of an AmeriCorps*Volunteers In Service To America (VISTA) member.

January 10, 2000
3:06 pm

Philosopher, educator and minister William R. Jones will deliver the keynote address, "Beyond Hate Language: The Oppressor's Ploy or Pathology of the Oppressed?," for the 2000 Bates College Martin Luther King Day Jr. celebration.

November 22, 1999
12:00 am

Bates College students enrolled in "Public Opinion," an advanced-level seminar taught by Douglas Hodgkin, professor of political science, are investigating the Nezinscot River Dam for the town of Turner and a proposed middle school for the town of Sabbatus.

January 15, 1999
10:10 am

In celebration of the Rev. Martin Luther King Jr. holiday, the Bates College Center for Service-Learning and Lewiston-Auburn College will co-sponsor a "read-in" by faculty, staff and students for grades 2-6 at 9:15 a.m. and 1:15 p.m. Wednesday, Jan. 20, at the Longley Elementary School on Birch Street in Lewiston. In case school is cancelled due to snow, the read-in will be held Wednesday, Jan. 27.