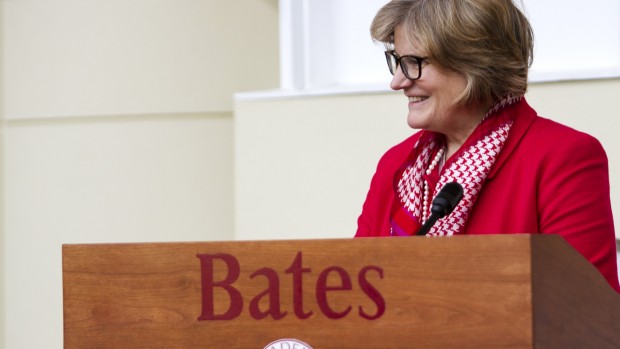 "We have ambitious goals for Bates, and I am inspired by this outpouring of support from the college community," said President Clayton Spencer.
Published on
Description

---

November 7, 2013
11:32 am

A forum on youth homelessness in Maine and a talk by a leading climate change activist take place a day apart in presentations at Bates College.

November 4, 2013
9:37 am

"Being in the classroom is something I always find immediately rewarding," says Bates physicist Travis Gould. "I feel like I'm making a difference for somebody."

November 1, 2013
10:38 am

"When you have talented teacher-scholars mentoring very bright, internationally oriented students, you get great results in the fellowship arena."

October 17, 2013
12:00 pm

Hillary Throckmorton '15 marshals community participation in the CBB Dempsey Challenge to secure a Bates victory.

October 16, 2013
3:44 pm

Monica Wood, author of a popular memoir about growing up in a small Maine town in the early 1960s, speaks at Bates on Oct. 28.

October 16, 2013
3:15 pm

Justice Albert Sachs, a key architect of South Africa's post-apartheid constitution, speaks at Bates Oct. 24.

October 16, 2013
3:06 pm

Sociologist Corey Dolgon discusses the challenges of activism in a neo-liberal society on Oct. 22.

September 9, 2013
4:04 pm

Jaed Coffin, whose first book chronicles his experience as a Buddhist monk in his mother's native Thailand, opens the Language Arts Live series Sept. 19.

September 9, 2013
2:33 pm

Images of Maine by famed 20th-century photographer Berenice Abbott and prints by Japanese artists known for pushing the boundaries of…

August 28, 2013
10:35 am

Megan Lubetkin '16 raised not only produce and livestock, but awareness of programs such as food shares for families in need and cooking classes for at-risk and refugee youth.