The month of June leaves spring behind. As summer arrives, we touch base with final academic outings and athletic contests, jump into Reunion, and welcome new visitors to campus. Take a look at a few scenes from This Month at Bates, and get ready for a review of July and August when we return in eight weeks. See you soon.
Cl'awesome!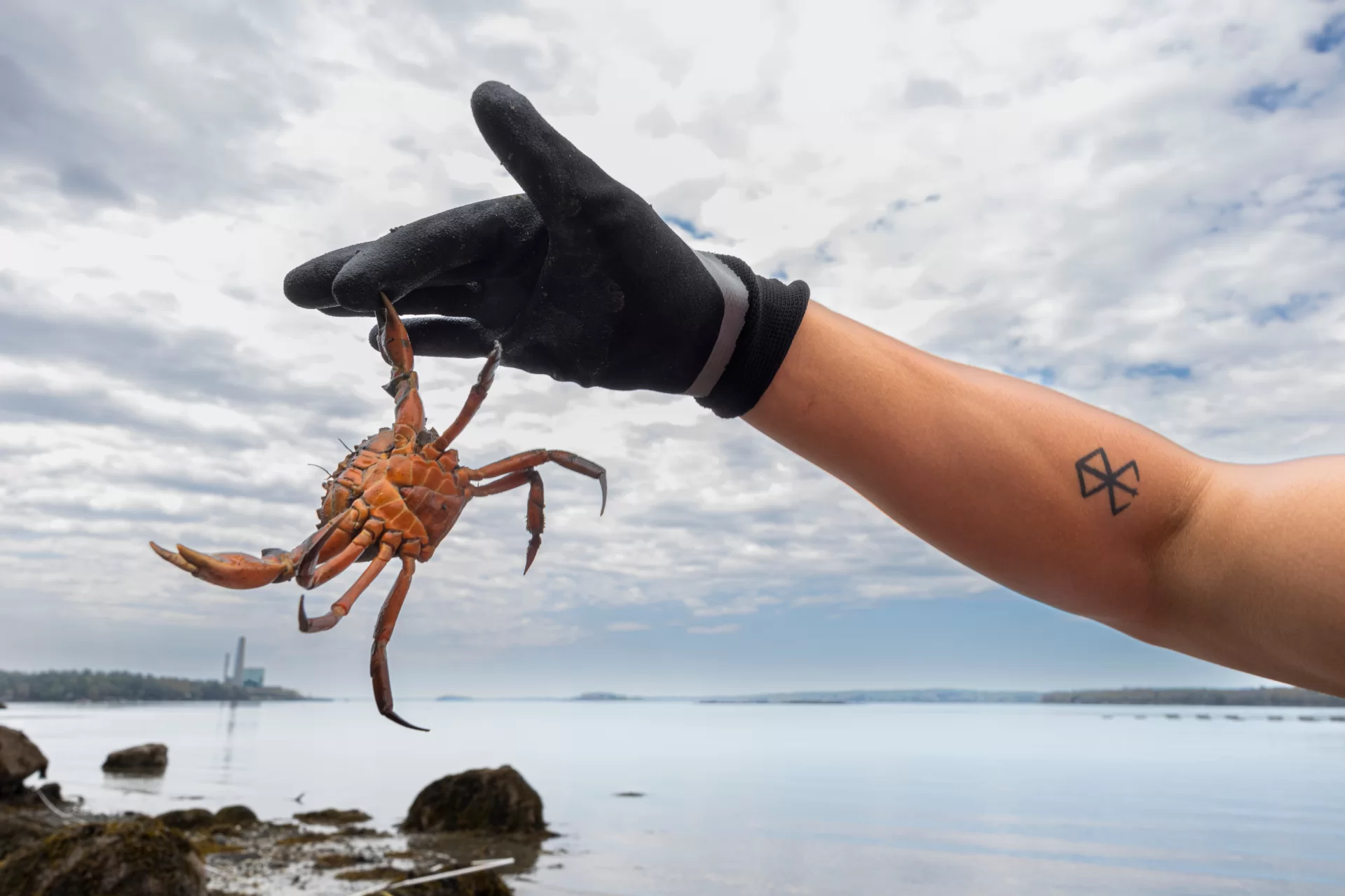 A European green crab dangles from the gloved finger of Wil Dewey '24 of Ithaca, N.Y. As part of the Short Term course "Biological Skills: Invasive Green Crab Inventory and Monitoring," taught by Lecturer in Biology Jesse Minor '02, Dewey and13 other students searched the shoreline of Sandy Point Beach in Yarmouth for the crabs, an invasive species linked to a decline in New England's soft-shell clam industry and the loss of salt marsh habitats. You can read more about their findings in our BatesNews story.
---
Bronzed and Buoyant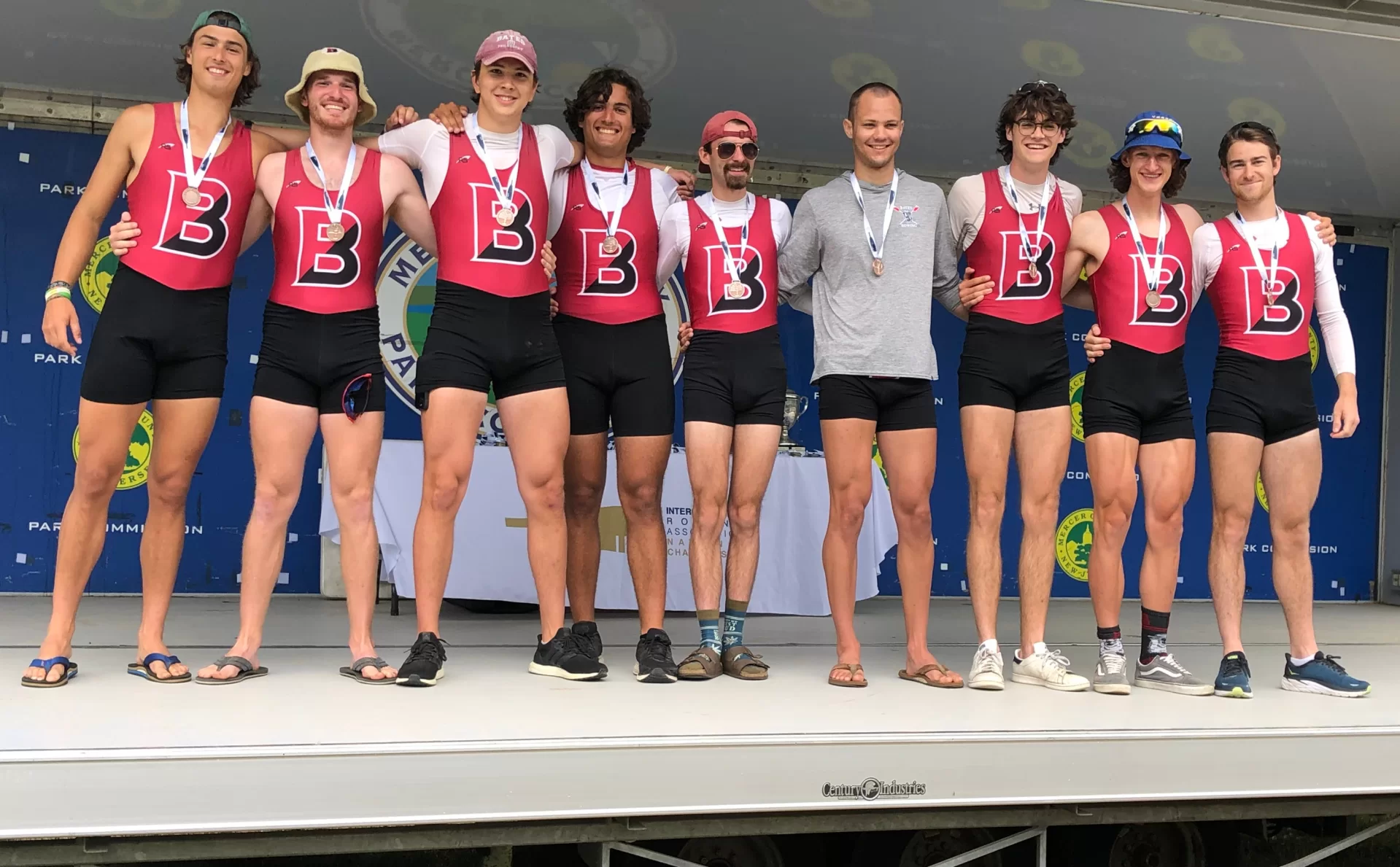 The Bates College men's rowing team's first varsity eight captured their first medal at the IRA National Championship in program history, taking third place in their grand final on Saturday, June 3, 2023.
---
Star Power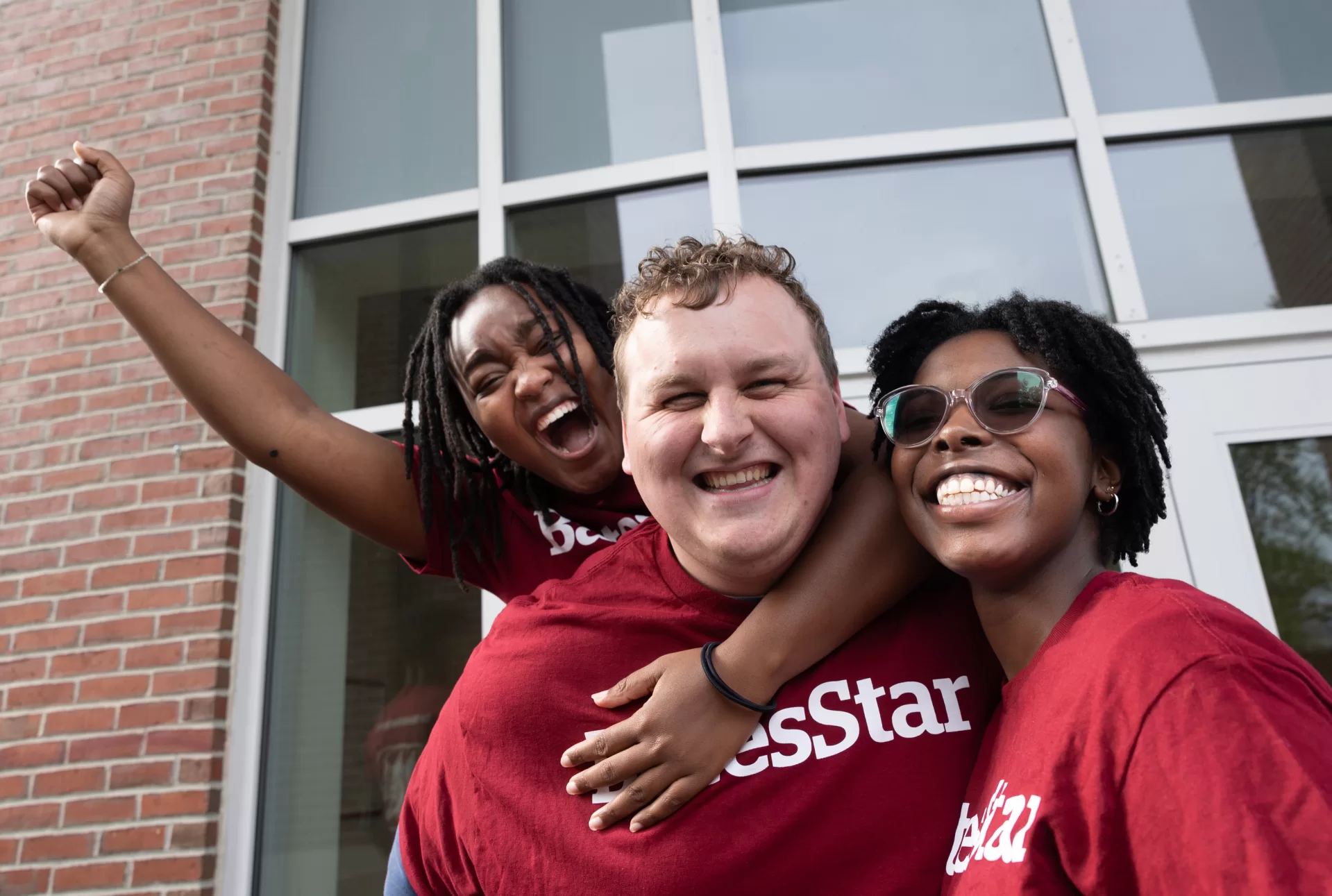 Year after year, alumni say that connecting with BatesStars is a highlight of their Reunion experience.
From left, Bora Lugunda '25 of Kinshasa, Congo, Jeremy Schrieber '24 of Denver, and Rosina Makwabe '26 of Arusha, Tanzania, were three of 31 BatesStars who made things flow smoothly during the Reunion, held on campus June 8-11.
---
Golden Reunion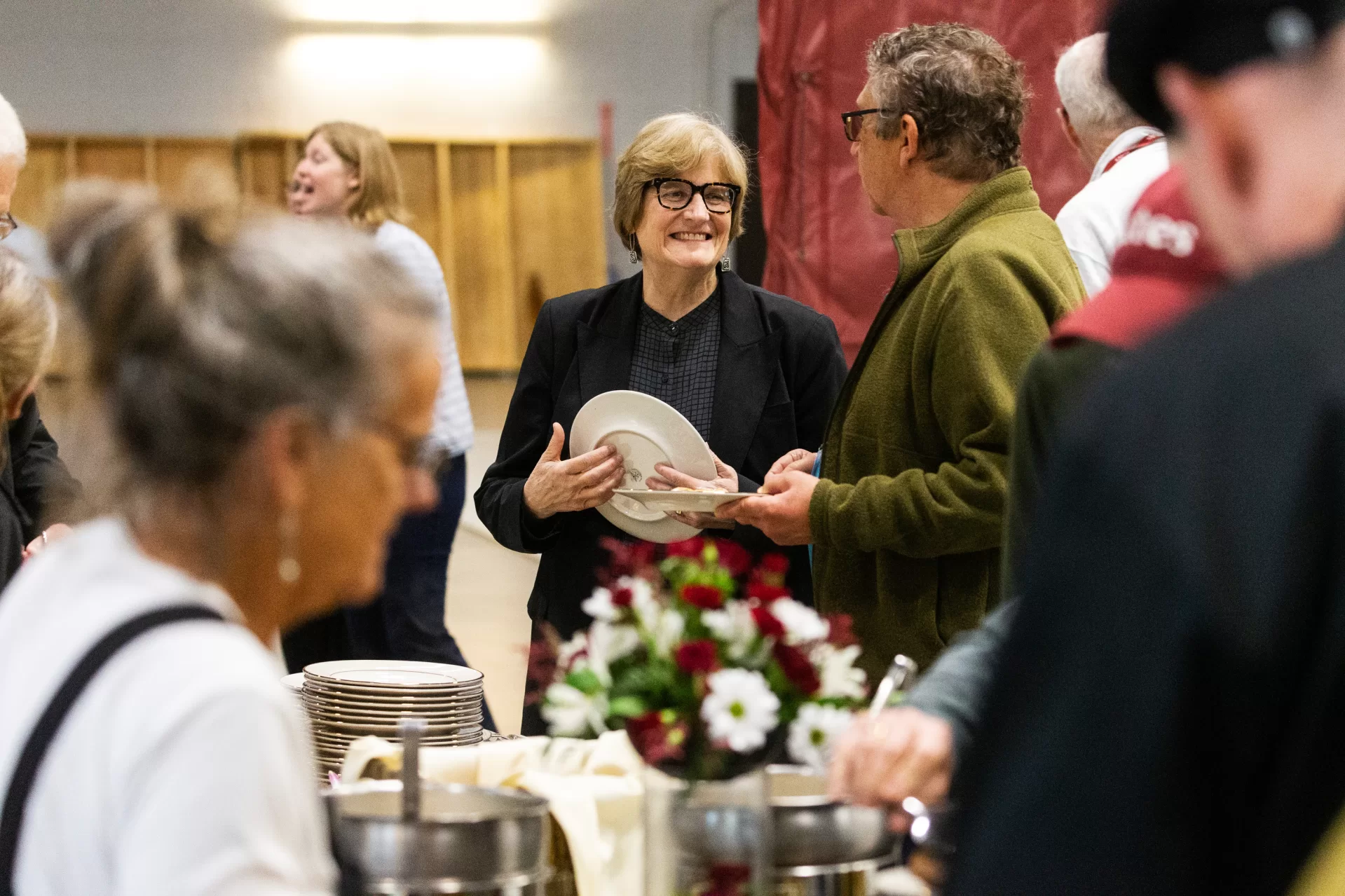 President Clayton Spencer (center) joined the Class of 1973 — who were celebrating their 50th Reunion — in the Gray Athletic Building for a hearty breakfast on June 9, following welcoming remarks by Spencer.
---
Fireworks and Friends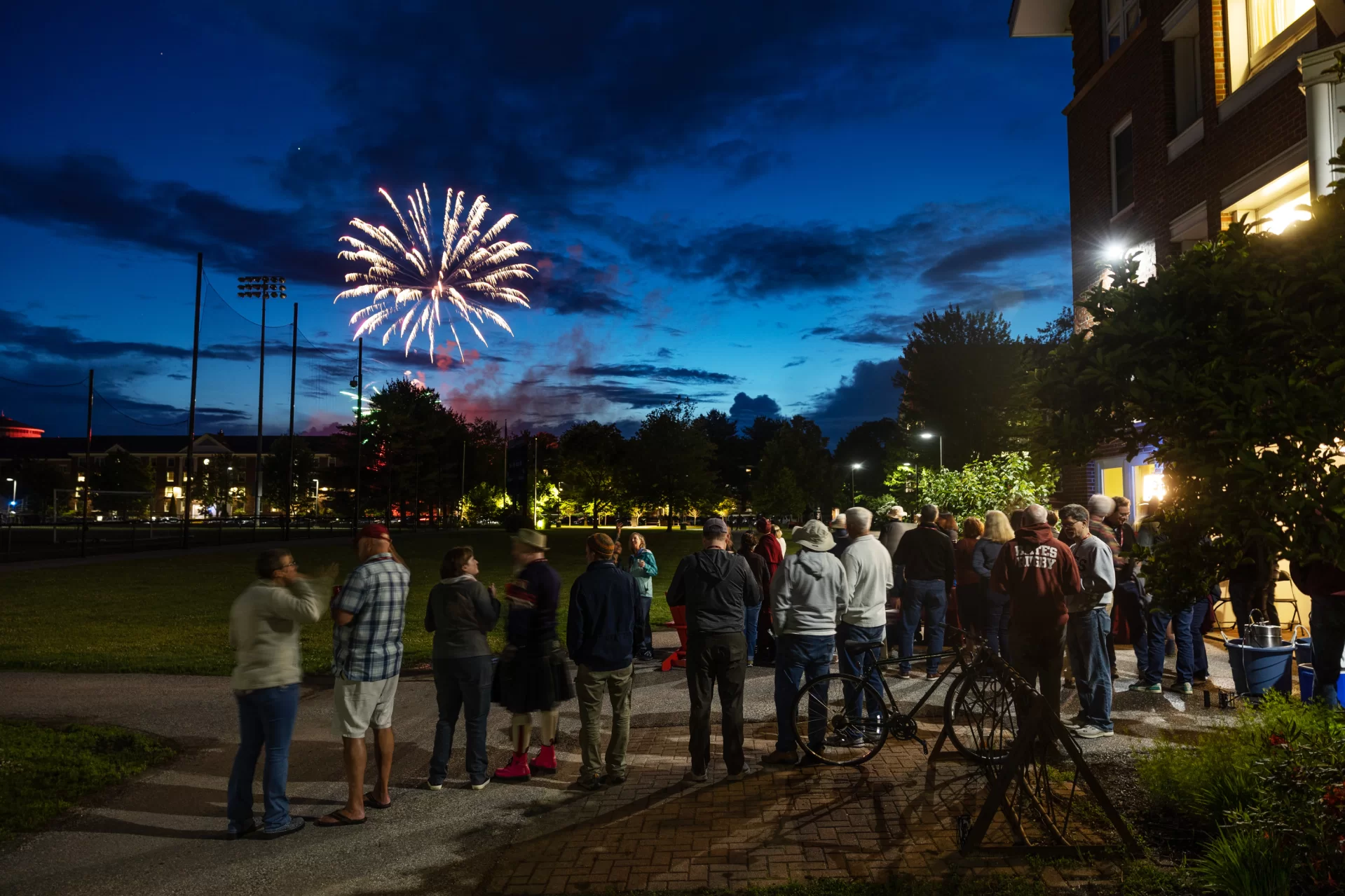 Bates alumni old and young enjoy a dazzling light show of fireworks on campus on June 9 after a day full of Reunion activities.
---
Pride in Numbers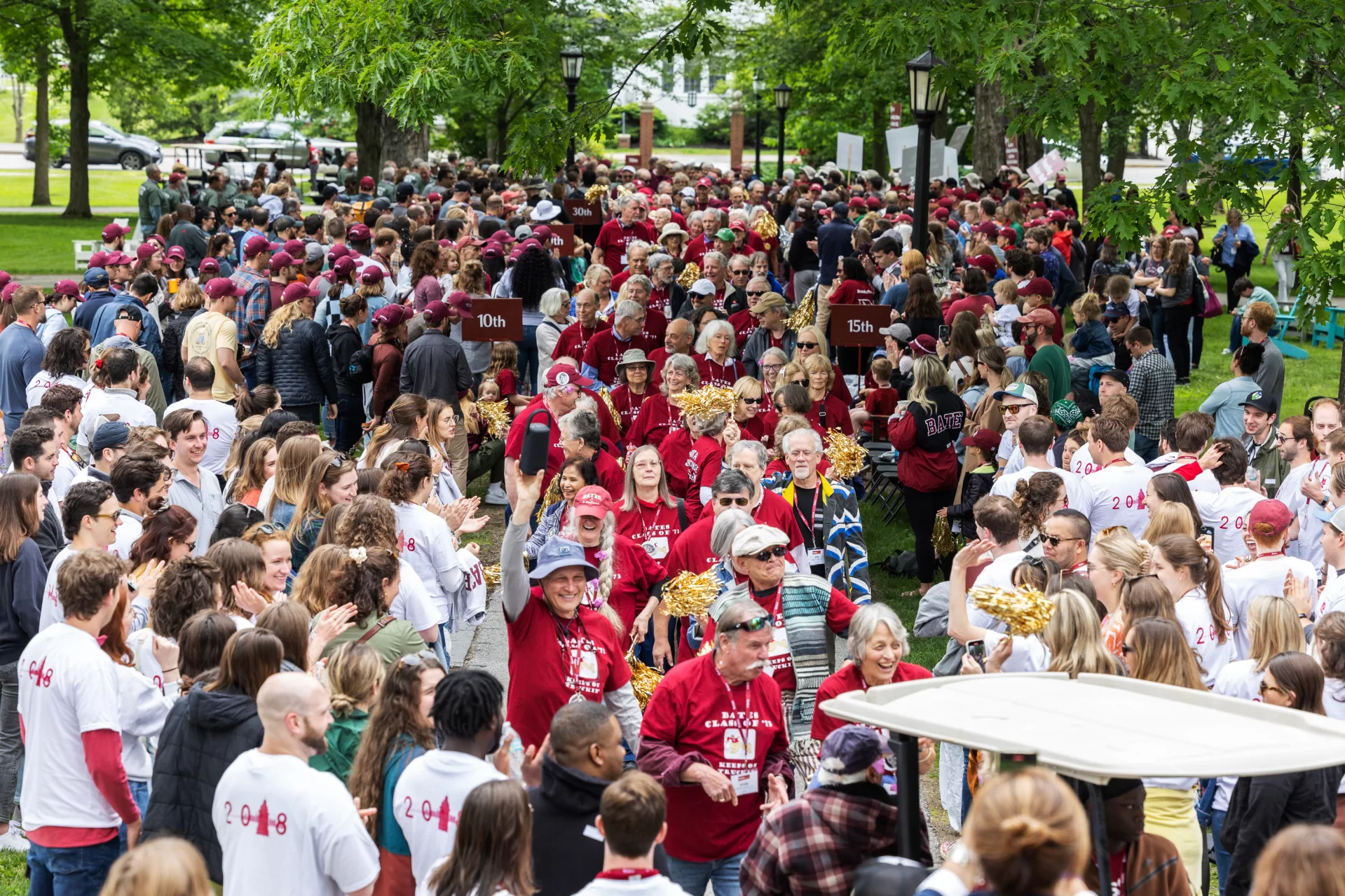 Alumni gather on the Historic Quad on June 10 for the annual Alumni Parade and the chance to show off their class pride to lauding members of the Bates community. A grand total of 807 alumni attended Reunion this year, representing 14 class years from 1953 to 2018.
---
Key Connection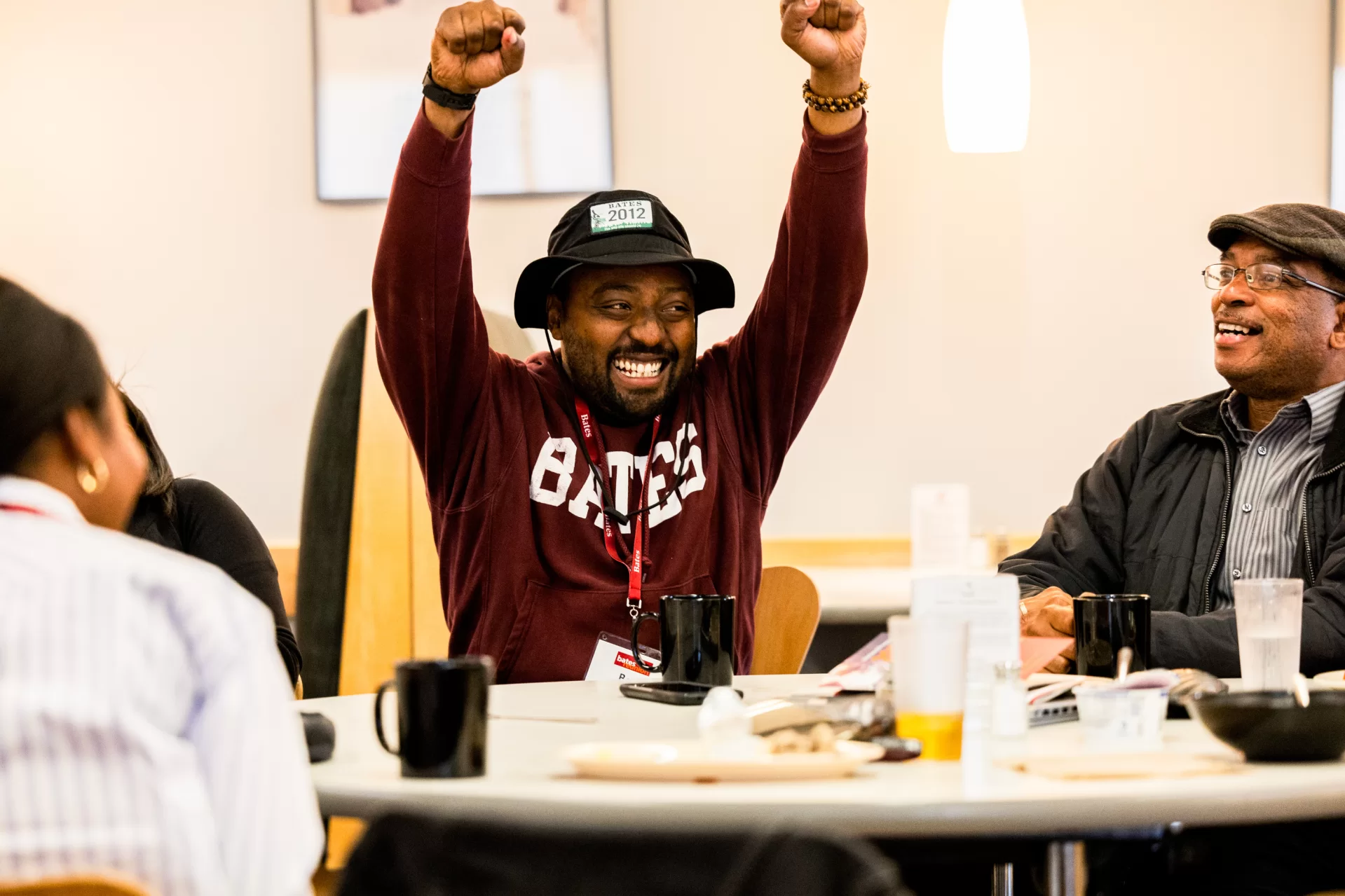 Ben Hughes '12 (left) talks excitedly with Associate Dean for International Student Programs James Reese during the 10th Reunion BIPOC Community Breakfast, held for members of the Class of 2013 in the Chu Dining Room in Commons on June 10. Hughes is the secretary for the executive committee of Bates' College Key, a group of alumni dedicated to supporting the general welfare of the college, including recognizing outstanding Bates students and faculty and supporting academics, student life, and campus improvements. The College Key held their annual meeting on campus on June 9.
---
Getting Crafty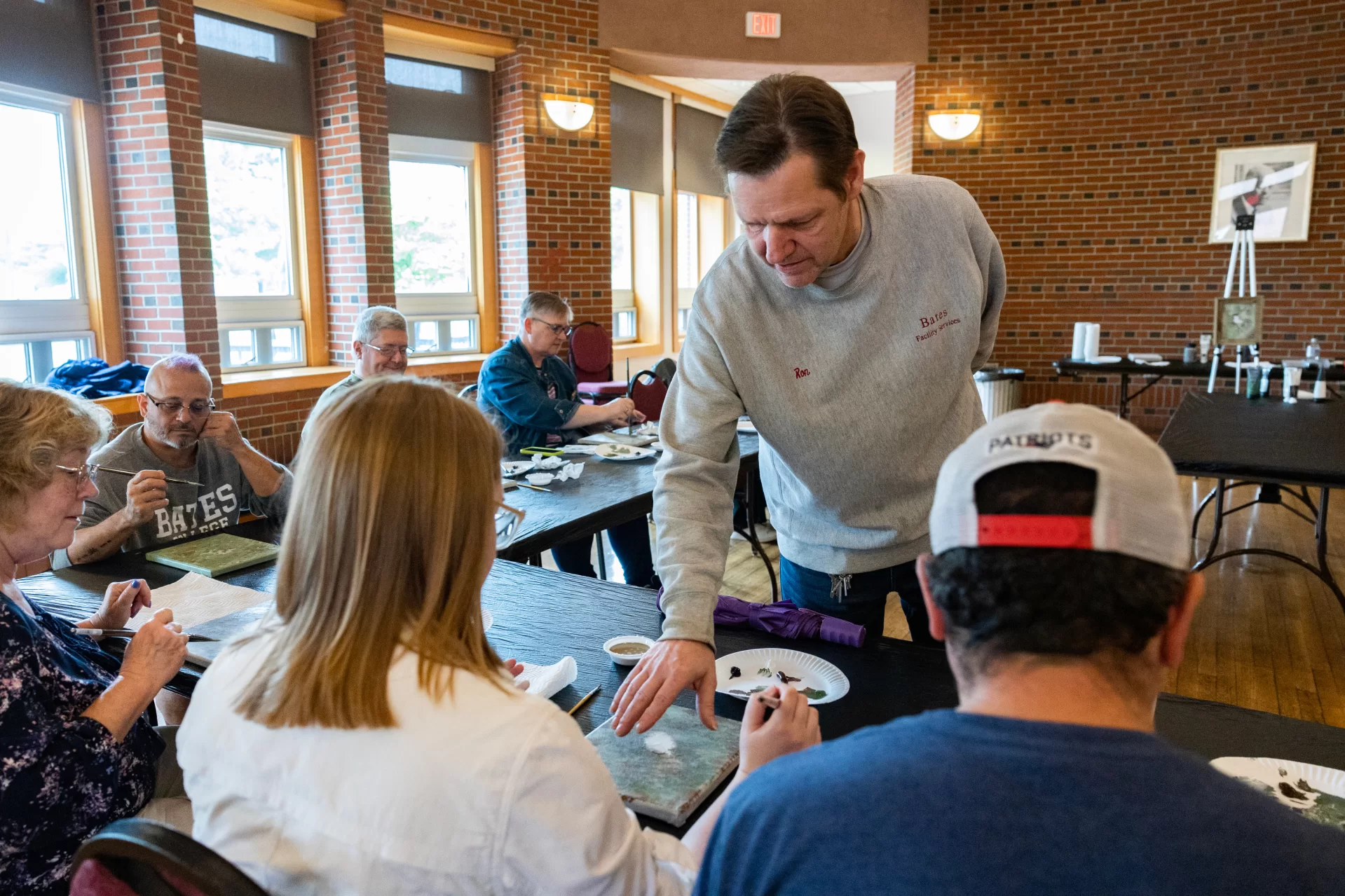 Ron Bosse, a Bates custodian and accomplished artist, taught "Painting with Acrylics" in the Benjamin Mays Center on June 14, as part of Bates' annual Employee Enrichment Week. Other programming led by Bates staff and community partners delved into topics covering "digital detoxing," financial wellness, Buddhist meditation, and the basics of pickleball. It ended with the traditional B Well 5K Walk/Run.
---
On Your Mark…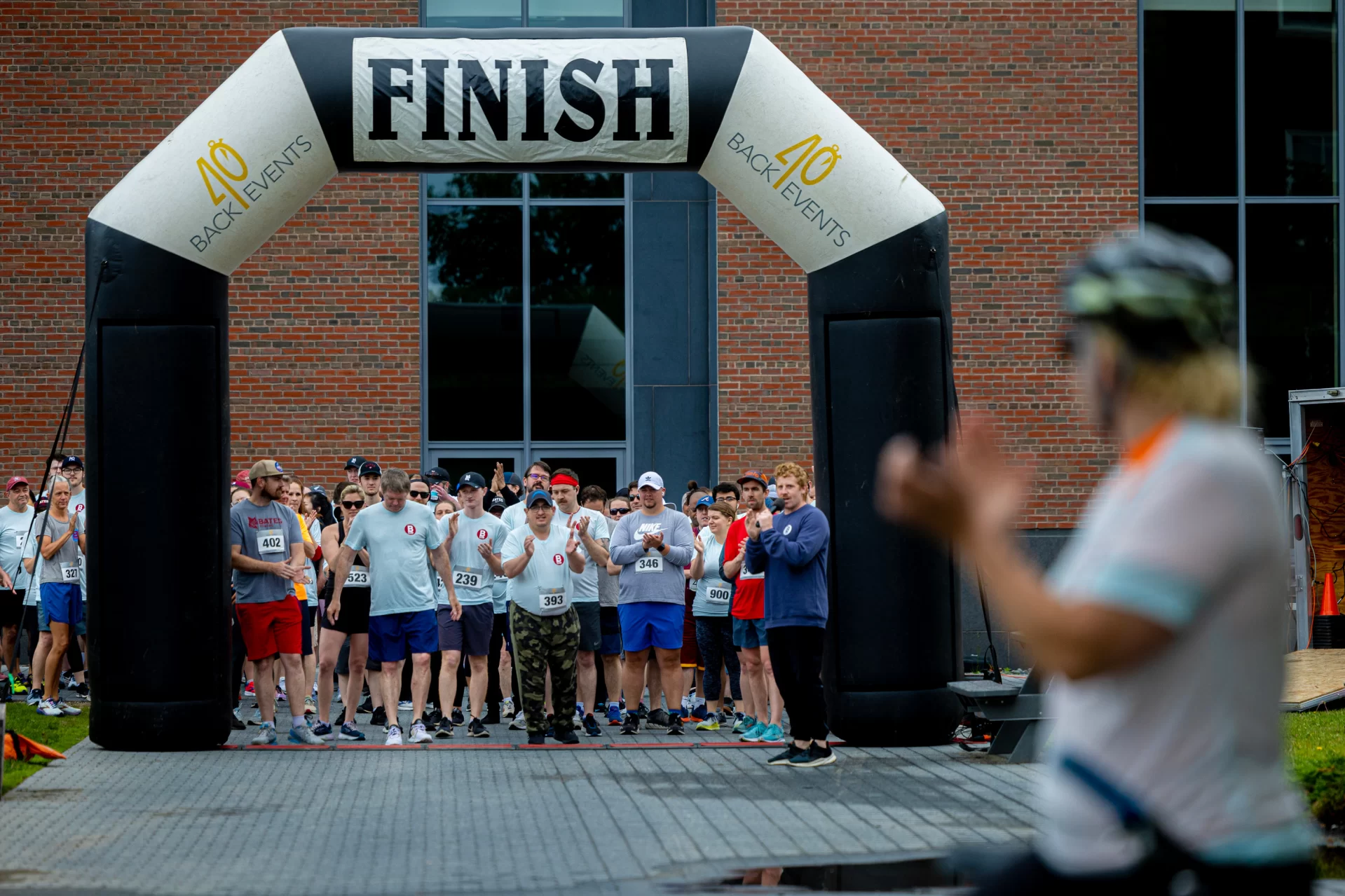 Bates community members gathered in between rain showers for the annual B Well 5K Walk/Run, capping off Bates' Employee Enrichment Week.
---
Pit Stop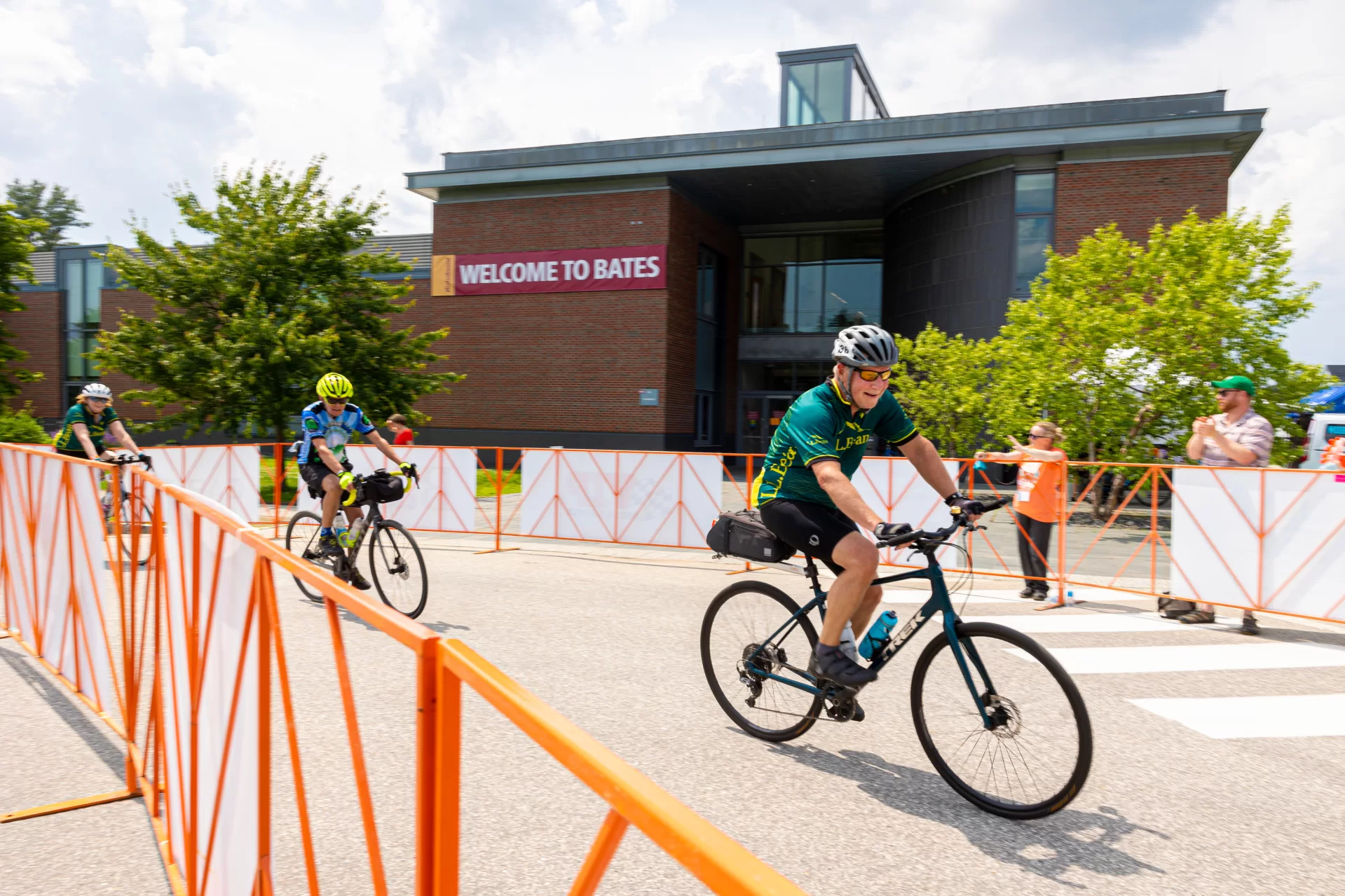 Cyclists participating in the 39th Trek Across Maine, the annual American Lung Association event, stopped at Bates for the night on June 16, where they were greeted with a hearty welcome from the Bates community. They enjoyed a baked potato bar and beer garden, before heading on to Saint Joseph's College in Standish early the next morning.
---
Kindling Community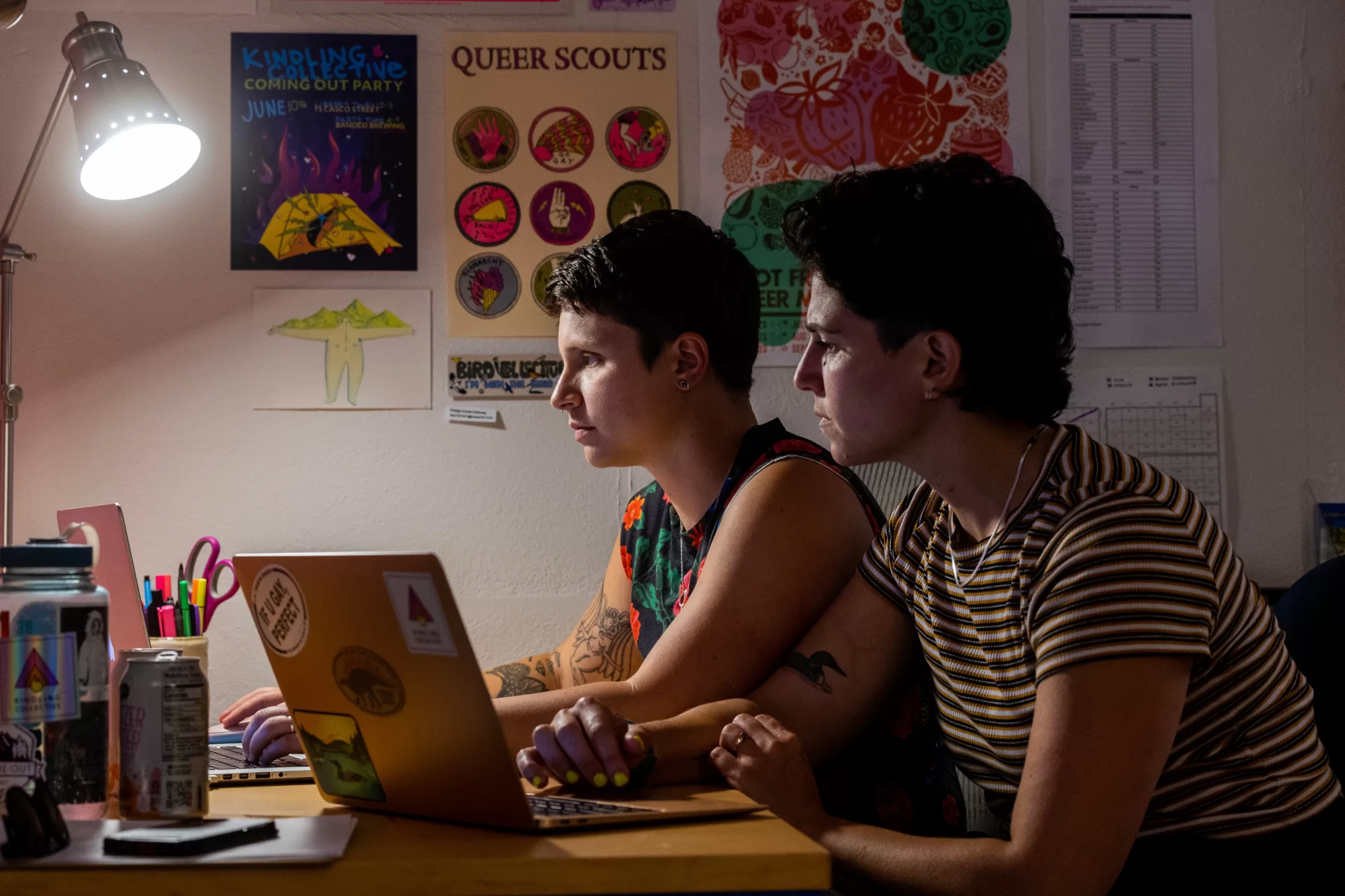 Hallie Herz '11 (right) and their partner, Eva Fury, opened the nation's first queer-focused outdoor gear-lending library, Kindling Collective, with an open house in Portland's Equality Community Center on June 10. Herz, an outdoor enthusiast and former member of the Bates Outing Club, wants to provide a space where queer people can "be themselves and find connections to things that sustain them."
"We feel it's important to focus on joy and focus on queer joy especially right now with all of the hateful anti-trans laws and rhetoric," Herz said. "We really think about it as a resilience practice, a refilling and recharging. We see this work as liberation work."
You can read more in our BatesNews story.
---
Puddle Politics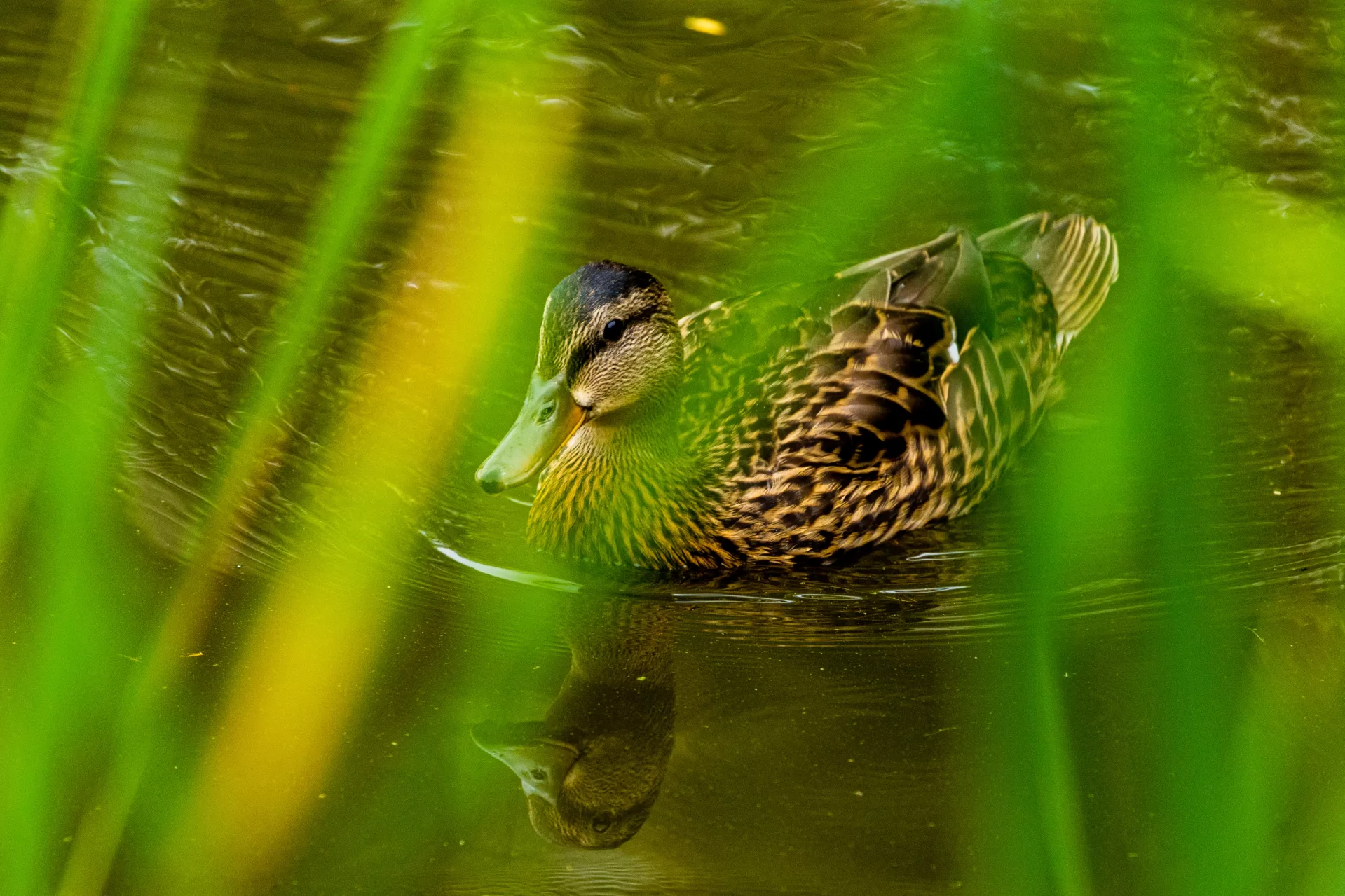 Broods of fluffy Mallard ducklings herald the moment when spring turns to summer at Lake Andrews, and this year we counted 12 ducklings, led to and fro by two female Mallards. The mallards commonly share the ecosystem with various neighbors such as goldfish, painted turtles, red-winged blackbirds and even the occasional osprey.
---
Headed for Greener Pastures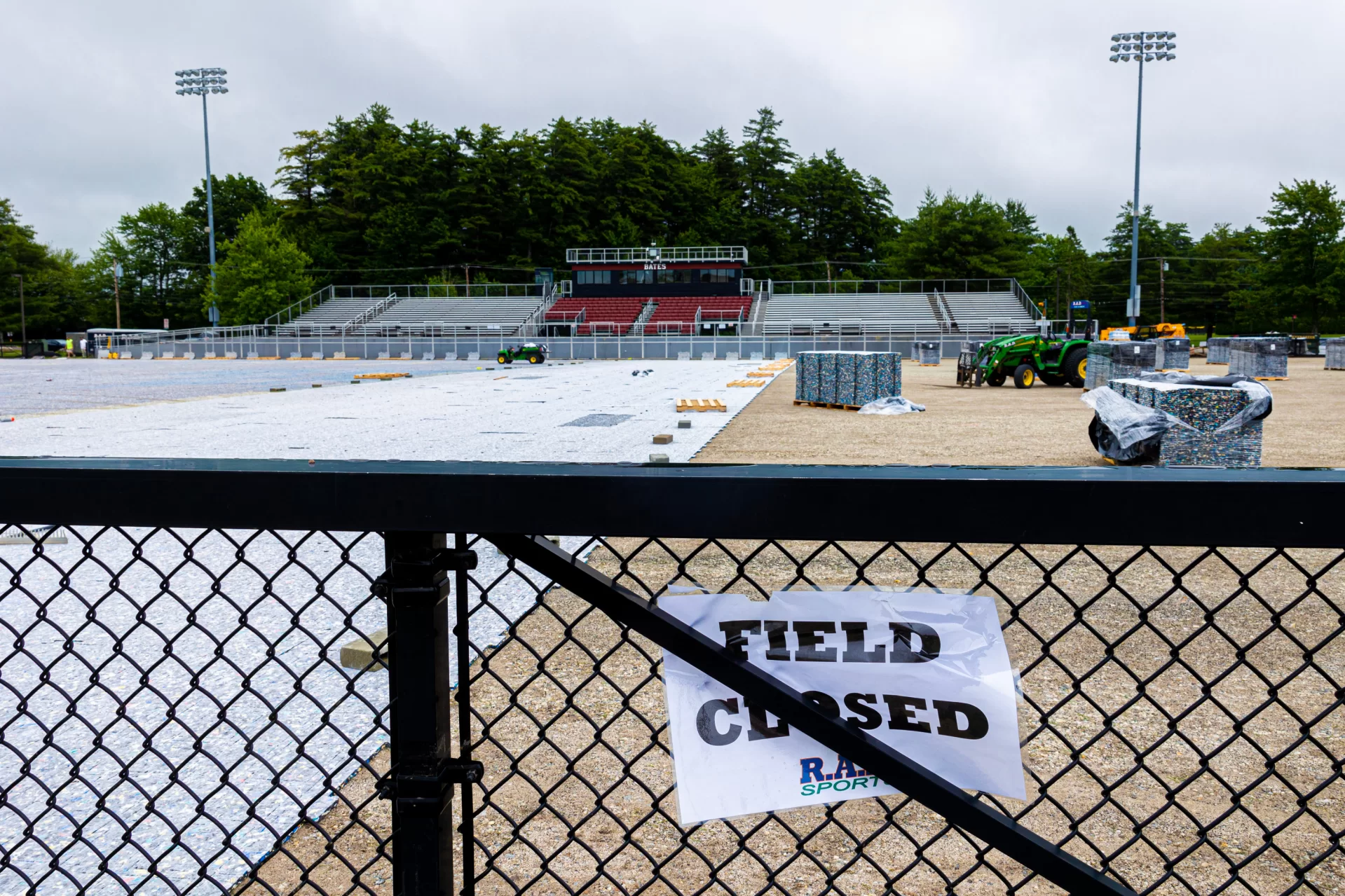 Garcelon Field is getting a new playing surface, courtesy of R.A.D. Sports, the Massachusetts-based company that covered the field with FieldTurf 13 years ago. The new surface will be a Shaw Sports Turf product called Legion, consisting of a grass-like plastic matrix buffered with a mix of sand and crumb-rubber particles. Read more in our recent Campus Construction Update.
---
Break for Lunch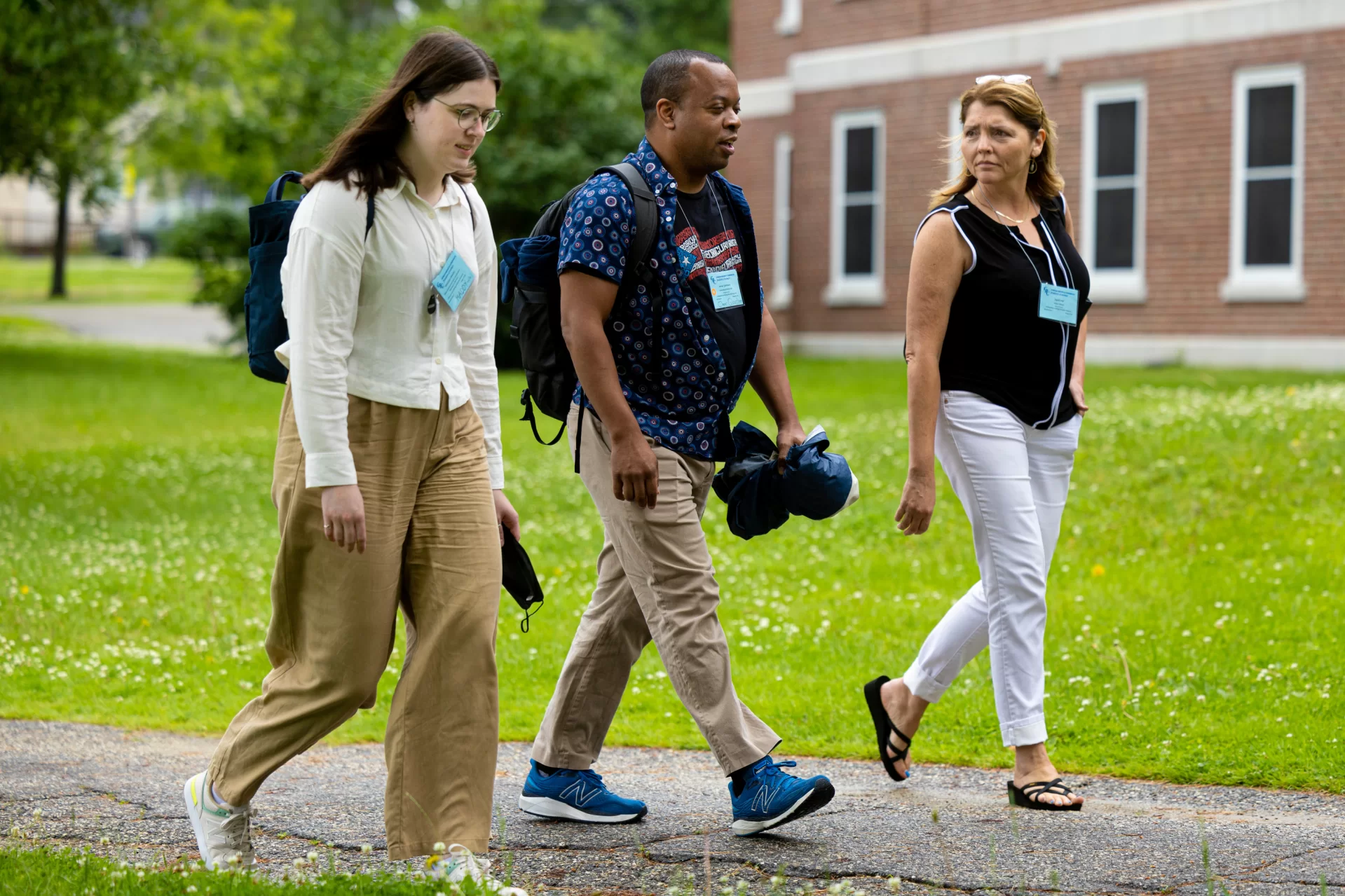 From left, Gordon Research Conferences participants and biologists Madison ("Maddy") Meuler of the Allen Institute (current)/University of Washington (former), Omar Quintero of the University of Richmond, and April Hill, Bates' Wagener family professor of equity and inclusion in STEM, head to lunch in Commons after a morning session in the Olin Arts Center.