Chaney, Wesley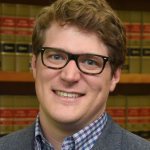 Chaney, Wesley B.
Assistant Professor of History
Ph.D., Stanford University, History; M.A., Stanford University, East Asian Studies; B.A., Davidson College, History
I am an historian of China and concentrate broadly on the environmental, social, and legal history of the Qing Empire (1644-1912). My current research project, tentatively titled "Stolen Land, Broken Bodies: Law, Environment, and Rebellion in Northwest China," examines ground-level social transformations and the ethnicized legal disputes that both triggered and followed the violence of the mid-nineteenth century. Centering on the lives of ordinary peddlers, smallholders, and herders preserved in legal case records and a range of other local sources, the study details the changing jurisdictional geographies and disputes over land, resources, and individual bodies that attended imperial expansion in the Sino-Tibetan borderlands.
Here at Bates I teach a broad range of courses—from surveys covering the whole sweep of Chinese history to short term classes on sports in modern China—and have advised senior theses on Chinese migration to Southeast Asia and CCP rural policies.
Courses:
China and Its Culture
China in Revolution
Environmental History of China
Sport, Gender, and the Body in Modern China
From Tibet to Taiwan: Frontiers in Chinese History, 1700-Present