Bates Class of 2023 ivy stone points to the future
This year's ivy stone was designed by Bates senior Abby Segal, who also happens to be a professional magician. But there's no dazzling illusion involved in the design, just the brick-and-mortar sensibility of a senior trying to tell a story about her class and COVID.
Segal, a psychology major from Chelmsford, Mass., added design elements to the stone to reflect the determined forward progress of the Class of 2023 over their four years.
How to Watch Commencement
Livestreamed on the Bates website and the Bates Facebook page, the 157th Bates Commencement ceremony begins at 10 a.m. on Sunday, May 28. The academic procession begins arriving at Coram Library at approximately 9:20 a.m. The livestream kicks off at 8:45 a.m. with pre-recorded segments celebrating the Class of 2023.
On the stone, Hathorn Hall's bell tower is crowned with a Bobcat weathervane. The weathervane is rendered as an arrow pointing to the future. "I wanted it to reflect how we moved forward despite difficulty, and I wanted it to reflect Bates," Segal explains.
At the bottom of the stone, the numerals 2023 are both shaded and unshaded, representing the halting nature of life during COVID, filled with restrictions, eased restrictions, lockdowns, and back again.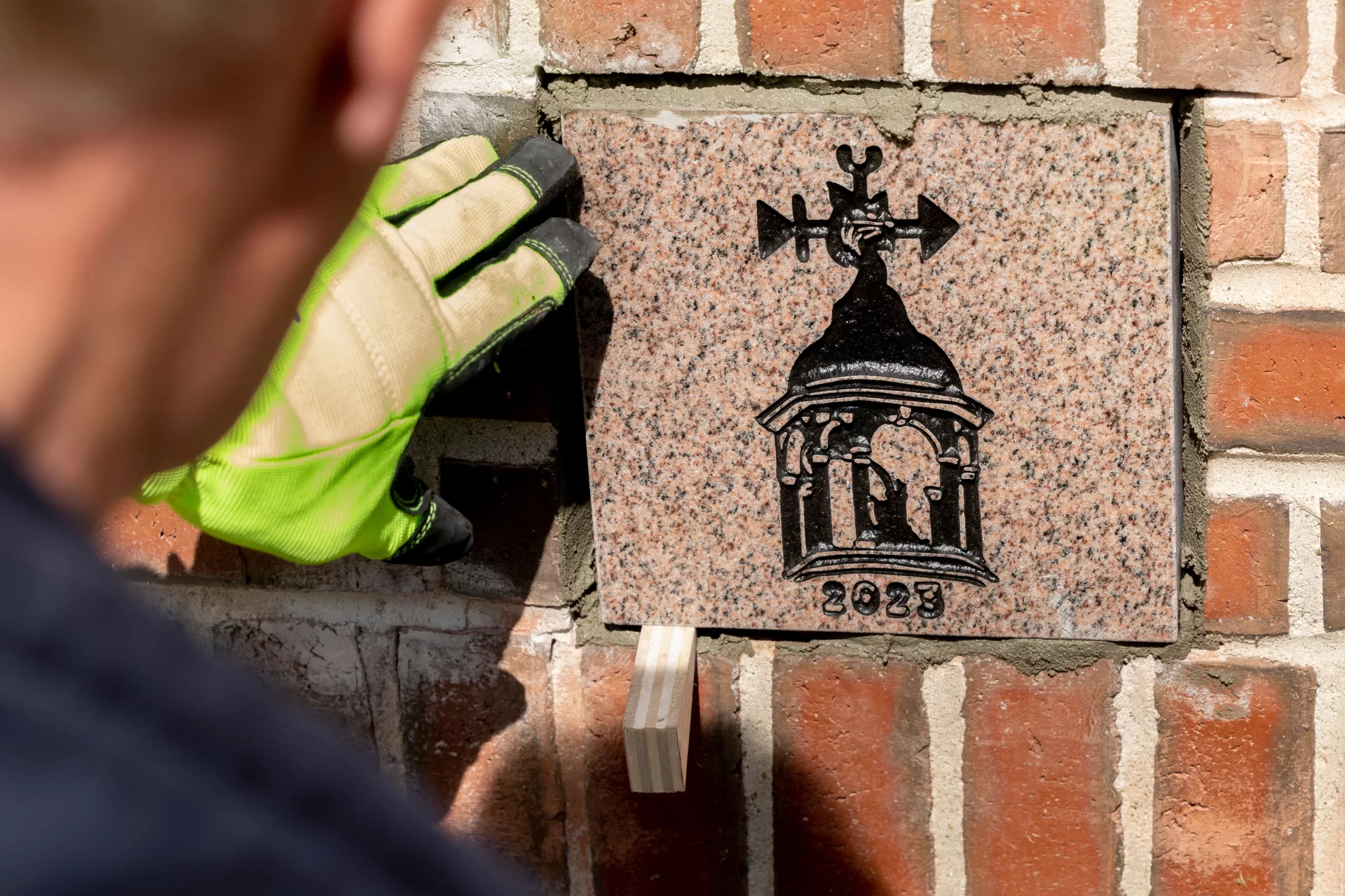 The arrow's nock and fletching suggest a play/pause button — the pause that COVID placed on their academic and social lives, especially in March of their first year, when Bates pivoted to remote learning.
The arrow's point suggests play, or even fast-forward, the way the class got on with their college life. At the top, an on/off button ties it all together, "reflecting the technological era" that defines the world that the class will graduate into.
Eager to see her design installed into the brickwork at Pettengill Hall, Segal joined Bates mason Ron Tardif on a breezy recent Wednesday to set the newest ivy stone, continuing a Bates senior class tradition that dates to 1879.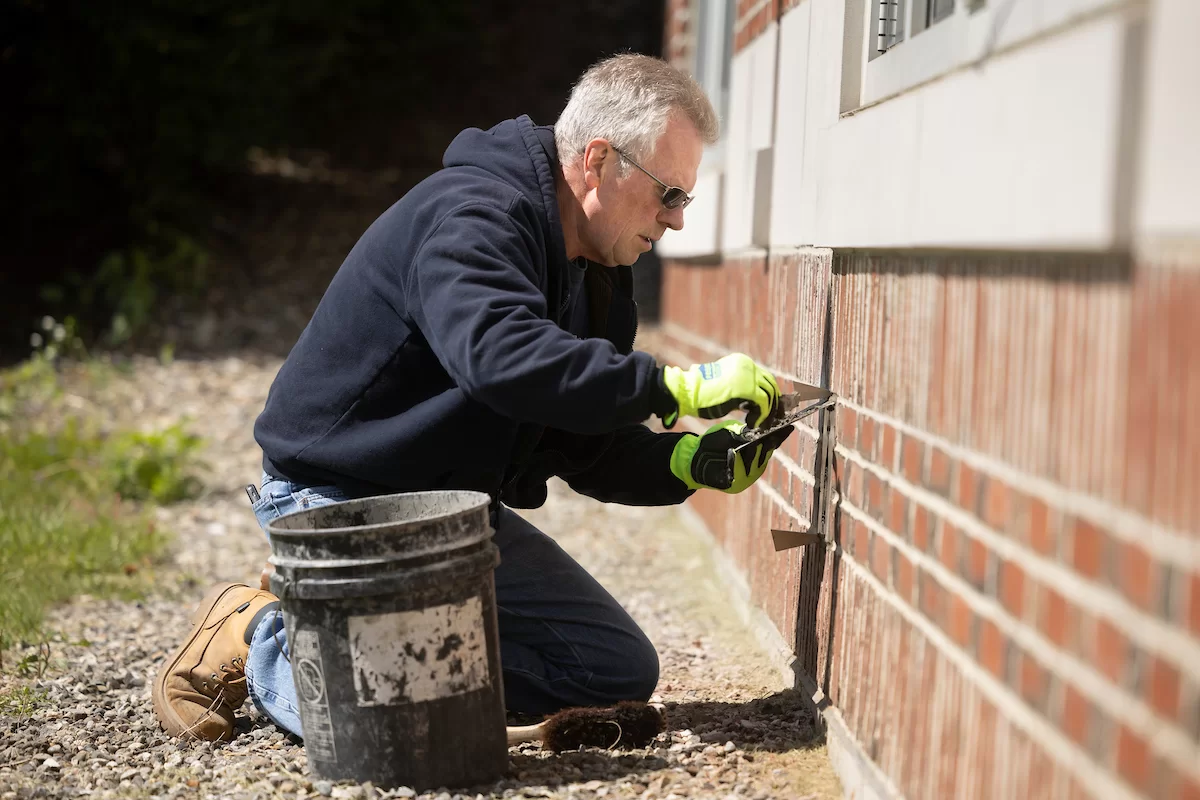 Tardif arrives with a bucket of mortar he mixed earlier in the morning, a few wooden wedges to hold the stone in place, and two tools: a rectangular margin trowel and a plasterer's "hawk," a flat sheet of metal for holding mortar while he works.
As Tardif starts plastering the interior sides of the square hole with mortar, Segal talks about her post-Commencement plans: more studying, but not the college kind.
Segal was one of two first-prize winners of the 2023 Bobcat Ventures competition with her pitch for funding her career in magic, specifically to inspire and encourage women to break into the male-dominated world of professional magic.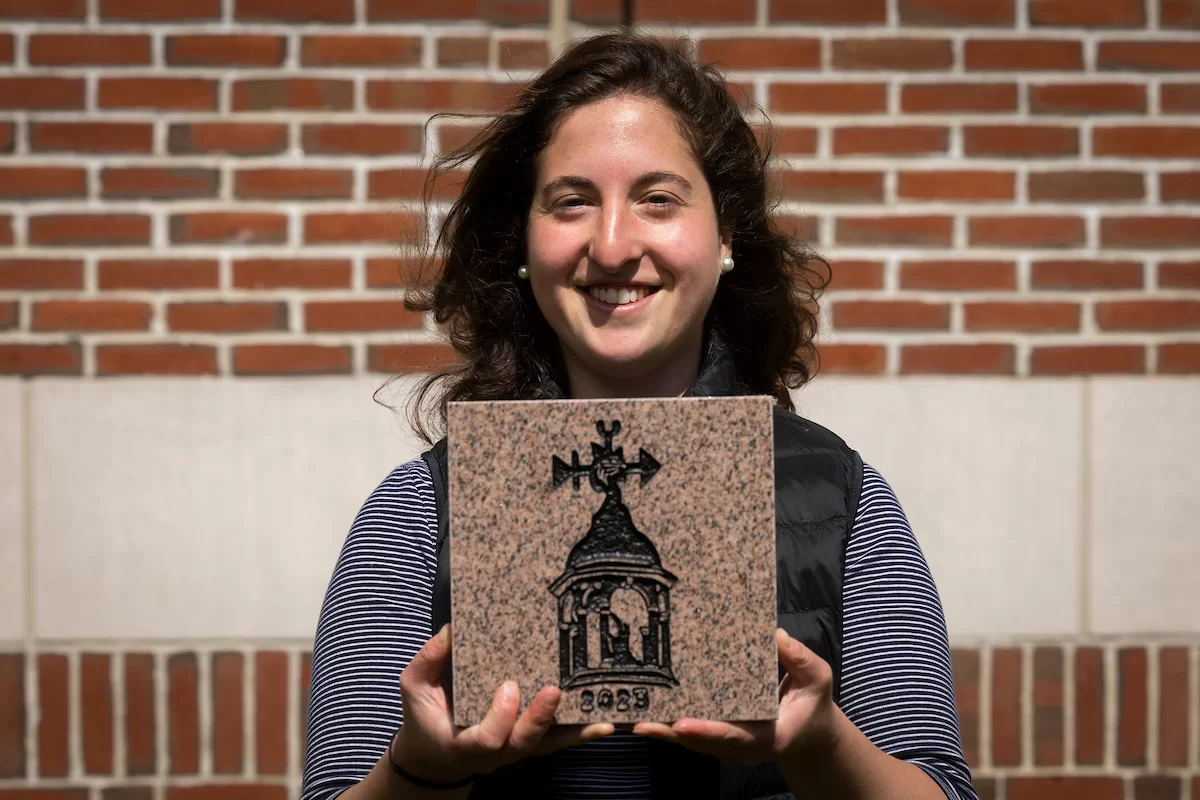 Toward that goal, she's planning a magical summer, in the Netherlands and Sweden, to attend a few skill-building camps. The European magic scene is "very intimate and small," says Segal. "It's not as big as Chicago or L.A. or New York. But I like it because you get to know the magicians there. It's intimate and kind of its own thing."
Segal delivers closeup-style magic, steering away from fancy costumes and clouds of smoke, presenting herself as "a normal human being who also just happens to do magic."
That style lets her play off stereotypes of women in magic, as assistants or being cut in half. "The beautiful thing about women in magic is that there's no stereotype for what a female magician should be," she says.