First-year Info
Dancing at Bates.
Dear First-Year Dancers and Soon-to-be Dancers,
This page is to help point you in the direction of the kind of dancing you want to do in your first semester at Bates. We have a friendly and open dance community that welcomes dancers of all levels and many styles.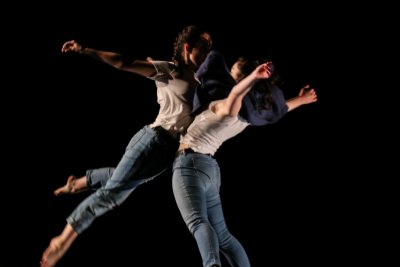 First, you should join the dance list (dance@groups.bates.edu), which is where news and announcements are posted. The Bates help desk can help you join this list. Also like our Facebook page Bates College Theater and Dance, where you can hear about upcoming workshops and dance events and communicate with others about what you are doing.
There are many ways to dance at Bates. You can be in clubs and perform in student pieces without taking academic credits in dance but the richer experience is to mix the technique, creative process, and the cultural context curriculum with many different kinds of performing opportunities.
Below is a list of the courses we offer this Fall. Please do consult with the dance faculty if you have questions – Carol Dilley cdilley@bates.edu or Julie Fox jfox@bates.edu. Finding the right entry points and appropriately leveled classes and opportunities will get you the best start in dance in your first semester.
COURSES IN DANCE
For beginners (or about-to-be dancers):
We have entry level classes in modern, ballet, jazz, hip-hop, and Pilates, as well as, a course in dance improvisation that is open to any level of dancer. We also have an entry-level choreography course, DANC 151 Introduction to Dance Composition, that is for dancers, actors, and soon to be performance makers. This Intro to Comp course is the entry point to our composition courses for dancers and choreographers of all levels.
For experienced dancers:
We have intermediate and advanced courses in modern dance and ballet; advanced students can also take any of the mixed level courses such as improvisation, jazz, hip-hop, and Pilates. This may be the perfect time to try a style of dance that you have not had the opportunity to explore before. DANC 270H Ballet II will be performing in the Back to Bates Concert in early October. Ballet II is for high intermediate to advanced ballet dancers and you should expect to "audition" for this class. DANC 270G: Ensemble (Intermediate) is a modern technique class that will also be working on creating a piece of choreography for the Fall concert and will have guest artists visiting the class throughout the semester. This class is great for dancers with lots of experience in one style of dance but perhaps not modern or for those who have already taken some modern. We also have DANC 270D Repertory Styles (Rep Lite) which is open to advanced dancers and is the companion to course DANC 253 Dance Repertory Performance (Full Rep). Full Rep is not recommended for first-years because of the 15-hour a week time commitment but being in Rep Lite gives you access to the guest artists and a performing opportunity, as well as, sharing space with the most committed dancers in the Department. See below to learn more about Rep.
The DANC 151 Introduction to Dance Composition course is the entry point to our composition series and an excellent starting place in your first semester for anyone thinking about choreography.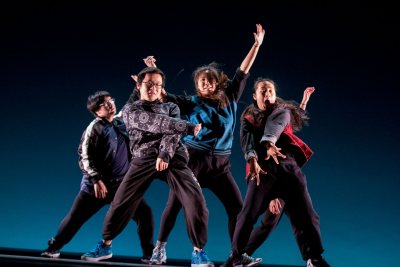 First-year performance piece!!!
Each year we do a first-year performance piece for the Back to Bates Concert in early October. We welcome all levels of skill and work together to create a cohesive piece in the rehearsal process. This year the piece was made by seniors Shae Gwydir '20 and Alexandra Onuoha '20. The first-year piece cast will often be dancing together throughout the 4 years at Bates. This is an immediate way to get friendly with the other first-year dancers. However, you do not need to be in a dance course to join the concert.
The Back to Bates Concert, as well as, the Short Term Show are concerts that include both course-based pieces and individual student initiatives. All are welcome as long as the pieces are well-rehearsed and you communicate with the organizers. If you are intrigued but want more info, please contact Carol Dilley at cdilley@bates.edu or find her in her office, Pettigrew 203. These concerts are an open call and really celebrates the diversity of dance styles that thrive at Bates.
The Fall Concert is made up of the following academic courses: DANC 253 Dance Repertory Performance, the "lite" version DANC 270D Repertory Styles, DANC 270 G Ensemble (Intermediate), and DANC 270 I Improvisation. 270 Rep styles is an advanced technique class that meets twice a week and taught by the faculty and visiting guest artists in DANC 253. You must talk to the faculty in charge, Carol Dilley, cdilley@bates.edu, if you want to take this course in your first semester. The resident guest choreographers this year are Mark Jeffery, Kimberly Bartosik, and Tania Isaac.
For more information regarding the resident guest choreographers for Fall 2019, click here
The entire Spring Dance Concert comes from our upper-level Dance Composition courses, 251 and 351, and senior thesis pieces. There are MANY opportunities in the Spring semester to be in student-made dance pieces. Each of the choreographers from the Comp classes have a cast of dancers for their piece whom they worked with throughout the semester. It is a big commitment to dance in comp pieces but this is where community happens. Keep your eye out for Open Dance Day, the first week of winter term, as this is the audition to participate in the spring concert.
The Bates Dance Company is an open-ended group made up of the people who are dancing in the Fall and Spring Concerts and whose dance practice is connected to the academic curriculum. There is no audition for the Company.
DANCE CLUBS
There are also a number of dance clubs at Bates. This year we expect to see clubs representing Ballroom, Bollywood, 2 B.E.A.T.S. (Hip-Hop), various cultural and popular dance forms around the world. The international club also presents dance performances, Sangai Asia puts on a big show, Sankofa presents a big piece each year, Amandla brings guest artists, and the Dance Club and Bates Arts Society are two umbrella arts groups that do their best to coordinate efforts and make opportunities. For more information about dance-related clubs on campus, click here.
We look forward to having you join our dance community.
Carol Dilley – Professor of Dance, Chair of Theater and Dance cdilley@bates.edu