Values, Goals, and Practices
Values
Digital and Computational Studies [DCS] courses are built on 
the

values

of

Equity, Decolonizing, and Social Justice

a

curriculum

of

Critical Digital Studies and Programming in context

 

using the

methods

of

Design, Modeling, and Storytelling, for a purpose

. 
While any individual course might emphasis a particular domain, the DCS program values the entire structure.

Goals
The primary goal of Digital and Computational Studies is to bridge the liberal arts education in the spirit of interdisciplinarity to computing and the digital world.  We are committed to actively creating digital and computational spaces that are radically inclusive. Our core commitment is to integrate equity and social justice throughout our curriculum, and engaging students in metacognition to support this work. 
Practices
Digital and Computational Studies Courses fall into a continuum of experiences that range from critical digital studies to programming, with an integrated core that embraces both. Digital and Computational Studies experiences also include:
Community engagement – inspiration from and engagement in our local, cultural, and/or disciplinary communities, including interdisciplinary and between community work and communication;

Design, modeling, and application with intentional compassion;

Providing a welcoming community that encourages creativity, imagination, growth mindset, revision, and experimentation;

[Equitable] Co-Leadership – inviting collaborators to share strengths, build on weaknesses, and contribute to a broader shared understanding.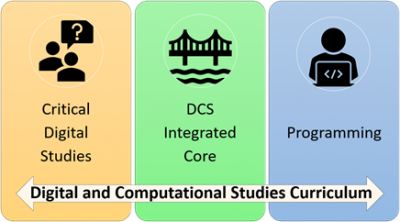 Examples of Critical Digital Studies courses (may include programming or other digital tools)
DCS 106 TechnoGenderCulture

DCS 304 Community Organizing in a Digital World
Examples of Integrated Core courses (include a mix of programming and digital critical studies in an applied context)
DCS 105 Calling Bull with R

DCS 204 Data Cultures (R)
DCS 375 Network Analysis (R)
Examples of Programming Courses (often also include critical digital studies, often in an applied context)
DCS 103 People, Places, Prose, and Programming (R)

DCS 108 Introduction to Computation for Science and Math (Octave/Matlab)
DC/MU 219 Composing Sonic Systems (Pure Data)
DCS 210 Programming for Data Analysis and Visualization (Python)
See our courses page for more information on all courses offered.
DCS student quotes: 
"It's making me check my privilege and want to find ways to create fair algorithms…DCS's core commitment to equality and social justice really seems to be a topic [of] importance…"

"Historically speaking, data has been controlled by a very specific group of people.  As a result, many people have been left out of the data creation process thus creating implicit bias within our data.  … by shifting the paradigm in which data exists to be more accessible and usable I think that we will see a more equitable e-universe."