Lake Baikal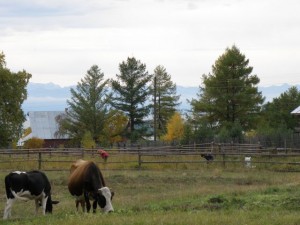 25 Bates students spent almost three weeks in a tiny Siberian village, right on the shores of Lake Baikal.  On the day we prepared to leave residents of the village were feverishly digging potatoes, in advance of a winter storm (on September 25) in the forecast.  We made it back to Irkutsk, the regional capital, via hydrofoil – despite high seas and snow.
Bolshie Koty, the village where Bates students lived and studied for three weeks, is nestled in a small valley where one of the 365 streams flowing into Baikal cuts through mountains and forest.
The Island of Olkhon is situated about half way up Baikal; the lake itself is almost 700 km. long, and near Olkhon is more than a mile deep.