Ladd Library Welcomes You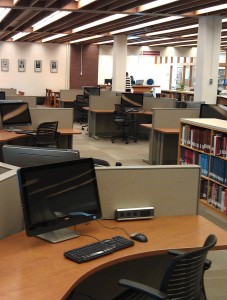 Ladd Library welcomes you.  Please stop in to see the newly renovated and improved space.
Over the summer, we've made many improvements to your library.  We're very excited for you to see and take advantage of all these changes.
Our student workstations have been updated to include new, large monitor touch screen computers.  The work space around each computer is also greatly expanded.  And, possibly best of all, these workstations have been distributed throughout the main floor of the library.
Photocopiers are now conveniently located near the Help Desk and Ladd printers.
Check in with Joanne Cole at the Writing and Speaking Center to learn how the new Mabel Eaton Presentation Room can be used to help polish your oral presentation skills.
Talk with Brenda Reynolds at the the AV circulation desk to find out about using any of the viewing rooms for watching movies for class or for fun (not that watching films for class isn't fun!).
You can join our rapidly growing group of Twitter followers @BatesLibrary where our new Humanities Librarian Christina Bell provides fresh and lively tweets about all things Ladd.  For a taste of what's going on @BatesLibrary, check out the feed on the Bates library home page.