Veterans History Project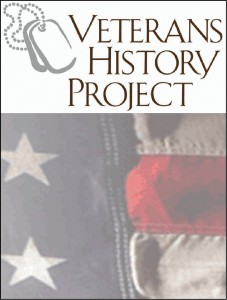 Preserving Stories of Service for Future Generations…
Established by Congress in 2000, this national project collects first-hand accounts of men and women who served in the U.S. Armed Forces, during the  WWI, WWII, Korean, Vietnam, Persian Gulf Wars, and Afghanistan and Iraq Conflicts. It includes recorded interviews, letters, diaries, maps, and photographs from those whose experiences happened both on the battlefield and on the home front.
These materials are preserved and presented through the Library of Congress/American Folklife Center, and include a comprehensive, searchable, and digitized national catalog.
Volunteers are needed to interview war veterans, transcribe recordings, and identify documents to donate.  You could have a grandparent or parent  who you might want to interview, and have  preserved in this collection.  Go to the website to see how to participate in this project.