Audio/Video Spaces for Use in Ladd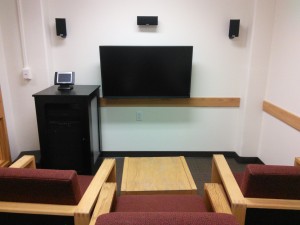 Did you know that the Bates College Library has 6 viewing rooms on the ground floor with 5.1 Surround Sound and large flat screen TVs that you may use to watch movies on reserve or for entertainment, to listen to music, and to connect your laptop? Most of these rooms can be signed out at the Audio Desk. Seating in these rooms ranges from 5 to 22. The largest room needs to be reserved through https://events.bates.edu/VirtualEMS/#.
In Audio, HDMI cables with adapters for the newer MacBooks are available for 4 hour loans, so you may sign out a viewing room, plug your laptop into the console, and connect to the large screen to work on group projects or just for fun!