See what's new at Ladd every week!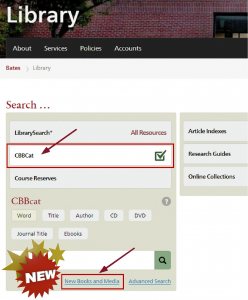 The Library is pleased to announce the launch of the CBB New Books and Media search tool, accessible from the Ladd library web site, and at: http://www.cbbnet.org/new-books-and-media/.
The CBB New Books and Media search tool is updated on a weekly basis. Use this service to generate a list of materials recently acquired by Colby, Bates, and Bowdoin libraries. You may:
Search by format for books, e-books, DVD's, audio books, CD's, scores, and government documents.
Search on a particular subject area (books, e-books, DVD's only).
Limit results by language and library location (Colby, Bates, or Bowdoin).
Choose a time frame: items received in the last 7, 30, or 90 days.
View results as a web page (full-featured or printer-friendly), or send in an email.
The CBB libraries continue to consider ways to enhance access to our shared library collection, and we hope you will take advantage of the New Books and Media search tool to keep up to date with new acquisitions. If you have questions, or feedback you'd like to share, please contact your Librarian Liaison from our Research Services staff.