Designing bobcats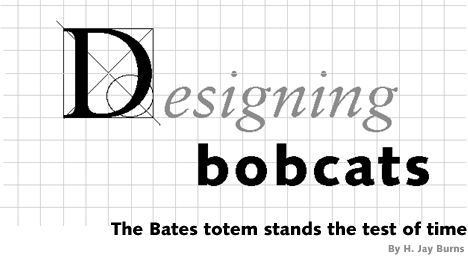 An enthusiastic trackman. A meeting in the Chapel. A vote by the students.
Over the course of just three weeks back in 1924, that's all it took to adopt the bobcat as the College's official mascot. "I don't recall any other ideas for a mascot," said Auburn resident Ken Conner '25, whose classmate Clarence Archibald proposed the idea. "It took hold of me; everyone was very enthusiastic."
Flash forward to the late 1990s, to a school with a great mascot but no official bobcat design for sports programs, banners, playing fields, gymnasiums, uniforms, and merchandise.
Not that the College has suffered a dearth of ad hoc bobcat designs over the years: Reunion classes, for example, often develop bobcat designs for T-shirts, the athletics department has "borrowed" designs for its uniforms (in one case lifting a copyrighted image from a construction equipment company), and fund-raisers have been known to dig up goofy bobcat cartoons for direct-mail campaigns.
You've seen them all: happy bobcats, bobcats that look like they're about to yak up a hairball, and the occasional homicidal bobcat.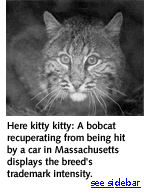 Just imagine the New England Patriots with a dozen versions of their "Flying Elvis" helmet logo. "The College had 15 or so different versions and expressions — all designed with best of intentions," said Portland graphic designer Brad Woodworth diplomatically.
He designed the new-and-approved bobcat design shown above, one that's finding its way into and onto the Bates community, from football helmets and center court at Alumni Gymnasium to temporary tattoos on athletes and kids alike.
Anyone at Bates will tell you that faced with a problem, the College will find a committee to handle it. Indeed, throughout the winter, spring, and summer of 1997, a ten-member campus committee met with Woodworth to develop a new and approved bobcat design.
What made the process unusual, Woodworth said, was being faced with a decades-long tradition of the bobcat, but no single image and many preconceived notions of what the Bates bobcat "should" look like.
So the committee began with Bobcat 101. "Some people don't have a real idea of what a bobcat looks like," said Scott Marchildon '95, a former Bates football player who is now assistant director of alumni relations. A bobcat — a secretive animal rarely seen by humans — actually looks a lot like a housecat on steroids. "People usually think it's bigger than it is. It's not that big, but very ferocious."
Marchildon should know something about the bobcat. While hunting in the Hanover, Maine, area back in 1987, the Rumford native and his father bagged a bobcat and had it stuffed and mounted. "I guess that's why I ended up at Bates," he joked. Most bobcats weigh between 25 and 30 pounds, but look bigger because of their thick, dappled coat. Night hunters, bobcats stalk their prey alone. They have been known to take down deer and can leap 12 feet in a single bound. In a sprint, they have been clocked at 15 mph.
After the committee received a bobcat primer from Woodworth and Marchildon, the designer negotiated "the expected politics involved in developing a new symbol for many different College constituencies."
For example, the committee (two coaches, the director of athletics, three students, plus administrators from the College Store, Admissions, College Relations, and the Alumni Office) wondered whether the design should suggest a fierce creature, or merely an intense one. Should it be a faceforward image emphasizing the feline facial features, or a side image suggesting speed and movement? Mouth open or closed? Dripping mule blood, perhaps?
"We wanted to portray the cat in action, pouncing and running," Marchildon said. "We wanted to portray fierceness, but not to the point where the mouth is overly open and teeth exposed, because not everyone likes a bloodthirsty symbol," Marchildon said. "It was important to portray images that athletes have in competition. Fierce, but not killers."
"We all knew the bobcat carried historical weight," Woodworth said. "And we wanted to retain that sense of history in a consistent bobcat symbol that could be used for a host of contemporary applications, be it a temporary tattoo for 6-year-old kids to an NCAA banner for ski championships."
Perhaps because Bates was the only Maine college without a mascot in 1924 (a "totem" it was called then), the process for choosing the bobcat moved swiftly, albeit not without the inevitable committee creation and an open forum at the Chapel, a staple of Bates student activism even then.
Clarence Archibald '25, captain of the track team, proposed the bobcat at a mid-November meeting of the Varsity Club. "His arguments were that the Bates teams, because of their fighting spirit in spite of their comparatively small size, are typical of that ferocious animal," noted the Nov. 21, 1924, issue of The Bates Student, which referred to the feline as a "Bob-cat." The Varsity Club endorsed the idea and charged Archibald with appointing a committee to drum up support from other student organizations.
That Archibald came up with the idea of the bobcat himself is doubtful. Back in 1922, Jack Williams '11, in a letter to the Bates Alumnus, suggested the bobcat as a College mascot: "It is small — but Oh! how it can fight."
Williams was inspired with the idea after seeing "the fight the light Bates football team put up against heavier odds." (Another Maine college, Colby, also adopted its mascot — the white mule — as a way to reflect their sports teams' success against the odds. See sidebar.)
While the bobcat idea was not new with Archibald, he was the one who understood campus politics. At a campus forum in early December, he paraded a number of senior leaders who all spoke enthusiastically of the bobcat idea.
Ralph Corey '25, president of the Student Council, bemoaned the College's place as the only Maine college without a mascot. Helen Lovelace '25, president of the Women's Student Government Association, told the audience of more than 500 that "it pays to advertise." John O'Connor '25, president of the Varsity Club, echoed the need for publicity that a mascot would bring Bates, while Erwin Canham '25 noted the similarity in spirit between Bates and the bobcat.
All the while, President Gray harrumphed his approval of the student comments.
A ballot at the conclusion of the meeting showed a landslide for the bobcat: 490 votes for the feline, with only token votes for a panther, chow, leopard, moose, and stork. The stork, in fact, received three votes.