Learning takes place


By H. Jay Burns
The blazing mid-fall sun was the spotlight, and the best of Bates was the show during the dedication ceremony for Pettengill Hall, the College's most ambitious building project ever, on Celebrate Bates! Weekend last Oct. 2.
On display for the hundreds of Bates alumni, parents, and friends was a new $18-million academic building for the social sciences -28 classrooms, labs, and student research rooms; 59 faculty offices; 12 lounges and seminar rooms; and a capstone special meeting room.
But the ceremony said perhaps more about Bates itself, how the Bates culture – hard working, collegial, cooperative – can invigorate even the creation of innovative new learning spaces on a 109-acre campus.
One after another, the parade of dedication speakers acknowledged what others had contributed to make real Pettengill Hall: ideas, encouragement, financial generosity, technical expertise, and vision. The overall effect was euphoric – a metaphoric barn raising, where everyone contributes, shoulder to shoulder, each encouraging the other.
"As the I Ching says, there is always the appropriate level of difficulty at the beginning," said Sandy Howe, project principal for the architectural firm of Shepley Bulfinch Richardson and Abbott. "But this is a campus where the teasing out of the project was true and pure, resulting in a flexible and inspiring structure."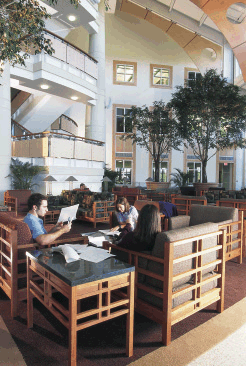 James L. Moody '53, chair of the Board of Trustees, noted that President Harward "is first of all a teacher. He helped the board realize the need for a new building before we knew it."
In turn, Ralph Perry '51, whose $1-million gift created the memorial Joan Holmes Perry '51 Atrium, thanked a number of Bates people, including Moody, "my friend of 50 years," for helping to create a building "that is bold, innovative, and instills pride in the College."
Perry noted that "one can count on the fingers of both hands the most significant days in one's life. This day ranks as one of the greatest days in my life, and I am grateful to be able to share it with friends and family."
The building is named through the generosity of Ursula Pettengill and her late husband, Frederick "Pat" Pettengill '31, a longtime Bates volunteer and supporter. "Pat had special love for Bates," she said. "And I am very proud of this building; it is a masterpiece that I hope with be loved by Bates faculty, staff, and students in the way that Pat loved Bates."
Especially on a residential college campus nearing its 150th anniversary, an $18-million new building carries with it a heavy burden of expectation.
It is expected to shine as an example of the institution's confidence in itself and its future, yet it must be a respectful architectural companion to its surroundings.
Despite its 91,000 square feet and five levels, including the signature James L. Moody Jr. Meeting Room, Pettengill Hall is "nestled into a comfortable space, not overpowering its architectural siblings," Howe said. The architect noted how the three-level, 8,000-square-foot Perry Atrium, overlooking Lake Andrews, helps integrate the interior spaces, creating a "feeling of equality" within, a sense of "unprivateness" and "community."
Howe noted the building's companionship with Lane Hall, the relationship between the columned entrances of both buildings. He also called attention to how Pettengill Hall, as a new campus crossroads, helps unite the historic campus of Hathorn Hall with the newer and restored area of Lake Andrews and Olin Arts Center.
The building also meets the expectations of the faculty members from the social sciences, finally brought together under one roof from their cramped outposts around campus. "Pettengill Hall puts the student-faculty relationship at the forefront," said Drake Bradley, Dana Professor of Psychology and a member of the Building Program Committee.
President Harward is fond of saying that "learning takes place," a play on words that reflects both what is required and the reality of teaching and learning at Bates.
Pettengill Hall, he told the audience, "is a place that captures the metaphor of teacher and student on the two ends of the log, personally absorbed and engaged by ideas. It is place that reinforces how learning and teaching are enhanced with technology. And it is place that encourages faculty and student interaction.
"Pettengill Hall is such a place, and learning will flourish here."