Peg Ficks '01 named NCAA Woman of the Year from Maine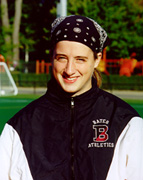 Recent Bates College graduate Peg Ficks of Washington, Conn., has been selected by the NCAA as the 2001 Woman of the Year from Maine.The NCAA Woman of the Year Award honors senior student-athletes who have distinguished themselves throughout their collegiate careers in the areas of academic achievement, athletics excellence, service and leadership. Fifty-one state winners are selected, with 10 finalists for NCAA Woman of the Year honors chosen in September. The state winners and finalists will be recognized at the 2001 NCAA Woman of the Year awards dinner in Indianapolis in October.
Ficks, a 1997 graduate of the Taft School, is the only two-time All-America selection in Bates field hockey history. As a goalkeeper, she is Bates' career leader in shutouts and among the college's top three in saves, goals-against average and save percentage. Ficks led the Bobcats to a school-record three straight playoff appearances, including an 11-win season in 1999. She also earned three varsity letters with the softball team in her career.
Ficks was a 2001 Academic All-America selection, making her one of three Bates athletes to earn academic and athletic All-America distinction in the same year. Ficks was an eight-time dean's list student and a member of Bates' Student Athletic Advisory Committee. She will begin teaching English at Poland (Maine) Regional High School in September.
"Peg was a joy to coach," said Bates head field hockey coach Wynn Hohlt. "She was an exemplary role model for her teammates, putting in tremendous time and effort to achieve excellence and become perhaps the best goalkeeper Bates has ever had."
Ficks is the second straight Bates graduate selected by the NCAA as Maine Woman of the Year, joining Amanda Colby '00, who was selected as a finalist last year. Ficks was one of more than 350 nominees for the NCAA Woman of the Year and one of 13 state winners from Division III.
View Comments