Counting Crows to perform concert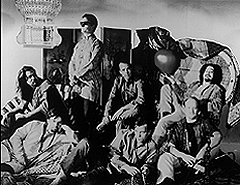 The critically and popularly acclaimed band Counting Crows will perform at Bates College at 8 p.m. Thursday, Oct. 11, in the Clifton Daggett Gray Athletic Building. Tickets are $28 for general admission and are available at all Bull Moose locations throughout Maine and New Hampshire and at Bowdoin and Colby colleges. For more information call 207-795-7496.
Counting Crows' emotionally-kindled rock songs, such as the smash hits "Mr. Jones" and "Hanginaround," are notorious for their reflective musings on life. In the midst of a year-long concert tour of the United States, the group's forthcoming album is slated for release in early 2002 and will be their fifth on the Universal-distributed Geffen record label. "The best music is unself-conscious," says band member Charlie Gillingham. "We won't be satisfied unless it's perfect, but also perfectly unself-conscious." Lead singer Adam Duritz says, "The most important thing about this band is heart. That's where the songs come from."
Named after an English divination rhyme, Counting Crows assembled in 1989 in the San Francisco Bay area when Duritz and Crows' guitarist David Bryson began writing songs together. Counting Crows Duritz and Bryson recruited bass-player Matt Malley and keyboardist Charlie Gillingham in August 1991 and began performing in San Francisco clubs. Released in September 1993, their first album, "August and Everything After," featured the hit song, "Mr. Jones," and garnered a four-star review from Rolling Stone Magazine.
The Wall Street Journal said of the album, "Vivid, startling images, via one man's tales of alienation, heartache and dreams." The Seattle Rocket called it, "…The start of something very beautiful." "August and Everything After" rose to the fourth spot on the Billboard 200, remaining on the chart for 93 weeks. In 1996, the album was certified seven-times platinum by the Recording Industry Association of America.
Counting Crows' "Recovering the Satellites" (1996) album debuted at number one on the Billboard 200 chart before going double platinum in July 1997. The Crows' most recent album, "This Desert Life," (1999) has sold more than two million copies worldwide featuring the hit song "Hangingaround." The Counting Crows were honored with a 1995 American Music Award for favorite artist in alternative music. The band won also won a 1994 MTV Video Music Award for "Mr. Jones."
View Comments