Renowned peace activist to speak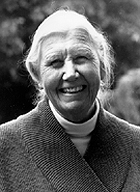 Nobel Peace Prize nominee Elise Bjorn-Hansen Boulding will discuss how the Sept. 11 terrorist attacks might affect prospects for world peace in a lecture at Bates College at 4:15 p.m. Thursday, Oct. 11, in Chase Hall at Bates. Part of the Muskie Archives Lecture Series, the event is open to the public free of charge.
Boulding will examine the September attacks in light of the United Nations Decade for Peace and Nonviolence, which began this year. Titled "The United Nations Decade for Peace and Nonviolence: What Do We Do?" Boulding's lecture at Bates will offer a vision, she says, of "how we can respond to the events of Sept. 11 in a way that will break the cycle of violence, begin to deal with the underlying issues that caused it and create more peaceful relations in the future."
"The United States has been emphasizing unilateralism," Boulding says. "Now what we're learning is that we have to listen to the rest of the world, and to learn more about cooperation among states and communities in order to achieve common goals."
A professor emerita of sociology at Dartmouth College, Boulding is an activist well-known in the international peace movement. She was a co-founder of the International Peace Research Association, has held leadership positions in a variety of other prominent peace organizations, and was nominated for the Nobel Peace Prize in 1990.
Boulding's long list of publications includes the books Cultures of Peace: The Hidden Side of History (Syracuse University Press, 2000), Building a Global Civic Culture: Education for an Interdependent World (Syracuse, 1990) and One Small Plot of Heaven: Reflections on Family Life by a Quaker Sociologist (Pendle Hill Publications, 1989). She was born in Norway and lives in Massachusetts.
The Edmund S. Muskie Archives constitute the largest U.S. collection of research materials involving a politician who was not president of the United States. The archive offers a vibrant series of public programs that relate to issues in which Muskie, a former U.S. senator and secretary of state, was influential.
View Comments