Marge Piercy to read for Annual Writers Harvest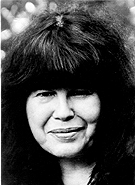 Prizewinning poet and fiction writer Marge Piercy, whose critically acclaimed narratives link people, passion and politics, will read from her work during the Annual Writers Harvest at 8 p.m. Thursday, Oct. 25, in the Benjamin Mays Center at Bates College. The public is invited to attend and donations will be accepted. Proceeds will benefit the Maine Coalition for Food Security and the Good Shepherd Food Bank as part of the Writers Harvest, the annual literary benefit to fight hunger and poverty sponsored by Share Our Strength (SOS).
Author Erica Jong calls Piercy "one of the most important writers of our time," one "who has redefined the meaning of the female consciousness in literature and in doing so has begun to redefine the meaning of literature."
Combining political activism with a notable career as a novelist, poet and teacher, Piercy lives in Wellfleet, Mass. Her 15 novels include City of Darkness, City of Light,The Longings of Women, He, She, and It, Woman on the Edge of Time and Gone to Soldiers. Her latest novel, Three Women (William Morrow, 1999), tells an intergenerational story about a mother, daughter and granddaughter.
Piercy's books of poetry include What Are Big Girls Made Of? Early Grrrl, Mars and Her Children, My Mother's Body and Circles on the Water. Her latest collection, The Art of Blessing the Day: Poems With a Jewish Theme (Alfred A. Knopf, 1999), won the 2000 Paterson Poetry Prize. Poet Lyn Lifshin calls the volume "an exquisite book."
Piercy has published fiction and poetry in hundreds of journals, periodicals and anthologies, while conducting workshops and lecturing at more than 250 institutions in several countries. A political activist for many years in civil rights, anti-war groups, Students for a Democratic Society and the women's movement, she has sponsored various benefits around the country to raise funds for political causes.
A Detroit native, Piercy earned an A.B. from the University of Michigan and an M.A. from Northwestern University. She and her husband, Ira Wood, founded Leapfrog Press, a small literary publishing company, in 1997. She is also a consultant for various arts and humanities councils nationwide.
Each fall, Writers Harvest invites writers to fight hunger and poverty by reading from their works in bookstores, college campuses and community centers around the country. SOS distributes 100 percent of event donations to statewide anti-hunger and anti-poverty efforts. Since its inception in 1992, SOS's Writers Harvest has raised more than $800,000 for the fight against hunger.
View Comments