Clyde Evans Jr. to hold hip-hop workshop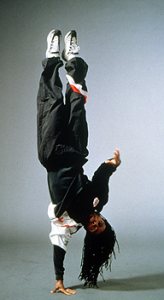 Acclaimed dancer and choreographer Clyde Evans Jr. will discuss and demonstrate the art of hip-hop in a Bates College performance at 9:15 p.m. Monday, Nov. 12, in the Olin Arts Center, 75 Russell Street. The public is invited to attend free of charge.
Evans will also perform with his hip-hop company, Chosen, at 8 p.m., Thursday, Nov. 15, in Schaeffer Theater, 305 College Street. Admission is free to students and $5 for all others. Both performances are suitable for families.
Evans presented Speechless, a look at the history of hip-hop, at the 2001 Bates Dance Festival. Started as an underground dance movment by African-American teenagers in the 1980s, hip-hop has grown into an international music, fashion, film and dance phenomenon. Since 1991, Evans has appeared in such major performances as the Q102 Monster Concert with recording artist TL; John Coltrane Project, commissioned by the Annenberg Center in Philadelphia; and Dance Africa America in Chicago, Los Angeles and New York.
Captivating audiences as a member of Rennie Harris' dance company, Evans has performed and taught at major venues throughout the world. He co-developed and co-starred in the role of Mercutio in Rome and Jules, Harris' dazzling spin-off of Romeo and Juliet. He has also appeared in feature films and dance videos. Evans has "something important to say," said the Seattle Post-Intelligencer. Kimberly Roberts of The Philadelphia Tribune called him "exciting . . . with cat-like quickness and the stupefying hang time of Allen Iverson."
Evans' Bates appearance is sponsored by Bates College Modern Dance, Office of the Dean of Students, Amandla! and L/A Arts.