Modern Dance Company showcases new work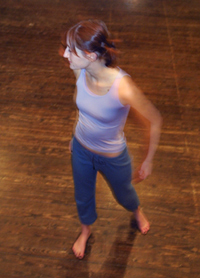 The Bates College Modern Dance Company, under the artistic direction of Marcy Plavin, showcases the talents of students and a guest choreographer in concerts at 8 p.m. Friday, Jan. 11; 8 p.m. Saturday, Jan. 12; and 2 p.m. Sunday, Jan. 13, in Schaeffer Theatre, 350 College Street. The public is invited to attend free of charge. No reservations are accepted and seating is on a first-come, first-served basis. For more information, call the Schaeffer Theatre box office at 207-786-6161.
The concert features a five-dance suite, More Drama than Advisable, choreographed by Portsmouth, N.H., senior Kate Nies, as a component of an interdisciplinary senior thesis in the fields of dance and women's studies. "Unlike pieces I've choreographed in the past that were psychologically driven, this work is about movement," Nies says. "I wanted to move in different ways and develop a style."
The program includes a solo, Pangs, by Bates senior Devon Fitchett of Woburn, Mass., and The Shark Attack and Other Dating Rituals, a dance/theater work by New York choreographer Alexandra Beller that examines the struggle and hilarity of human mating habits. A member of the Bill T. Jones/Arnie Zane Dance Company from 1995 through 2001, Beller has performed in more than 50 countries and throughout the United States. She teaches at Dance Space and Sal Anthony's Movement Salon in New York. Beller's work will be performed next month at Joyce Soho in New York.
View Comments