Corradini '92 carries a torch for Salt Lake City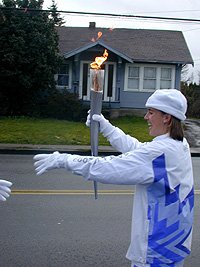 Photographed in Salem, Ore., on Jan. 22, Andrea Corradini '92 was one of approximately 11,500 runners in the Olympic Torch Relay who have conveyed the flame from Atlanta to Salt Lake City, where the Winter Games begin Feb. 8.
At a little less than a quarter of a mile, Corradini's leg of the 13,500-mile run was "not too difficult, except when you factor in that the torch weighs about three pounds and you have to hold it up high!" she writes. In fact, she's used to somewhat longer distances, having run seven marathons in recent years.
A resident of Tigard, Ore., and product line manager for outdoor footwear at Nike, Corradini was nominated for the run by a friend in Salt Lake City. It was a logical suggestion. "My family goes way back in Salt Lake City," she says. "I grew up on the slopes of the Wasatch Mountains, and went to high school with Olympians Hilary Lindh and Picabo Street."
"In 1991, my mother decided to run for mayor of Salt Lake — being a female, Democrat, non-Mormon divorcee, it was quite against the typical Salt Lake politician (and actually turned out to be my inspiration for my thesis!)," continues Corradini, who majored in political science at Bates.
Yet Deedee Corradini was elected and served two four-year terms, during which she was instrumental in bringing the Winter Games to Utah. Corradini mère accepted the Olympic flag on behalf of Salt Lake City during the 1998 Winter Games in Nagano, Japan — and like her daughter, took part in the torch run this winter, in Greenville, S.C., where she lives part of the year.
As for Andrea Corradini's Olympic turn, she recounts that "the most thrilling part by far was meeting the other people nominated to run the torch," including the widow and children of a man lost in the Twin Towers, and a girl living with cystic fibrosis. "So amazing, I had chills the entire time."
She adds, "The other thrilling part was having my 8-month-old daughter Savannah and daddy [David Brown] there to cheer me on."
View Comments