'Dragapella beautyshop quartet' performs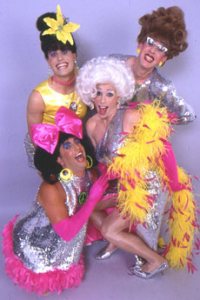 The singers who describe themselves as "America's favorite dragapella beautyshop quartet" perform at Bates College at 7 p.m. Sunday, March 17, in the Olin Arts Center Concert Hall, 75 Russell Street. Sponsored by OUTfront, a campus advocacy and support group for issues of gender and sexuality, the concert is free and open to the public.
The four members of the Kinsey Sicks met as recreational musicians who ultimately left careers in other fields to pursue this venture. "Their first performance, if you could call it that, was on the corner of Market and Castro streets seven years ago, when friends and passersby tossed $37 in a hat," The New York Times wrote last August. "Soon there were nationwide appearances, two CDs and rave reviews in publications as varied as The Jewish Bulletin of Northern California, Billboard and Poz magazine."
The members of the Kinsey Sicks are Ben Schatz, Maurice Kelly, Chris Dilley and Irwin Keller. They constitute one of the few drag ensembles who actually sing, rather than lip-synching. Their repertoire includes satirical takes on hits by Celine Dionne, Bobby McFerrin, Bette Midler and the Dixie Cups.
Their appearance — which the group terms "fright-wig garish glamour" — is as remarkable as their music. The foursome comes to Maine fresh from smash dates in Provincetown and the new cabaret space at New York's Studio 54.
For more information about the performance, please call 207-786-6135.
View Comments