Bates players, campus radio present Shakespeare's 'Lear'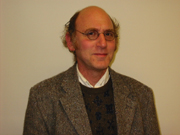 The Bates College student theater group performs the Maine radio premiere of Shakespeare's King Lear in a broadcast from 7 to 9:30 p.m. Saturday, May 11, on the college radio station, WRBC (91.5 FM).
Recorded in March by a cast of Bates faculty and students, the Robinson Players' Lear was directed by Matteo A. Pangallo, a junior from Salem, Mass.
Key players include Sanford Freedman, professor of English, as Lear; first-year student Matt Heffernan, of Cranston, R.I., as the Earl of Kent; sophomores Nathan Holt, of Plainfield, N.J., as the Earl of Gloucester and Jamal Smith, of Corona, Calif., as Edgar; seniors Colin Simmons, of Litchfield, Conn., as Edmund and Sarah Wilson, of Mediapolis, Iowa, in the role of Cordelia.
Pangallo has aspired to produce Lear for radio since last year. He attributes the idea to a Lear recording by the Renaissance Shakespeare Company, with an all-star British cast including Dame Judi Dench, Kenneth Branagh and Emma Thompson. Pangallo believes that a sound-only version of this drama set in pre-Christian Britain will "force the audience to listen and imagine the world of the play."
The play follows events leading up to the legendary king's tragic demise. When the action begins, Lear has decided to retire as King of England. He would like to divide his land among his three daughters, Regan, Goneril and Cordelia, but must first decide which will get the best land. He holds a contest to determine which daughter loves him the most, with an outcome more costly than he could ever have imagined.
A subplot involves the Earl of Gloucester, who like Lear makes a costly decision regarding the loyalty of his sons, the bastard Edmund and the legitimate son Edgar.
This is the first theatrical piece for radio the Robinson Players have produced in their 80-year history. The company recorded the performance in Schaeffer Theater at Bates and did post-production editing and mixing in the WRBC production studio.
"Our decision not to broadcast live," Pangallo says, "will enable us to edit in music for atmospheric and scene-change purposes, as well as sound effects, such as sword fights and thunderstorms."
The play airs only on WRBC, whose signal extends about 15 miles from the Bates campus.
View Comments