Glazer and Cumming performance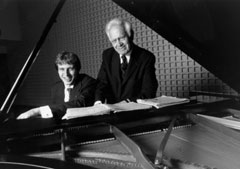 Frank Glazer, a resident artist at Bates College since 1980 and arguably Maine's best-known pianist, is joined by his former student Duncan Cumming '93 for an evening of music by Brahms, Dvorák and others at 8:15 p.m. Thursday, June 6, in the Olin Arts Center Concert Hall, 75 Russell Street. The concert is free and open to the public.
Cumming, a native of Presque Isle, teaches at Phillips Academy, in Andover, Mass., and performs as a solo pianist and a member of the Cecilia Trio. He began studying with Glazer in his teens and the two have worked together since. Their 1997 survey of the Brahms solo piano literature at Bates was a highlight in the annals of Maine music.
The pair will perform Brahms' "Variations on a Theme by Haydn," Op. 56b; Schubert's "Andantino Varié in B minor on French Motifs," Op. 84, No. 1; two entries from Dvorák's "Slavonic Dances," the Op. 72, No. 2, and the Op. 46, No. 8; and an adaptation of Strauss' popular "Blue Danube" Waltzes.
Glazer is an artist of international stature who taught at the Eastman School of Music for 15 years before retiring to Maine with his wife, Ruth, in 1980. The couple founded the Saco River Festival, which is held in Cornish every summer. A student of pianist Artur Schnabel in the 1930s and '40s, Glazer is one of the few remaining proteges of that great musician.
Glazer's long career includes numerous recordings, his own television program in the 1950s and countless solo recitals and performances with orchestras and chamber ensembles, including the New England Piano Quartette, of which he was a founder.
For more information about the performance, please call 207-786-6135.
View Comments