Mount David Summit celebrates student academic achievement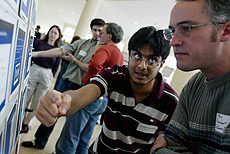 A cavalcade of academic stars is ready to dazzle the College community and campus visitors at the second annual Mount David Summit, noon-8 p.m. Sunday, March 30.
More than 100 students, working in 22 disciplines with 40 professors and assistants in instruction, will present poster displays, panel talks, artistic and musical performances and multimedia offerings at Pettengill Hall and other campus locations. Approximately half of the presenters are seniors sharing results from their thesis work, with the remainder first-years, sophomores and juniors presenting results from coursework and collaborations with professors.
"The summit celebrates student intellectual achievement," says Jill N. Reich, dean of the faculty and vice president for academic affairs. "It also gives our students space, time and community encouragement to share their intellectual work beyond themselves. The experience inspires them to take greater ownership of their ideas, fostering the lifelong commitment to ideas and intellectual rigor so characteristic of a Bates education."
The summit concludes with an 8 p.m. concert in the Olin Arts Center Concert Hall of original works by Jesse Fox '03 of Potomac, Md. All presentations are free and open to the public. Examples of scheduled presentations include the following (subject to change):
The Lewiston Lead Awareness Project : A group of six students working with Heather Lindkvist, lecturer in anthropology, present their findings after researching the lack of awareness in two Lewiston neighborhoods (as defined by census data) of the need for childhood blood-lead screening.
Motherhood Against the Monstrous: ?Caitlin Cook '03 of Long Beach, Calif., presents her honors thesis, advised by history professor Steve Hochstadt, exploring acts of resistance performed by mothers in concentration camps during the Holocaust. Cook finds that mothers frequently made decisions about their lives and their children's lives that reflected values and expectations vastly exceeding those of mere personal survival.
Sex and Survival: ?Do male guppies survive and attract mates because they're fast swimmers or because they're effective cowards? Seniors Francine Abe '03 and Sara Miller '03 examine a species of guppies, Poecilia reticulate, and test how important swim speed and escape tactics are both to guppy survival and sexual selection. For example, do female guppies prefer males whose courtship display is linked to successful predator evasion?
Mapping and GIS : Computer-based geographic information systems allow users to develop high-quality maps quickly. Students of assistant professor of environmental studies Curtis Bohlen explored GIS technology during the winter semester and created a range of maps: some traditional (such as a map of Ireland's zoning laws and geologic phenomena) and others idiosyncratic, such as a map of cigarette butt receptacles on the Bates campus.
Maine-Produced Foods From Producer to Consumer : Based on his senior economics thesis, Alan Hunt '03 of High Bridge, N.J., investigates issues of consumer demand for locally grown products, specifically Maine-grown agricultural products in the southern part of the state. Hunt, who collected survey data at the Portland Public Market, suggests that consumer demand for local products is influenced by their interaction with agricultural producers and retailers.?
Everything You Wanted to Know About Psychoanalysis But Were Afraid to Ask Ovid: ?Students in Greek Myths and the Psychology of Gender, taught by Lisa Maurizio, assistant professor of classical and medieval studies, analyze the connection between mythology and the modern discipline of psychoanalysis.
For more information on the 2003 Mount David Summit, click here.
View Comments