Exhibition takes populist view of Russian religious art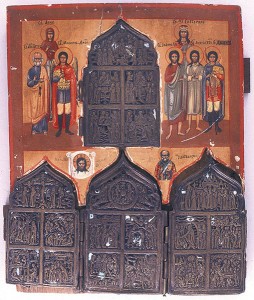 Opening at the Museum of Art Oct. 17, an exhibition of Russian Orthodox icons spanning several centuries offers an intimate perspective on a genre rarely explored by Maine art presenters: religious objects.
Consisting of icons loaned by Dr. George Contis of Arlington, Va., From Byzantium to Russia: Popular Icons for Personal Devotion opens with a reception at 6 p.m. Friday, Oct. 17. Contis, head of an international health-care services firm, gives introductory remarks at the reception. A full schedule of lectures connected with the exhibition appears below.
Opening simultaneously is Photographs of Meteora, Philip Jameson's images of the famed Orthodox monasteries perched atop giant sandstone formations in Greece. The exhibitions run through Dec. 29. For more information, call 207-786-6158.
The museum offers the exhibits in connection with the 29th annual Byzantine Studies Conference, which draws top scholars from across the nation and makes its Bates College debut this year. The 26 thematic presentation sessions held Oct. 17-19 are open to the public for a $10 daily registration fee that includes light refreshments and provides opportunities to talk with visiting scholars. For registration and information, call the Office of Special Projects and Summer Programs at 207-786-6400.
Most of them brass, many embellished with colorful enamel, the icons from the Contis collection depict figures and scenes from the life of Christ and religious history. In Orthodox practice, which Russia adopted in the 10th century, the icons were objects of veneration — providing a point of contact for communication between the worshipper and the saints or scenes represented.
This exhibition is distinctive because it emphasizes objects used by ordinary people, rather than by the wealthy patrons or institutions that commissioned so much well-known art, explains Rebecca Corrie, the Phillips Professor of Art at Bates and an exhibition organizer.
For example, "when I work on Italian art, by and large what have been saved are the big fabulous 'stars' of the field," Corrie says, and that's true for much Western art. In the West, "the simple objects that people used day-to-day in their religious practices are pretty much gone. We don't have the stuff that people carried around in their pockets."
"Those little things tell us a tremendous amount, not only about only how people lived their religious lives, but also what they thought about images — what they thought was important," Corrie says. "We have that with these brass icons. That's what makes this exciting."
Copies of church-sanctioned images, icons were manufactured by the hundreds of thousands over six centuries in Russia, ending with the Bolshevik Revolution. Of the nearly 100 pieces at Bates, the oldest is a ceramic pilgrim's token (not technically an icon) from the 7th century; most items on display date from the 1700s and 1800s.
People from nearly every walk of life used the icons in a variety of ways. "They served their owners during periods of joy and sorrow, from birth to death," Contis writes.
The image of a newborn's patron saint would join the family collection in the "red" or "beautiful" corner, a shrine placed where the sun's rays would illuminate it first each day. Families amassed cherished collections of the icons, which were often passed down through generations. Travelers and soldiers would carry their saints with them.
"Some of them clearly have been touched or kissed extensively," Corrie points out. "They're very rubbed on the surface."
Philip Jameson's show approaches Orthodox worship from a different angle. He has made several visits to Greece and the five remaining monasteries that cling to towering sandstone formations on the Thessalian plain at Meteora. Originally numbering 14, the monasteries were founded by hermits seeking both contemplative solitude and security (for a long time, the only access was by a rope or net winched up by a monk).
Of Greek descent, and with long experience photographing the dramatic landscapes of the American Southwest, this resident of Providence, R.I., saw in the monasteries a chance to connect his spiritual heritage with his aesthetic interests. "[T]he grandeur of the landscape emphasized [the monasteries'] unique position, poised between earth and sky, making them emissaries between corrupt humanity and God," he writes.
Gallery talks are scheduled for 1 p.m. on four Tuesdays: Oct. 28 and Nov. 4, 11 and 18. A. Charles Kovacs, director of the Office of Career Services, gives a special gallery talk at 1 p.m. Saturday, Nov. 1.
The Bates professors who organized the Byzantine Studies Conference each give a lecture on the icon exhibit, both at 7 p.m. Wednesdays in Room 104, Olin Arts Center. Corrie offers From Kiev to Palermo: A History of Icons on Nov. 19. Robert Allison, professor of religion and of classical and medieval studies, offers Pilgrims to Paradise: Using Icons to Recreate the Pilgrim Experience on Dec. 3.
Coincidentally, both Jameson and Contis have career connections to health care. A pediatrician and public health expert, Contis is president and CEO of Medical Service Corporation International, a development and health services firm. Jameson dedicated himself full time to art photography in 1993 after retiring from radiology.
Exhibition sponsors include, in addition to Dr. Contis, the Byzantine Studies Conference and the Maliotis Charitable Foundation.
View Comments