'Life in Expanding Universe' is poet's Otis Lecture topic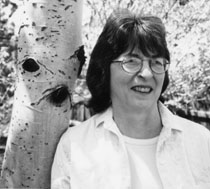 Award-winning poet Pattiann Rogers presents a talk titled "Life in an Expanding Universe" for the 2003 Philip J. Otis lecture at Bates College at 7 p.m. Wednesday, Oct. 22, in the Muskie Archives, Campus Avenue.
Sponsored by the Otis Endowment at Bates, the lecture is open to the public at no charge. For more information, please call 207-786-8204.
Linked to Annie Dillard, D.H. Lawrence and Walt Whitman, Rogers is known for verse that both embraces the natural world and unfolds the complexities of science. "I've never seen nature observed as closely, nor transfigured by human language, as in Pattiann Rogers' poetry," said Roald Hoffmann, Nobel laureate in chemistry.
Too, Rogers explores the essence of divinity, love and intimacy. Her "musical, lushly rhythmic lines show well the deep connection between the erotic and the holy that Rogers explores," wrote reviewer Susan Carlisle in the Harvard Review.
Her works include Song of the World Becoming: Poems New and Collected, 1981-2001 (Milkweed Editions, 2001) and The Dream of the Marsh Wren: Writing as Reciprocal Creation (Milkweed, 1999). Publishers Weekly selected her sixth book, Firekeeper: New and Selected Poems (Milkweed) as one of the Best Books Published in 1994.
Born in Missouri, Rogers graduated Phi Beta Kappa with a bachelor's degree from the University of Missouri in 1961. She earned an M.A. from the University of Houston in 1981. Now a Colorado resident, she has received numerous grants and awards including a Guggenheim Fellowship, a poetry fellowship from the Lannan Foundation and five Pushcart Prizes.
The annual Otis Lecture at Bates is funded by the Philip J. Otis Endowment, established in 1996 by a gift from Margaret V. B. and C. Angus Wurtele in memory of their son, Philip, a member of the class of 1995 who died attempting to rescue an injured climber on Mount Rainier.
In recognition of Otis' appreciation for nature, the endowment helps support Bates programs with an environmental focus, in particular those exploring the spiritual and moral dimensions of humanity's relationship with the environment.
View Comments