Feminist theologian to deliver annual Zerby lecture at Bates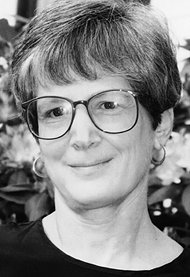 Judith Plaskow, author of the landmark text Standing Again at Sinai: Judaism from a Feminist Perspective (HarperCollins, 1991) and professor of religious studies at Manhattan College, will give a presentation titled Asking the Right Questions: The Development of Jewish Women's Studies at 7 p.m. Thursday, Feb. 5 (snow date: Thursday, Feb., 12), in the Edmund S. Muskie Archives, 70 Campus Avenue. The public is invited to attend the 2003-04 Zerby Lecture in Contemporary and Religious Thought, sponsored by the chaplain's office, free of charge.
Like many other areas of women's studies, Jewish women's studies emerged out of a concrete sense of women's exclusion from both Jewish scholarship and Jewish public religious life, says Plaskow. Early feminist work tried to move women from margin to center within the Jewish community. A new generation of feminists has been critical of the notion of studying "women and Judaism," arguing that such scholarship simply reproduces the marginalization of women. Plaskow's talk considers the right questions to ask about Judaism, women and gender. She will examine how feminist scholarship relates to the transformation of Judaism as a religious tradition.
Called "one of those exceptional books which is born a classic" by Hadassah Magazine, Standing Again at Sinai brought 20 years of feminist theological reflection to bear on the transformation of Judaism. In the book's introduction, Plaskow wrote: "For me, then, feminism is not about attaining equal rights for women in religious or social structures that remain unchanged, but about the thorough ongoing transformation of religion and society…The project of creating a feminist Judaism fits into a larger project of creating a world in which all women, and all people, have both the basic resources they need to survive, and the opportunity to name and shape the structures of meaning that gave substance to their lives."
Co-editor of such widely respected anthologies as Womanspirit Rising: A Feminist Reader in Religion (Harper San Francisco, 1978) and Weaving the Visions: New Patterns in Feminist Spirituality (HarperCollins, 1989), Plaskow is researching a progressive, constructive sexual ethics and theology written from a Jewish feminist perspective. Her forthcoming book, tentatively titled Just Sex: Judaism, Sexuality and American Culture, will place issues of interpersonal ethics in the borader context of the contradictions surrounding sexuality in Jewish tradition and U.S. society.
Born in Brooklyn, N.Y., Plaskow received her bachelor's degree from Clark University and her master's and doctoral degrees from Yale University.  She has taught at a number of colleges and universities, including New York University (1974-75), Wichita State University (1976-79) and Manhattan College (since 1979).  Plaskow is past president of the American Academy of Religion, the disciplinary guide in the field of religion.
The annual Zerby lecture honors the late Rayborn L. Zerby of Lewiston, professor emeritus of religion and dean of the faculty at Bates.
Each year, the program brings to campus leading commentators on contemporary religious thought. Previous Zerby lecturers have included Holocaust chronicler Elie Wiesel Harvard University theologian Peter J. Gomes, Bates class of 1965.
For more information, call the chaplain's office at 207-786-8272.
View Comments