Bates presents Indonesian puppetry, music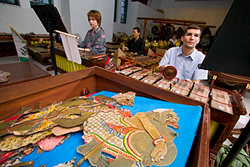 Bates College presents performances of Indonesian shadow puppetry and gamelan music at 8 p.m. Friday, March 19, and 3 p.m. Saturday, March 20, in the Olin Arts Center Concert Hall, 75 Russell St.
The performances are open to the public at no cost.
The performers are the Gamelan Mawar Mekar ("blossom of inspiration"), Bates' own gamelan orchestra; singer Jody Diamond, a New-Hampshire based international expert on gamelan; and puppetry master Joko Susilo, a visiting Fulbright scholar at Bates this year and a lecturer in the Department of Music at the University of Otago, Dunedin, New Zealand.
Bates is unique in Maine and distinguished nationally for its resources in these performing arts, including the 4-year-old gamelan ensemble and an extensive collection of shadow puppets — around 250 — on permanent loan by David Eisler, of Dover, N.H.
The gamelan is the traditional orchestra of Java and Bali that is most familiar to the rest of the world. Its gongs, drums and xylophones are played according to systems of pitch and timing very different from typical Western music. The players in the Bates ensemble include students and faculty, and work under the direction of visiting assistant professors of music Gina Fatone and Rose Pruiksma.
The shadow-puppet story for the performances, Pruiksma explains, comes from the Mahabharata, an ancient Hindu epic of India brought to Java by Indian colonists hundreds of years ago. Titled Bima Builds a Kingdom, the tale depicts the character Bima cutting down a magic forest, fighting giants, falling under a magic spell and being freed by an ogre.
"While a traditional performance of this story could last all night, our version will be about an hour and a half long," Pruiksma says.
The gamelan will also take part in Bates' World Music Weekend next month. The group will perform with the Bates Steel Pan Orchestra on Saturday, April 3, and will welcome MIT's Balinese Gamelan Galak Tika for a concert on Sunday, April 4.
View Comments