Physician to present Stringfellow Awards for Justice and Peace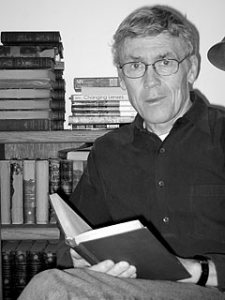 Family physician and author David Hilfiker will present the annual William Stringfellow Lecture in Justice and Peace at 6:30 p.m. Wednesday, March 31, in Chase Hall Lounge, Chase Hall, 56 Campus Avenue.
The lecture honors the legacy of William Stringfellow, Bates class of 1949, a lawyer and lay theologian prominent in the American peace movement, and coincides with the 2004 William Stringfellow Awards for Justice and Peace, to be presented this year to Bates junior Gregory Rosenthal of Schenectady, N.Y., and the members of the Greene-based Maine Center for Justice, Ecology and Democracy (JED).
Hilfiker's Stringfellow Lecture follows a talk he will give earlier in the day, Inward Journey, Outward Journey: A Physician's Story of Accompanying and Being Accompanied by the Poor, at 4:30 p.m. in Skelton Lounge, Chase Hall. Part of the series "Spiritual Journeys: Stories of the Soul 2003-04." Sponsored by the Office of the Chaplain, both events are open to the public free of charge. Call 207-786-8272 for more information.
Founder of  the Washington, D.C.-based Joseph House for formerly homeless men living with HIV/AIDS, Hilfiker, gives his Stringfellow presentation, The Triumph of Hope Over Fear, at 6:30 p.m.
"A fear of the poor, of the alien, of the 'other,' runs through our nation. It separates us from our own selves as well as from others and leaves us at the mercy of powers we do not fully understand," Hilfiker says. "Solidarity with the marginalized, on the other hand, is a profound invitation to the spiritual life. It offers us an upside-down view that begins gradually to make sense. It offers us hope."
A family practitioner who practiced for seven years in a rural Minnesota clinic and 10 years at Community of Hope Health Services, an urban clinic in Washington, D.C., Hilfiker and his family lived for five years at Christ House, a 34-bed medical recovery shelter for homeless men that he helped to found. In 1990, he left Christ House to found Joseph House, where he, as medical and finance director, and his family lived with the home's residents for three years.
No longer active in medical practice, Hilfiker works toward the creation of a just society through his writing and speaking. In December 2002, he spent three weeks in Iraq and has since written and lectured about the invasion of that country.
The author of Healing the Wounds (Pantheon, 1985) and Not All of Us Are Saints (Hill & Wang, 1994), Hilfiker's latest book is Urban Justice: How Ghettos Happen (Seven Stories Press, 2002).
JED is a group of activists, organizers, farmers and artists working for social, ecological and economic justice on both local and global scales. Based since fall 2001 at the Clark Mountain Sanctuary in Greene, the group operates a small organic farm and lives in a way that ties political activism to sustainability and ecology. JED-supported projects and organizations during the last two years include Lots to Gardens of Downtown Lewiston, Maine Solidarity Delegation to Brazil 2003, the Many and One Coalition, the Lewiston Time Dollar Network and the Maine Fair Trade Campaign.
Before transferring to Bates College as a sophomore, Gregory Rosenthal spent one year at the California Institute of Art studying music composition and uncovering connections between Taoism and music, sound and listening. At Bates, Rosenthal has continued this exploration with Visiting Assistant Professor of Music Gina Fatone. He will travel to China in fall 2004 to continue this study.
Since arriving at Bates, Rosenthal has learned to practice Buddhist meditation and to renew Judaism in his life. Bates has also introduced Rosenthal to community service, social justice and political activism.  In early March, he designated a tree on the historic quadrangle as "The Tree of Peace" and asked members of the Bates community to leave religious objects or other symbols at its base in remembrance of those who have died in the war in Iraq. A member of the New World Coalition and the Environmental Coalition, Rosenthal performs with the Bates gamelan ensemble, an Indonesian instrumental group, and Northfield, a shape-note singing group.
Given by the Office of the Chaplain at Bates, the William Stringfellow Awards annually recognize the achievement of a Maine citizen and of a Bates College student who have dedicated their lives and work to the promotion of peace and justice.
Like Stringfellow himself, award winners are distinguished by their courageous and sustained commitment to redressing the root causes of violence and social injustice and to engaging and opposing "the powers and principalities of this world," as Stringfellow described them.
View Comments