David Barlow '79, Molecular Insight chairman, to speak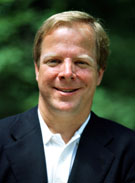 The Bates College Seminar Series on Entrepreneurship presents David Barlow, a member of the college's class of 1979 and the head of Molecular Insight Pharmaceuticals, Inc., in a discussion of his work at 7 p.m. Monday, April 26, in Chase Hall Lounge, Campus Avenue.
Sponsored by the Bates Office of Career Services, the talk is open to the public at no charge. A short networking session with refreshments follows. For more information, please call 207-786-6232.
A Bates College trustee, Barlow is chairman and CEO of Molecular Insight, an emerging biopharmaceutical company focused on developing innovative molecular-imaging pharmaceuticals and targeted radiotherapeutics for cancer. Barlow joined the Cambridge, Mass.-based firm in March 2000 as chairman and added the CEO responsibilities in January 2003.
With more than a quarter-century of distinguished service in the global biopharmaceutical industry, Barlow has built high-performance companies and brought successful products from concept to global markets. He was previously president of Sepracor Pharmaceuticals, where he was instrumental in creating a strategy resulting in the first fully integrated chemistry-based pharmaceutical company in decades.
During his six-year tenure, Sepracor's valuation increased from roughly $80 million to nearly $5 billion and its staff grew from 30 to several hundred employees. The firm created substantial corporate partnerships with such companies as Schering-Plough, Eli Lilly and J&J, and raised more than $500 million in the public market.
Barlow serves as a trustee of McLean Hospital and Newton Country Day School in addition to Bates, and is a member of the President's Council at Massachusetts General Hospital. He earned his M.B.A. from Stanford University Graduate School of Business, where he is a frequent lecturer on strategic public policy and the biopharmaceutical industry.
View Comments