Roberts '04 receives Fulbright for musical research in Mongolia
By Anne Conway '04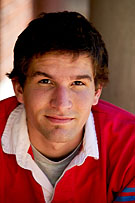 Michael P. Roberts, a recent Bates College graduate from Longmeadow, Mass., has received an award to support postgraduate research in Mongolia from the Fulbright U.S. Student Program.
A double major in music and anthropology, Roberts will travel for nine months in Mongolia researching the horse-head fiddle, a traditional stringed instrument and a national symbol for the Mongolian people. The Fulbright award covers Roberts' travel costs and provides a monthly stipend from September 2004 to May 2005.
"It is such a prestigious award and the competition is so stiff," says Roberts. "I don't think I could have done it without the help of a few Bates professors who pointed me in the right direction" — such as music faculty members Rose Pruiksma and Gina Fatone, and Steve Kemper, an anthropology professor who alerted Roberts to the Fulbright opportunity.
Roberts first encountered the horse-head fiddle as a junior during an autumn semester in Mongolia in 2002. He heard it while staying with a family in Ulaanbaatar, the capital, and "fell in love with it," he says.
Known in Mongolian as the "morin khuur," the two-stringed instrument is bowed like a cello and made from wood, horsehair and horsehide. The English name comes from the carved horse's head that typically adorns the instrument's headstock. The instrument is used in solo and ensemble performance, often with accordion, and also to accompany vocal music.
The horse-head fiddle is rarely played outside of Mongolia, so Roberts' research and lessons have been limited while he's been in the States. Though a beginner at that instrument, Roberts is otherwise an accomplished musician. By his senior year at Bates, this bassist and guitarist was attending up to six rehearsals a day, playing with everyone from his jazz-rock band Mango Quickly to Bates' Javanese gamelan ensemble to the college orchestra.
"I have a problem where I keep jumping to new music," he says.
"Problem" or not, Roberts' voracious curiosity has clearly paid off in leading him to the horse-head fiddle. His research abroad will include strictly musical aspects, including lessons and talking with native fiddlers. Moreover, Roberts is fascinated by the relationships among Mongolia's music, its natural environment and the rapid modernization since its independence from Soviet domination.
Roberts hopes to explore the fiddle's symbolic significance in Mongolia, particularly to the country's ethnic minorities. "A lot of their musical styles aren't really represented by the national culture," he says. "I want to see what they think about the horse-head fiddle being the national symbol."
It has been a while since Roberts thought of music in purely Western terms.
"I try to keep things very diverse in playing music," he says. "I like to learn about different music and know the context it comes from and how to perform it. I try to be able to share it with friends and family and try to get them to listen to other music besides what is on pop radio."
The Fulbright Program, established in 1946, is sponsored by the U.S. Department of State. This year's U.S. Fulbright students were selected from among more than 5,000 applicants. Coming from all 50 states, the District of Columbia and Puerto Rico, recipients are drawn from a diverse cross-section of American higher education representing more than 250 U.S. institutions.
View Comments