Second Bates graduate awarded 2004-05 Fulbright scholarship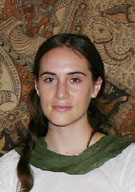 Cristin McKnight, of Los Angeles, is the second Bates College graduate to receive a 2004-05 grant for postgraduate research from the Fulbright U.S. Student Program.
McKnight, a 2002 Bates graduate and art history major, arrived in India in August and will stay through May 2005, researching traditional "kalamkari" textiles in the country's south. Michael Roberts, who graduated this year from Bates, received a Fulbright to research traditional music in Mongolia.
McKnight will pursue a comprehensive study of contemporary kalamkari fabrics. The Fulbright award covers her travel costs and affords a monthly stipend during her stay. She is dividing her time between the city of Bangalore and a small town, Sri Kalahasti, that is a center of traditional kalamkari work.
In the Hindi-Urdu languages, McKnight explains, "kalamkari" means "pen work" and refers to a traditional technique of painting fabric with dye and, specifically, to wall-hangings with mythological or religious themes made from such cloth.
"I'm examining the way older traditions and techniques have informed contemporary practice of the art," McKnight writes in an e-mail from Bangalore. "I'm particularly interested in the way women have positioned themselves in the production and exchange of kalamkari cloth and Indian textiles in general."
McKnight first studied in India during the spring semester of her junior year at Bates. Visiting Jaipur, in the north, she studied traditional hand block-printing and investigated social issues involving the sari, the traditional dress.
McKnight hopes to establish a career involving some combination of curating, teaching and textile design, with the focus on Indian fabrics and art. Since graduation, she has done gallery and museum work in Los Angeles while studying fabric design and Hindi language.
At Bates, she worked in the theater department costume shop with the late Ellen Seeling, of South Portland, an assistant professor of theater and highly respected theatrical designer.
"She opened my eyes to the many different ways that fabric can be used and appreciated," McKnight writes. "Ellen was an incredible mentor for me, and we shared a passionate love for fabric."
"The Bates family really does extend around the world," adds McKnight, noting that her circle in Bangalore includes the mother of a friend from the college.
The Fulbright Program, established in 1946, is sponsored by the U.S. Department of State. This year's U.S. Fulbright students were selected from among more than 5,000 applicants. Coming from all 50 states, the District of Columbia and Puerto Rico, recipients are drawn from a diverse cross-section of American higher education representing more than 250 U.S. institutions.
View Comments