Seven members of the Bates Class of 2020 and three young alumni have been offered grants for English-language teaching or research abroad through the Fulbright U.S. Student Program or the related Fulbright Austria program.
If all 10 accept the awards, they will travel to nine countries scattered around the globe, from Brunei to Colombia to Montenegro.
The Fulbright U.S. Student Program bestows two types of awards. Open Study/Research grants fund self-designed projects, and recipients work with advisers at universities abroad. And English Teaching Assistant awards place Fulbrighters in classrooms abroad.
For 2020–21, eight of Bates' awardees have been offered ETA awards and the others, research grants — one will study agribusiness in New Zealand and the other, large-tree ecology in Brunei.
One senior was offered two different Fulbright awards. Anne Trapp '20 of Brunswick, Maine, has accepted an English Teaching Assistantship from Fulbright Austria — Austria being one of 51 countries in which Fulbright exchanges are managed by an autonomous, binational commission. Trapp was also offered an English Teaching Assistant award for Germany from the U.S. Fulbright program.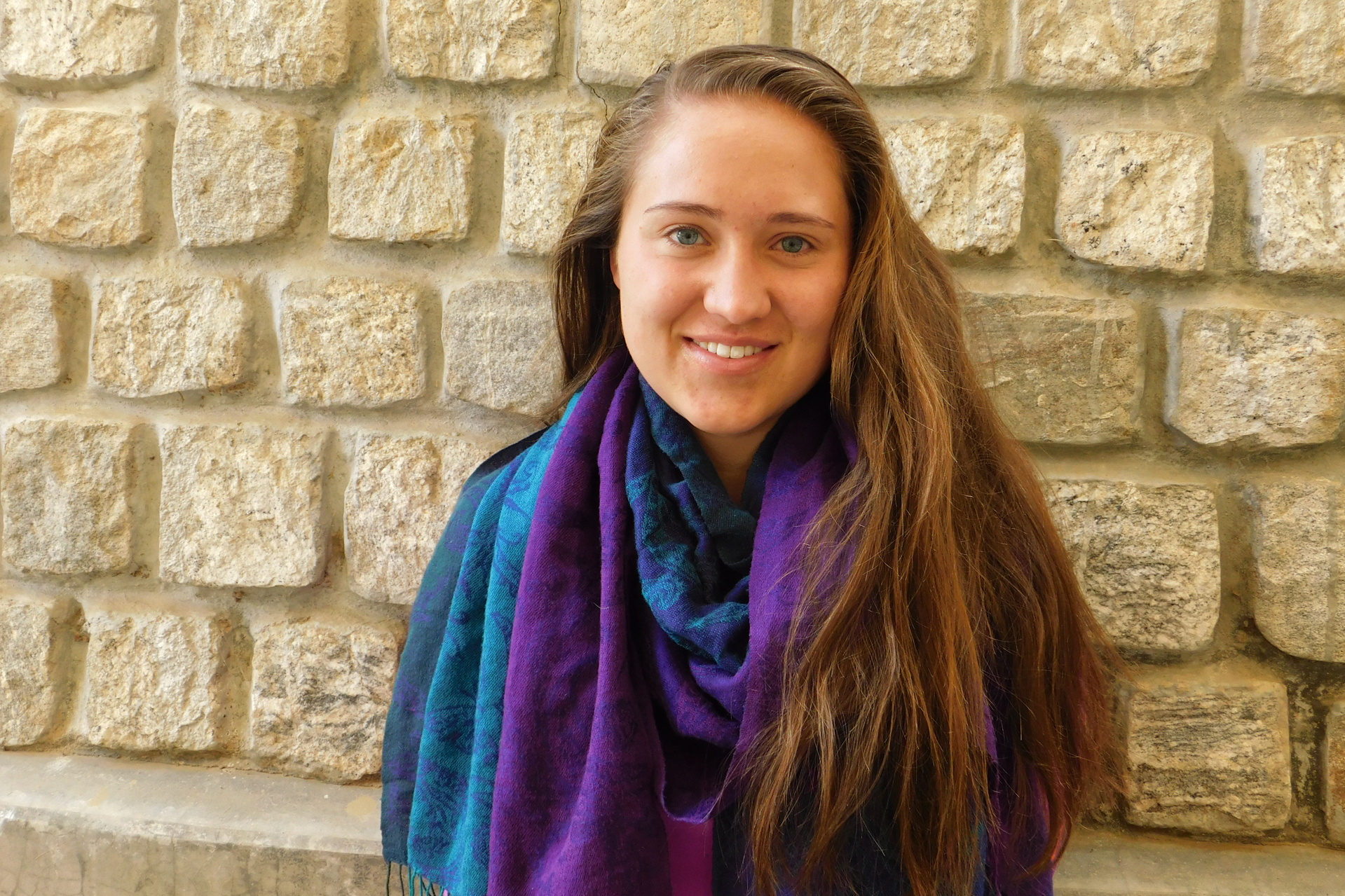 This spring's Fulbright offers to Bates seniors and young alums came, of course, at a time of dramatic disruptions around the globe caused by the coronavirus pandemic.
On March 19, the U.S. State Department of State issued a health advisory instructing all Americans abroad to either return to the U.S. or prepare to shelter in place. In effect, that advisory suspended the Fulbright Program for U.S. participants partway through their commitments — including most of the 24 Bates graduates who received Fulbright awards in the 2019–20 cycle.
While their sojourns abroad were cut short for the 24 — a drastic example being Emily Bowen '19, who arrived in Brazil on Feb. 10 and had to leave on March 15 — some, like Kelsey Schober '16 and Emily Tan '19, were able to continue or complete their Fulbright-funded research nevertheless.
But if last year's Fulbright grantees didn't have the experience they signed up for, the experience they actually received was historic, says Lecturer in English Robert Strong, the director of national fellowships at Bates. "While they had their grants cut short — in some cases, like the Nepal and Brazil Fulbrights, right at the beginning — they were deep into the globe at the start of a global pandemic.
"So they've had a unique and valuable view into the international ability to respond to crisis. No doubt, they will carry this lesson, with whatever hopes and disappointments came with it, forward into their work improving the world."
The impact of the pandemic on the 2020–21 recipients isn't clear. An undated statement on Fulbright's COVID-19 site reads, "As this is an emerging situation, circumstances may change as additional information becomes available. As of today, selection notifications for the Fulbright U.S. Student Program are moving forward in preparation for the 2020–2021 academic year." 
On April 21, finalists were notified that several components of the program won't start at least until after Jan. 1, 2021, in order to "give selected candidates, host institutions, and program partners worldwide as much information as possible in order to plan for the coming academic year."
"So they've had a unique and valuable view into the international ability to respond to crisis."
The notification stated, "Fulbright acts in partnership with educational systems in the United States and around the world, many of which are also in flux and may not open their physical facilities on a normal schedule this fall."
"The COVID-19 global pandemic has created extraordinary circumstances around the world and enormous challenges for the Fulbright Program," finalists were told. "As sponsors of the Fulbright Program, the United States Department of State's highest priority is the health and safety of all participants. Please know that our goal is to work flexibly with you to ensure you can have a safe and successful overseas experience."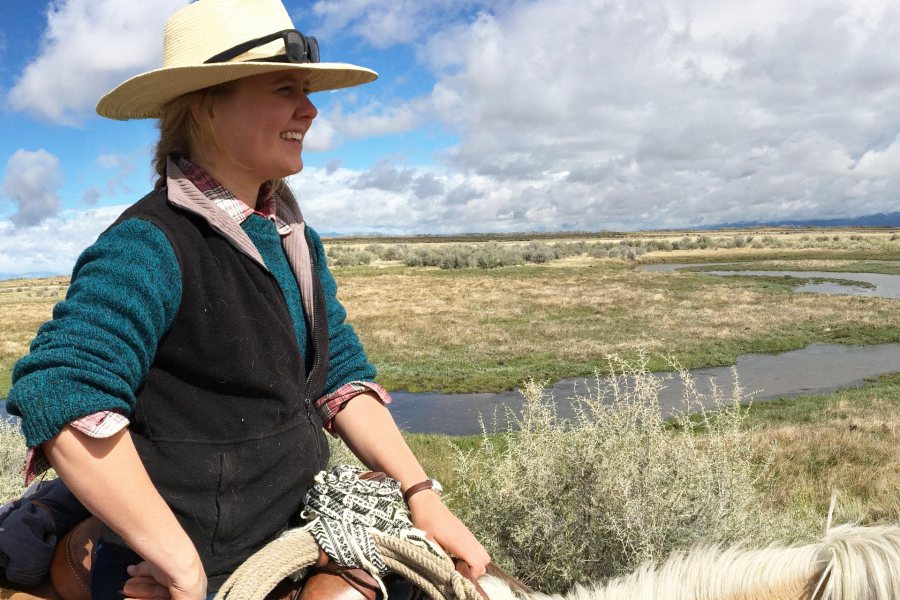 That flexibility, notes Strong, includes the invitation that Fulbright has extended to the latest crop of offerees: "They have been invited to apply again this fall for the year after, even though some of them may actually start their grants in January."
Meet the 10 recent or soon-to-be Bates alumni who have been offered Fulbright awards:
Fulbright U.S. Student Awards: Seniors
Madeline Clark '20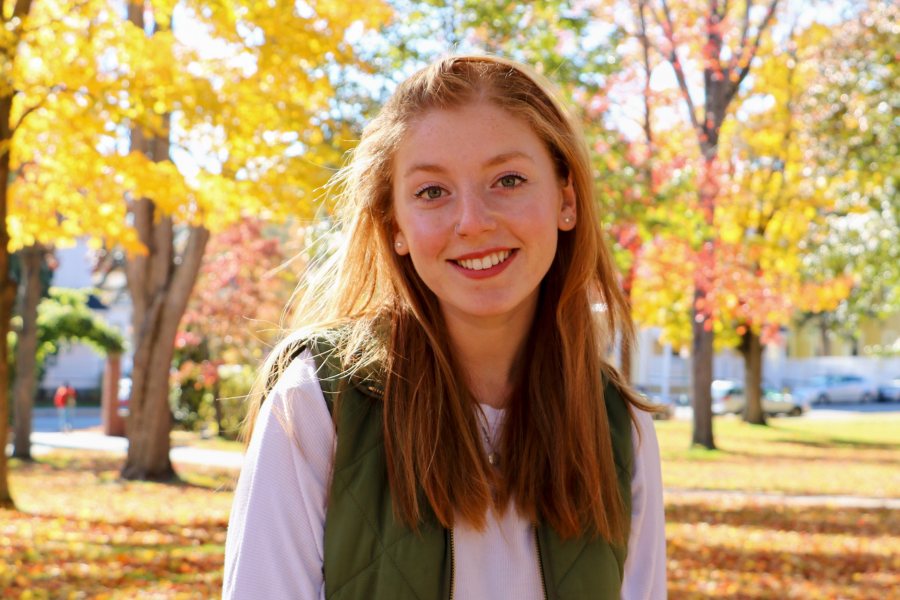 Madeline Clark '20 of McLean, Va., a double major in English and sociology, has been offered a Fulbright English Teaching Assistant Award for Asturias, Spain.
The Fulbright, she says, will support "my deep cultural curiosity and strong desire to connect with others."
While at Bates, Clark has engaged with the Lewiston community through organizations including Big Brothers Big Sisters of America and the Immigrant Resource Center of Maine, where she taught English-language learners from the Republic of the Congo and the Democratic Republic of the Congo. The ELL work in particular, says Clark, will inform her teaching in Asturias.
Her IRCM experience showed Clark the importance of forging connections in teaching language. "I adapted my teaching goals by designing a curriculum grounded in conversation," she explains. "I created lessons on global current events and provided my students with guided discussion questions.
"They were soon developing their English skills while getting to know one another, as they passionately debated topics that aroused their interest. Language learning transformed into a collaborative process." Clark adds that IRCM also afforded valuable insights into the "importance of engaging with contrasting perspectives, and how to do so effectively."
Outside of her classroom in Asturias, music will offer Clark a means of getting to know her community. Known at Bates as a singer-songwriter, she calls music "a pivotal part of my identity and a powerful uniting force."
She hopes to get involved with a songwriting club to help build her language skills and cultural awareness. Songwriting, she says, has become "an exercise in interpersonal and intrapersonal connection, and has inspired an insatiable curiosity to know myself and others."
Back in the U.S., Clark aims to earn a doctorate in creative writing and then teach at the college level. "The relationships, culture, and language that I experience in Spain will prove generative for my own writing," she says. "I believe I'll grow as a writer by learning from Spanish literary traditions and creating prose that draws on multicultural influences."
Lexie Jamieson '20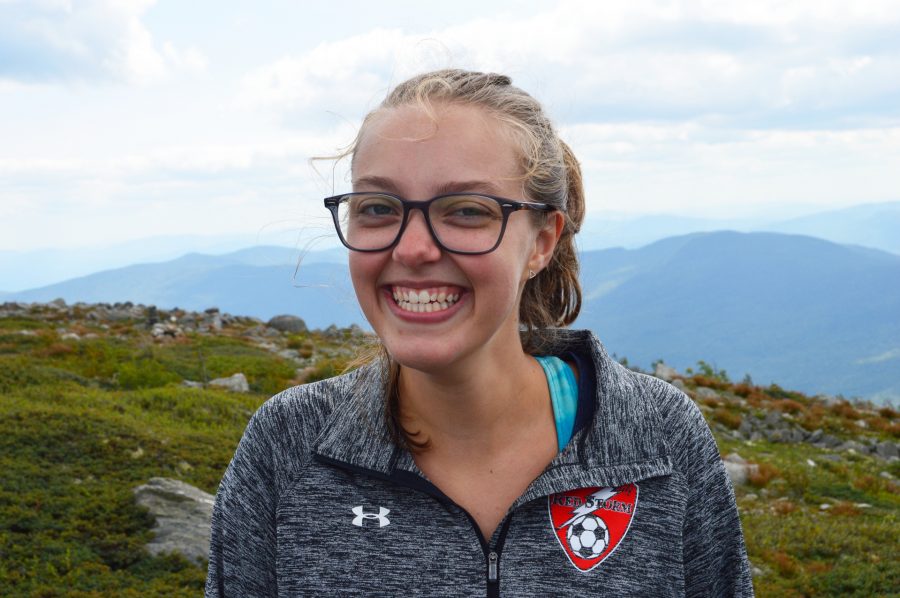 Lexie Jamieson '20 of Scarborough, Maine, a double major in politics and Spanish, has been offered a Fulbright English Teaching Assistant Award for Malaysia.
Jamieson credits her experience at the renowned Seeds of Peace international camp, in Otisfield, Maine, as a transformational episode in her life. Encountering young people from diverse countries and backgrounds opened her eyes to the fact that "the world around me was so much larger than just my bubble in Maine," she says. Since then, "I've been inspired to absorb myself in other similar experiences."
In particular, Jamieson has used the classroom as a venue for lowering cultural barriers. For two years she was a math and writing tutor in Lewiston elementary schools, where she taught many immigrants from Somalia and other East African countries and found creative ways to help them learn English.
"Because of Seeds of Peace, I've been able to connect with students and exchange experiences about our cultures, strengthening my bond with them and ultimately aiding them in the classroom," she says. "I believe that we're capable of overcoming cultural barriers through education."
Jamieson has served as a peer writing and speaking assistant in Spanish in the Academic Resource Commons at Bates. She studied at the Universidad del Salvador, Buenos Aires, Argentina, in 2019, and volunteered as an English-language tutor at an international school in Buenos Aires. She interned for the Maine Democratic Party, for congressional candidate (now U.S. Rep.) Jared Golden, and for U.S. Rep. Chellie Pingree.
A lifelong athlete, Jamieson intends to deepen her community engagement in Malaysia by volunteering for local athletic organizations and coaching youth sports. "I'm excited to involve myself in a place and community where the living conditions are potentially very different from those I've been accustomed to."
After her Fulbright year, Jamieson hopes to work in educational policy making, with a focus on advancing equity within the U.S. educational system.
Signe Lynch '20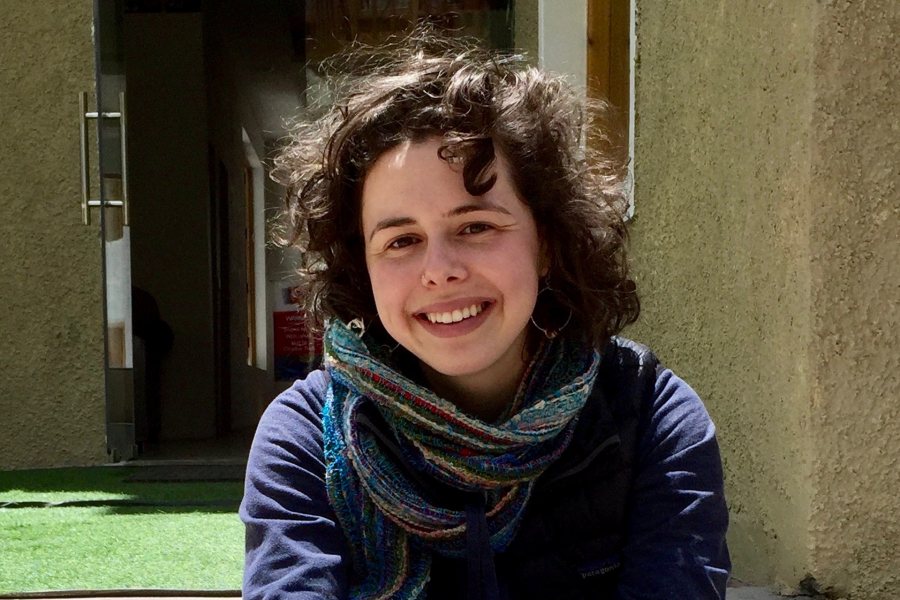 Signe Lynch '20, an environmental studies major from Farmingdale, Maine, has been offered a Fulbright English Teaching Assistant Award for Montenegro.
Lynch credits a 10th-grade social studies teacher with opening her eyes to the transformative power of education. "Knowing from my own experience how valuable a great teacher can be to an individual's life," she says, "I will be an English teaching assistant who makes space for trust and growth, pushes my students' learning beyond the confines of a classroom, and prepares them for wherever their English knowledge may take them."
An education minor at Bates, Lynch has been a peer writing tutor in the environmental studies program and, in Lewiston public schools, taught third-graders with special needs and ninth-grade social studies students.
Inspired by her parents to love gardening and outdoors recreation from an early age, Lynch has parlayed these interests into a commitment to sustainability. She has been director of cabins and trails for the Bates Outing Club since 2017. In 2018 and 2019, with two other environmental studies majors, Lynch conducted a community-engaged, capstone research project examining changes in land use in Auburn, Maine. The project informed that city's own discussions about changes to its 1964 agricultural protection district.
Teaming with a nutrition center and the Lewiston school district, Lynch initiated a composting program at local elementary schools that conserves municipal resources, generates compost for school gardens, and provides valuable lessons to students.
In partnership with the NGO Zero Waste Montenegro, she hopes to achieve something similar during her Fulbright year, establishing composting facilities that support community gardens. Montenegro, she says, has "an excellent climate for growing and a delicious cuisine."
Back in the U.S., Lynch hopes to teach world history at a diverse, under-resourced public high school. "Teaching students who may lack opportunities that others have," she says, "is near to my heart and of the utmost importance as I establish my career goals."
Martha Rabura '20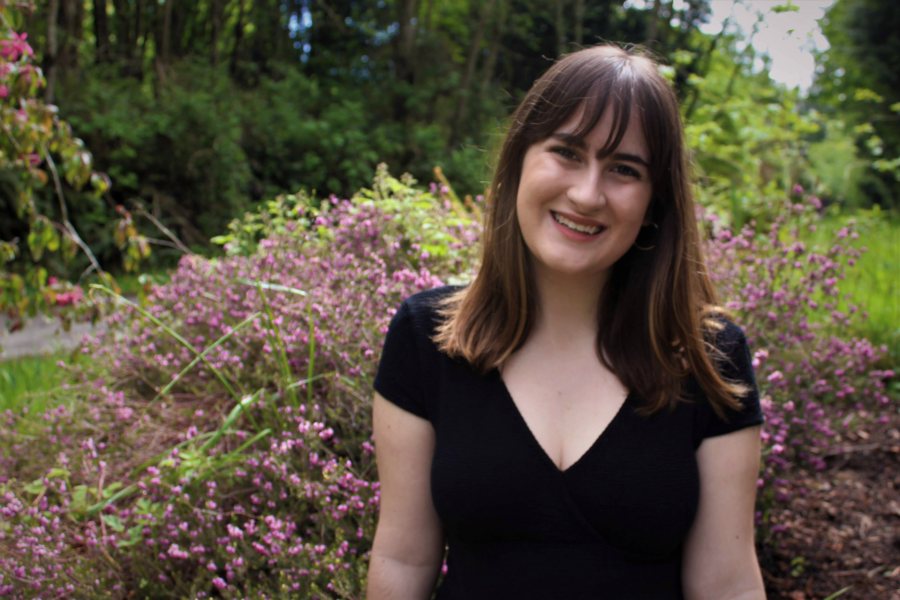 Martha Rabura '20, a psychology major from Port Gamble, Wash., has been offered a Fulbright English Teaching Assistant Award for South Korea.
Scion of a family of teachers, Rabura is an education minor at Bates. She has undertaken a wide variety of placements as a teaching assistant in Lewiston public schools, including working in a special-needs classroom and helping francophone middle-school students with English language learning. She has been a Big Brothers Big Sisters mentor, a counselor for at-risk youth, and, on campus, a peer statistics tutor for the psychology department.
An advanced speaker of Spanish and French and an intermediate speaker of German, Rabura has studied abroad extensively, including more than two months in Chile, a month in China and a semester in France.
She says, "I've learned that countless children struggle to receive a good education and that what is considered a 'good' education varies between cultures." In a Bates course on cultural psychology, "I've further learned about contrasting beliefs about child development and early education between the U.S. and many Asian Pacific countries. These lessons and experiences have inspired me to become an elementary-level English teaching assistant in South Korea."
"My role as a student and a teacher are interwoven when it comes to culture and language. I may be teaching my students about English grammar and American customs, but, in return, I am a student of the people around me, learning about their traditions, history, and perspectives."
Outside the classroom in South Korea, Rabura looks forward to getting involved with the local community by taking local art and cooking classes. In addition, as a former Girl Scout and a troop leader during her time at Bates, she'd like to volunteer with a local scouting troop or similar youth organization.
After her Fulbright experience, she plans to work with immigrant communities in either an education or advocacy capacity.
Madison Rozells '20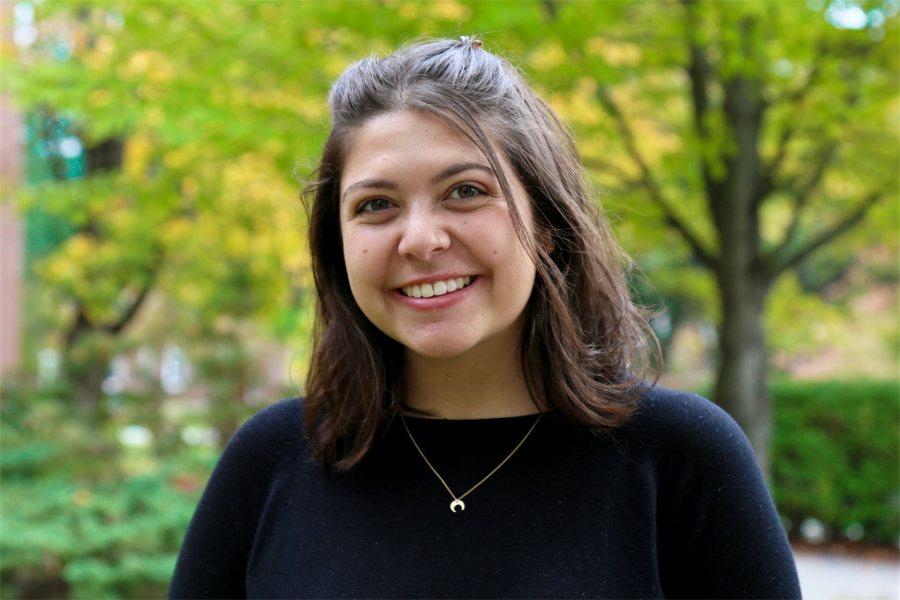 Madison Rozells '20, a double major in English and Spanish from Pacific Palisades, Calif., has been offered an English Teaching Assistant Award for Colombia.
Rozells' teaching experience ranges from private tutoring in English for a Spanish boy, assisting in public classrooms from pre-K to fourth grade, and tutoring college students in both English and Spanish writing. Through America Reads/America Counts, Rozells served as a tutor and teaching assistant in Lewiston elementary schools for two years.
At Bates, she has been a peer writing and speaking assistant for students in a First Year Seminar and in an upper-level Spanish class. She explains, "In these classes, I support both the students and faculty members. As a PWSA for writing Spanish, I give presentations in class about the different genres that students will be working in as they develop their voices in a second language. I also offer one-on-one help."
She continues, "I can relate to students because they and I know that we have been through a lot of the same journey on our way to fluency and to building our own voices."
Active in a student theater group at Bates, Rozells has performed in musicals produced for audiences of local schoolchildren — and, drawing from her own early performance experience, has had good success in the classroom with exercises adapted from theater.
This practice has been especially effective at a local school for students with emotional or behavioral challenges, she says. "I run workshops in which we play theater games and read scenes as a way to help the students grow their social and interpersonal skills. As I work with them and watch their confidence and trust in others grow, I see them begin to make eye contact and converse with me and their peers."
After Colombia, Rozells plans to pursue a doctorate in literature. "My Spanish language skills and the intercultural Fulbright experience will allow me to further immerse myself in the study of global and comparative literature," she says.
Anne Trapp '20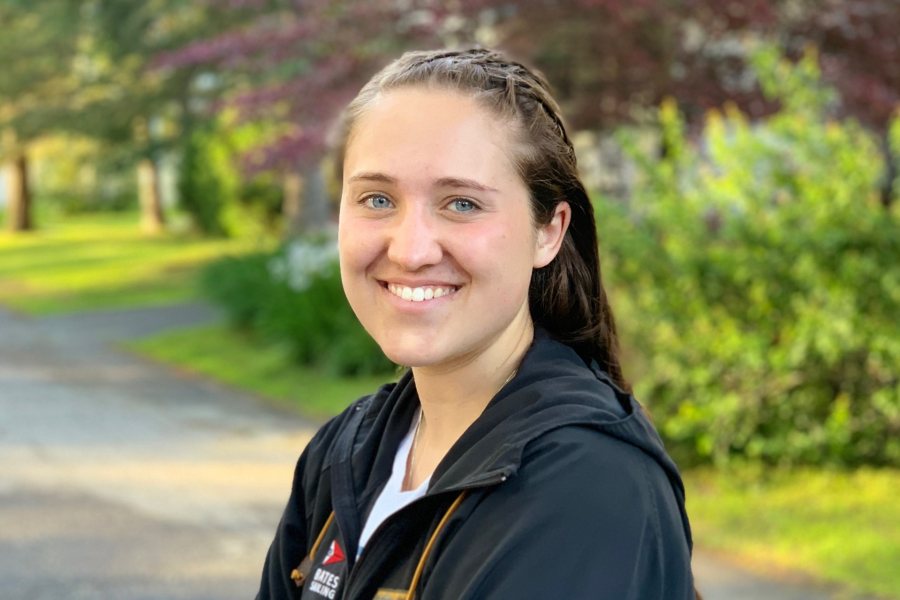 Anne Trapp '20, an environmental studies major from Brunswick, Maine, has been offered both a U.S. Teaching Assistantship by Fulbright Austria and an English Teaching Assistant Award by the Fulbright U.S. Student Program.
Trapp will accept the Fulbright Austria award and work as a teaching assistant in a secondary-school English language program.
Trapp and her sister Greta spent part of summer 2019 on a farm in Austria, the latest of Anne's travels to German-speaking lands. "I'm excited for the USTA year and the opportunity to once again immerse myself in Austrian culture, to share my background and education, and to use my teaching and German-language skills to cross borders," she says.
Trapp adds, "The first life goal I ever made was to become fluent in German. Ever since my high school abroad semester in Germany, I have been fascinated by the language and culture." As a German minor at Bates, Trapp completed seven semesters of course work in the discipline.
Outside of the classroom, Trapp will seek opportunities to immerse herself in the community through theater and sports — specifically swimming, rock climbing, or rowing. "All three sports have helped me integrate into new communities throughout my life," she says.
Trapp has also visited Bhutan, where she studied politics and ecology for more than three months, and Norway, Hungary, and Italy.
Minoring in theater as well as German at Bates, Trapp directed a 2018 production of The Shape of Things by the Robinson Players, the college's student-run theater company, and acted in Robinson Players and theater department productions. Her directorial skills, Trapp says, will help her "engage students and help manage the energy of a large classroom" in Austria.
After her Fulbright Austria experience, Trapp plans to pursue advanced degrees in English or environmental studies, with the ultimate goal of teaching environmental literature at the high school or college levels. She also hopes to return to Europe for a German-language master's program.
Danielle Ward '20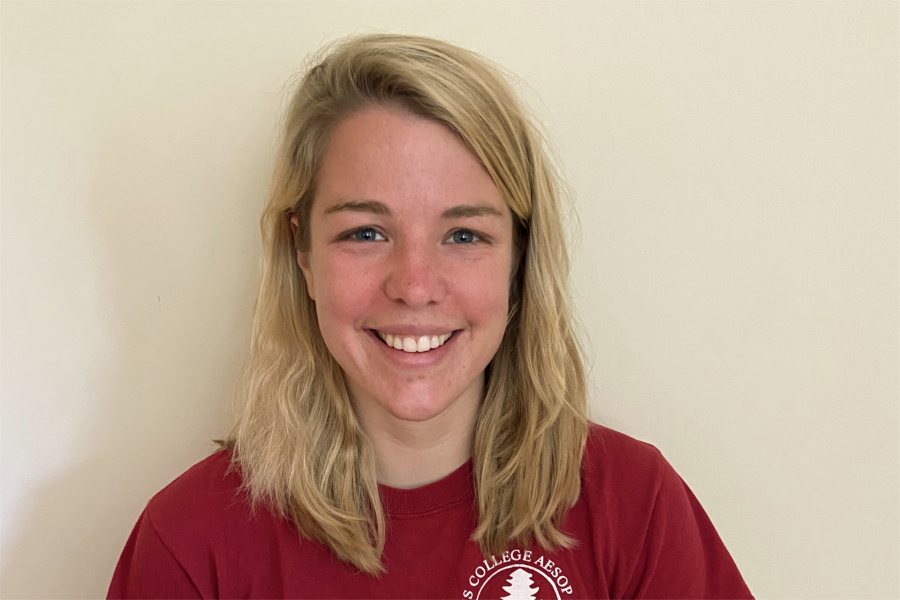 Danielle Ward '20 of Atlantic Highlands, N.J., a double major in environmental studies and English, has been offered an Open Study/Research Award for Brunei, a country on the island of Borneo.
Working with Professor Johan Frederik Slik of the Universiti Brunei Darussalam, Ward will research large-tree ecology in Bruneian rainforests. Specifically, she will quantify and characterize trees within a permanent plot in the Andulau Forest Reserve.
Large trees, which are defined as those with diameters of 50 centimeters or more, "play a critical role in rainforest dynamics in Brunei and, more broadly, in climate change," Ward says. "However, information about them is limited." She will also map, inventory, and assess the health of large-tree species across a variety of parameters.
The data she collects will enable Ward to quantify the carbon storage of the trees she studies. These assessment methods "can be applied to other ecosystems, which will allow researchers to draw important comparisons between forests in Brunei and elsewhere," she says.
Ward points out that Brunei stands out in Southeast Asia for its robust forest protection policies. "Work that highlights the importance of old-growth trees is in line with the country's recognition of its forests as culturally valuable assets." She adds, "I hope to gain an understanding of local peoples' perceptions, appreciations, and challenges with their rainforests through personal discussions. This will help me contextualize my own research, as well as connect with local communities."
Ward has undertaken a variety of trainings and internships related to forestry, including a field internship with the Forest Ecosystem Monitoring Cooperative in Vermont.
At Bates, Ward wrote a senior thesis on Maine lichen for her environmental studies major (she also completed a thesis for her English major). She served as president of the college Outing Club this academic year (its 100th) and led three wilderness trips for Bates' annual orientation program for first-year students. She is an Appalachian Trail through-hiker.
Ultimately, Ward says, "I plan to pursue a career in environmental journalism."
Fulbright U.S. Student Awards: Young alumni
Jacob Atwood '19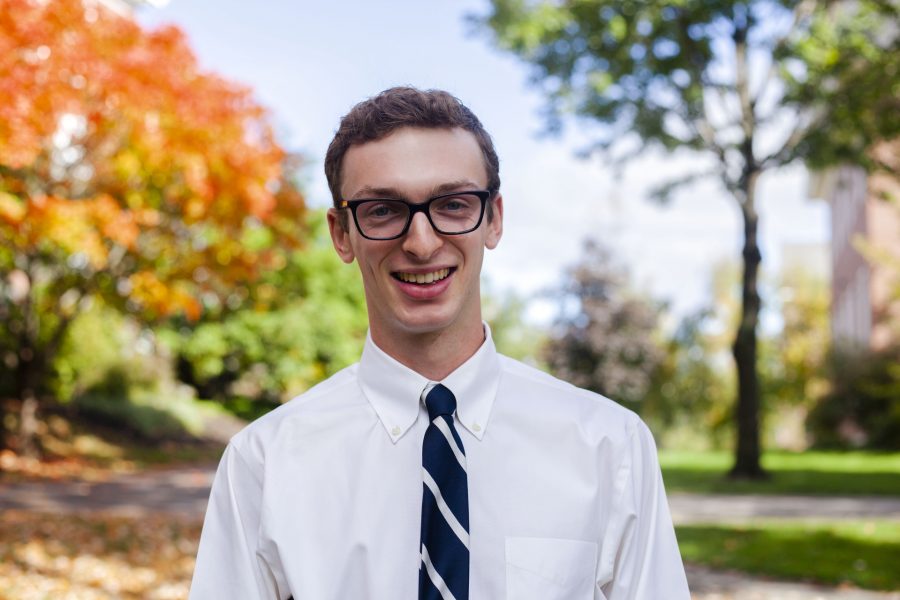 Jacob Atwood '19, an English major from Natick, Mass., has been offered an English Teaching Assistant Award for Mexico.
Since 2019, Atwood has been a world-languages teacher placement counselor at a firm that supports educational organizations with faculty recruitment, leadership searches, and consulting.
His teaching experience includes serving as a teaching assistant in an English as a Second Language program at Lewiston High School and, on campus, as a peer writing tutor for first-year students and a teaching assistant for a psychology course.
A Spanish minor at Bates, Atwood spent the fall 2019 semester studying in Spain, choosing to speak only Spanish and travel only within the country.
That was his favorite semester ever, Atwood says. "My language pledge meant that even buying candy was an opportunity to publicly err, to improve my language skills, and to connect with a stranger. I loved having the sense that every phrase I chanced and every sentence I tried to understand would better prepare me for the next conversation."
He adds, "The best and most formative experiences of my life have been characterized by a commitment to similar risk-taking endeavors. I'm drawn to a Fulbright ETA for the opportunity to embrace my vulnerability in order to build cross-cultural relationships and grow."
An avid ultimate frisbee player, Atwood hopes to parlay this obsession into a deeper connection with his community in Mexico. He hopes to join a local team and help teach ultimate. "I'll bring my experience playing on a multicultural, multilingual men's and women's ultimate frisbee team in Madrid," he says. "All you need to play is a group of people and a frisbee, and I will bring many frisbees with me to Mexico."
After his Fulbright experience, Atwood hopes to remain in the field of education. He says, "By continuing to work with teachers who engage their students with the Spanish-speaking communities of the world, I'll contribute to the efforts of independent schools to make their curriculums more inclusive."
Caroline Caldwell '15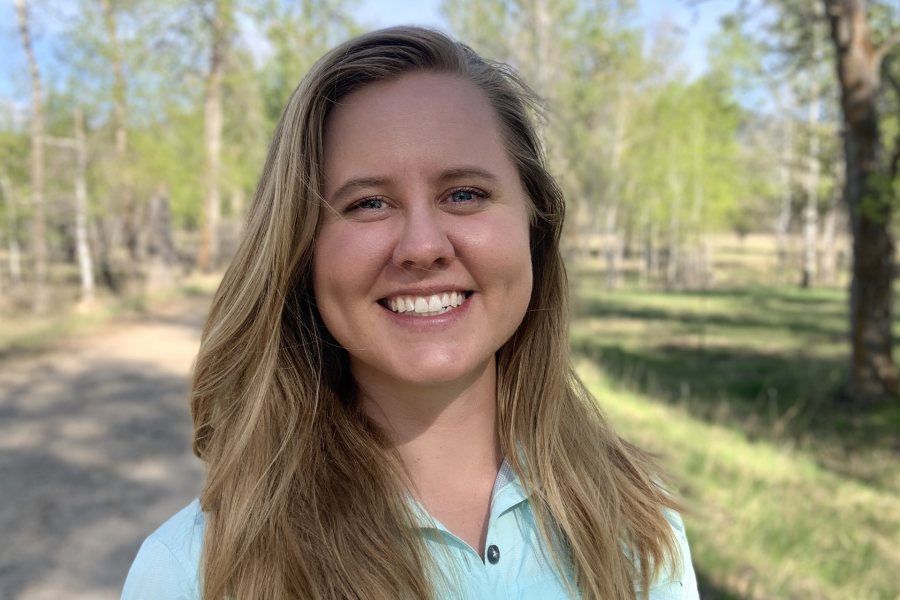 Caroline Caldwell '15, an environmental studies major at Bates who is now a rancher in Missoula, Mont., has been offered a Fulbright Open Study/Research Award for a year in Christchurch, New Zealand.
Working with Alison Bailey, professor of farm management, Caldwell will earn a master's degree in management in agribusiness from Lincoln University. Combining formal coursework with independent research at local farms, she will explore relationships between land, agriculture, and bio-economic systems in the context of world markets.
Caldwell will work with farmers to create business plans that combine science-based innovation with local knowledge, the objectives being to improve business performance and regenerate farmland. "Through this degree, I'll be able to support the ecology and economy of agriculture locally, foster agricultural trade internationally, and help guide us towards a climate-resilient, productive, and environmentally sustainable future," she says.
For her senior thesis at Bates, Caldwell analyzed the workings of three organizations dedicated to farmland preservation."Caroline excels at thinking across systems and drawing out information, finding patterns, and building from them," says her thesis advisor, Holly Ewing, professor of environmental studies and Christian A. Johnson Professor of Interdisciplinary Studies.
An Otis Fellowship recipient at Bates, Caldwell went on to receive a Thomas J. Watson Fellowship to work on livestock properties in Finland, New Zealand, the Falkland Islands, and Australia.
During her Fulbright year, in addition to her academic work, Caldwell will take part in ranch activities and attend low-stress stockmanship clinics and regenerative agriculture workshops. A member of the women's rowing team that claimed the first NCAA team championship in Bates history, in 2015, she hopes to join a rowing club in Christchurch, as well as to swim and coach swimmers.
Caldwell ultimately wants to work with an international NGO on issues of agriculture in the context of global trade, climate change resilience, and economic sustainability. "My unique background will bring a fresh approach to a career with such an organization," she says.
Hannah Singer '18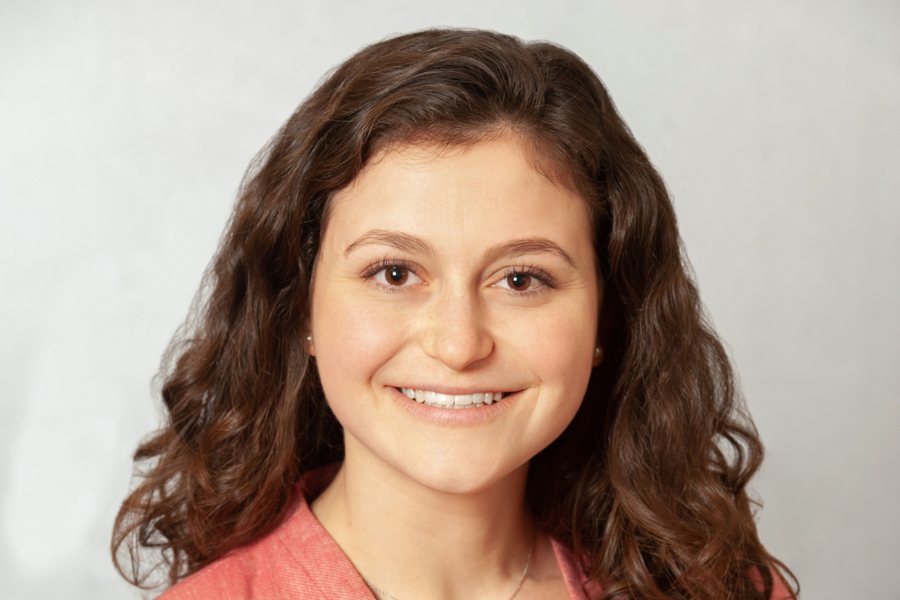 Hannah Singer '18 of New York City, a sociology major, has been offered an English Teaching Assistant Award for Spain.
Since September 2019, Singer has worked as an intake coordinator for Health Law Advocates' Mental Health Advocacy Program for Kids, based in Boston. From 2018 to 2019, she was an AmeriCorps Fellow at AmeriCorps Legal Advocates of Massachusetts.
An education minor at Bates, Singer will bring to her Fulbright classroom extensive experience with diverse students from elementary through high school age. In addition, she held a summer internship in 2017 creating online grammar and writing exercises for Quill, a nonprofit that works to increase student literacy around the world.
Singer worked in a variety of educational settings during her time at Bates — as a literature circle facilitator in a program for English-language learners, a teaching assistant in a middle-school literacy program, and an English and math tutor for students at Maine Immigrant and Refugee Services.
"Those experiences taught me the importance of being flexible in order to accommodate the needs of all students and create a positive learning environment," Singer says. "As an ETA in Spain, I want to continue working with students with a wide range of backgrounds and abilities. I'll design lessons that allow my students to learn from each other and focus on inclusion."
Outside the classroom, she plans to volunteer at an after-school program and offer English tutoring to both young people and adults in her area. If circumstances permit, she adds, "I look forward to engaging with and exploring the arts community, as someone who has always loved ceramics."
After her Fulbright experience, Singer plans to earn a Master's in Education or attend law school. Dedicated to supporting underserved communities, she hopes to continue her work with children either in a school setting or as an advocate for their educational and mental health needs.
View Comments