Bates announces $120 million campaign, largest in its history
Bates College announced the public phase of the most ambitious fund-raising effort in its history Oct. 9 – a $120 million campaign focused on endowment for greater student financial aid, academic programs and facilities improvements.
About 500 students, parents, faculty and staff members gathered by Lake Andrews on the Bates campus for the official campus launching of the campaign, called: The Campaign for Bates: Endowing Our Values.
The fund-raising effort includes endowment, annual giving and capital improvements, and focuses on five objectives:
Increased endowment for financial aid ($45 million)
Increased endowment for academic programs and more equitable faculty compensation to keep Bates competitive with its college peers ($20 million)
Increased unrestricted endowment to provide steady annual revenue for all college operations ($10 million)
Increased annual giving for the college operating budget through the Bates Fund ($25 million)
Increasing funding to support improved campus facilities ($20 million)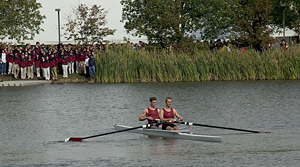 The campaign will end in 2006 – at the conclusion of the 150th anniversary celebration of the College's founding in 1855 – and the college is already more than 60 percent toward its goal. Through Oct. 1, leadership gifts, including commitments from all 40 members of the College's Board of Trustees, each of its senior administrators, and from a select group of alumni, parents and friends, have pushed the total to $73.5 million.  Included in the current tally are 15 gifts and pledges of $1 million or more.
The endowment-focused effort reflects the steps Bates is taking to bring its level of financial resources in line with its national reputation for excellence.
In her address at the launch ceremony, Bates President Elaine Tuttle Hansen said that the college's "culture of academic rigor, independence, open exchange, and service must be matched with an equal culture of philanthropy."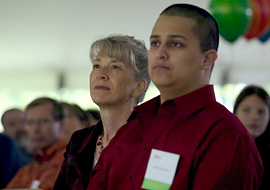 Hansen noted a growing gap "between the super-rich colleges and the more moderately endowed, like Bates. Bates came later than most of the other colleges that we compete with to the realization that frugality was not enough, that fund-raising was critical; along with our New England values went pride in our independence, self-reliance, and polite reluctance to talk about money. But pride of another sort—pride in our extraordinary level of accomplishment—now motivates us to mount a campaign for the support that an institution of this caliber requires and deserves."
At a tent filled with tables next to Lake Andrews, guests were asked to write on cards their hopes for Bates' future. Those cards were placed in a racing shell, and from a dock on Lake Andrews the Bates rowing team symbolically launched the campaign with these aspirations in the shell, rowing across the lake.
The master of ceremonies at the launching was College Trustee Michael Bonney of Sudbury, Mass., president and CEO of Cubist Pharmaceuticals and a 1980 Bates graduate.
"Bates is powerful and necessary today," Bonney said. Bonney told the audience of his own wish for Bates' future: "As a member of the Board of Trustees, I have learned that the only way to ensure our continued strength is to raise much more money for the college than we've ever raised before.  A former parent told Elaine two years ago: 'Bates has everything—great faculty, wonderful students, the perfect environment for learning, attention to the individual, a set of values that make everyone who touches the college better.  It has everything except money.'
"This is true, and we are now at a very important point in Bates' history," he said. "In order to continue achieving at the level we all expect, we must raise significant funds.  We're all going to need to stretch.  We provide the same quality education as our NESCAC peers, yet our yearly operating budgets are much smaller.
"While we can applaud the College for doing 'so much with so little,'" Bonney said, "we all know that this is not good for the long term, because it cannot be sustained."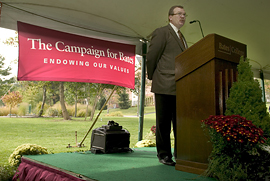 Bonney noted that the Bates community includes more than 170 faculty members, 500 staff, 1,700 students, 20,000 alumni and 4,000 parents of students. The campaign announcement was made as part of this year's Parents and Family Weekend on the campus.
Bates has had three fund-raising campaigns in its recent history, raising $59.3 million in a campaign that ended in 1996; $21 million in a campaign that ended in 1984; and $6.8 million in a campaign that ended in 1974.