Campaign launched for alumni during Homecoming Weekend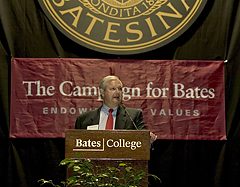 Hundreds of alumni, faculty, students and friends met over a harvest dinner in Merrill Gymnasium Oct. 30 to celebrate the alumni launch of The Campaign for Bates: Endowing Our Values, a comprehensive fund-raising effort to raise at least $120 million by June 30, 2006.
More than $78 million has been raised to date, announced keynote Trustee speaker Tom Renyi P'97, P'04, who serves as campaign co-chair with Joseph Willett '73.
Making the campaign case, Renyi told the audience that Bates provides "the same quality education as our peers, yet our yearly operating budgets are much smaller." A major reason, he said, is that "an essential component of our resources, the endowment, is much lower." Renyi observed that Bates' heritage of doing "so much with so little" is laudable, but not sustainable if the College wishes to retain its high ranking in the academic world.
All Trustees have given to the campaign, he noted. "We have stretched and continue to stretch because we are committed to moving the College forward. Now, we are prepared to ask all our constituents to join this effort by also making stretch gifts. We must raise $43 million more in 20 months. We are asking everyone to join us in this effort."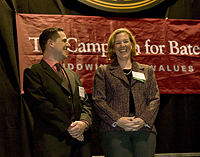 The second in a series of eight campaign launch events this fall, the evening also featured a welcome from Burton Harris '59, P'89, chairman of the Board of Trustees, as well as personal Bates stories from members of the College community, including Dana Professor of French Richard Williamson P'05, alumna Karen Konecki Goober '68, and President Elaine Hansen.
Student Luis Martinez '05 of Cleveland, Ohio, described how he was once fully engaged in his political science major — that is, until he headed to Florence for a junior year abroad. There, he discovered a passion for art history. Upon his return to campus, and after convincing his advisers that his new-found interest wasn't just the "Florence bug," Bates professors and deans guided his efforts to map out the academic courses needed to graduate with a major in the history of art and visual culture.
"The beauty about Bates is that not only does it recognize how a unique learning experience can change a student's future, but it also provides the resources, support and guidance to make that change a reality," Martinez said. "My hope for Bates is simply that all of us here become open to growth. You have to go out there and expose yourself to the opportunity. I came to Bates a boy and will leave a man because I wasn't afraid to try something new, to readjust old priorities and beliefs."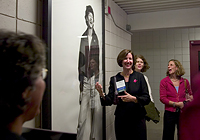 The evening also included two major Alumni Association awards. Kitty Northrop Friedman '95 and Peter Friedman '92, both members of the Campaign for Bates steering committee and active Bates volunteers, received the Young Alumni Distinguished Service Award. Jim Carignan '61, dean emeritus of the College, was awarded the Alumni Community Service Award for his extensive civic involvement, including service to more than 25 boards locally and at the state level, mostly in the areas of education and community development.
View Comments