The Rev. Peter Gomes '65, a 'joyous man,' remembered in Chapel observance
The mourners who gathered in the Chapel today to remember the Rev. Professor Peter J. Gomes '65 stayed silent when the Rev. Bill Blaine-Wallace, Bates' multifaith chaplain, asked for remembrances and reflections.
After a full minute, Helen Archambault, a longtime resident of College Street and widow of a member of the Class of 1940, rose from her pew and spoke. "Peter Gomes was a joyous man," she said. "I just loved him."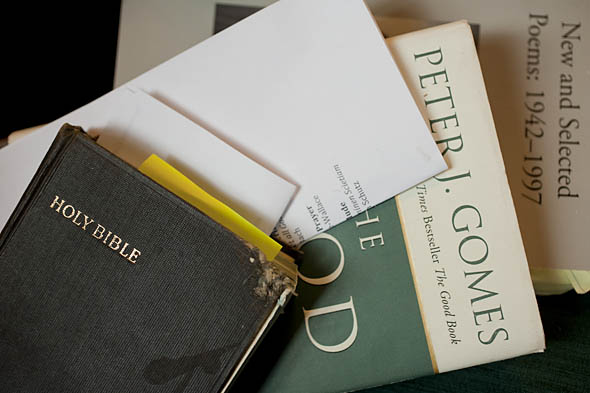 Gomes, friend of many and a brilliant preacher, influential author and principled religious voice in America, died Feb. 28 at age 68. He was the Plummer Professor of Christian Morals and Pusey Minister in the Memorial Church at Harvard University. A College-wide memorial service at Bates is being planned for a future date.
The silence preceding Archambault's simple words seemed to respect Gomes' stature and the might of earlier readings.
The first was by Carl Benton Straub, professor emeritus of religion and the Clark A. Griffith Professor Emeritus of Environmental Studies. Straub, too, said he was feeling tentative about adding words to the Gomes legacy.
"What can we say in simplicity about this complex man?" he asked. "What syllables can condense his journey? What reading deserves to break the silence to join the music he relished?"
Answering his question, Straub quoted Gomes' friend Diana Eck, the Harvard religion and Indian studies professor, who said last week that Gomes was "on speaking terms with generations of the dead." Straub said that Gomes use those conversations as a way "to call upon past generations' vision and vitality to discipline the present and to deter it from running off course."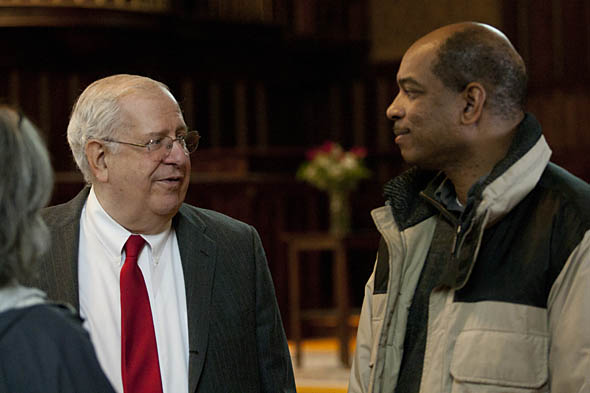 Straub offered two readings that allowed mourners to "listen in" on conversations from 17th-century Puritan society, "a generation that was especially treasured by Gomes."
Straub read Samuel Sewall's 1697 tribute to Plum Island, off the coast of Newburyport, Mass. Sewall's tribute is full of place names as he "sings the constancy of nature as assurance of the continuity of faith":
As long as Plum island shall faithfully keep the commanded Post, Notwithstanding the hectoring words and hard blows of the proud and boisterous ocean; As long as any Salmon or Sturgeon shall swim in the streams of Merrimack, or any Perch or Pickeril in Crane Pond…. As long as Nature shall not grow old and dote, but shall constantly remember to give the rows of Indian Corn their education by Pairs; So long shall Christians be born there and being first made meet, shall from thence be translated to be made partakers of the Saints of Light.
Straub then read a poem by Anne Bradstreet in which she employs a common Puritan tactic of a sea voyage as metaphor for life and afterlife:
He that is to sail into a far country, although the ship, cabin, and provision be all convenient and comfortable for him, yet he hath no desire to make that his place of residence, but longs to put in at that port where his business lies. A Christian is sailing through this world…must beware of desiring to make this the place of his abode, lest he meet with such tossings that may cause him to long for shore before he sees land. We must, therefore, be here as strangers and pilgrims…and wait all the days of our appointed time till our change shall come.
The second readings were by Bill Hiss '66, a contemporary and close friend of Gomes'. Hiss spoke of Gomes' life of "helping young people make decisions." He read from Gomes' book The Good Life, in which Gomes writes that young people today do "sense their own drift" in a world where many are disconnected from traditional sources of guidance, such as family, church, school and state.
Yet, Gomes writes, "young people want a good life, true happiness, and a chance to do something worth doing. They want…to live so as to leave the world a better place than the mess that they have inherited…. It is for such as these that I have written this book."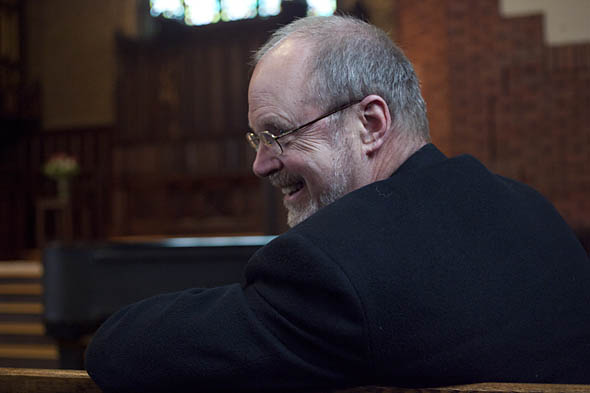 Hiss read from Psalm 39 ("And now, Lord, what wait I for? My hope is in thee") and concluded with a 23-word poem by the late Professor Emeritus of English John Tagliabue:
The dangers
like typhoons
that stand at the Door of Love
must be given flowers
and called by the
names of the gods.
The aforementioned Helen Archambault offered the first remembrance, which included a funny story about hosting a dinner party on a rainswept night on College Street. The normally natty Gomes, in town visiting his friends Norm '22 and Marjorie Ross '23, arrived at the Archambaults wearing way-oversized rain gear borrowed from the Rosses. Sweeping through the door, he channeled his inner Katharine Hepburn, announcing theatrically, "Guess who's coming to dinner!"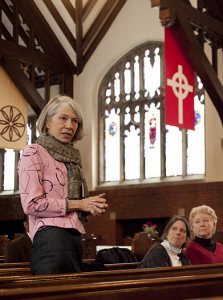 President Elaine Tuttle Hansen spoke of receiving a story from a Bates friend who knew first-hand of Gomes' rehabilitation efforts following his stroke in December. The friend told of Gomes' firm request as he entered rehabilitation: That someone get him a Bates shirt (collared, of course)  that he could wear while he set about to improve his condition.
One serendipitious attendee at today's remembrance, Eleanor Zerby Blankenbaker, reminded mourners just how far back Gomes' contributions to Bates go.
Blankenbaker is the daughter of the late Rayborn Zerby, the noted Bates religion professor and dean of the faculty in the early 1960s, and she and her husband are in town for tonight's Zerby Lecture in Contemporary Religious Thought. Back in April 1965, the faith-based Campus Association, with Gomes as president, created the lectureship, a signature event now, to honor Zerby upon his retirement.
View Comments