Corrie leads choir in performances of 'Carmina Burana,' holday carols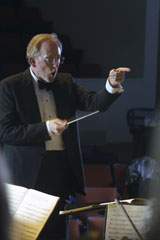 Directed by John Corrie, a member of the Bates music faculty since 1982, the Bates College Choir and other student musicians offer two very different programs in December. Both are open to the public at no cost.
At 8 p.m. Friday and Saturday, Dec. 3-4, the college choir performs "Carmina Burana," Carl Orff's driving, evocative setting of 13th-century poems dedicated to nature, sensuality and the inexorable machinery of fate. The performance takes place in the Olin Arts Center Concert Hall, 75 Russell St. For more information, please call 207-786-6135.
At 5 p.m. Sunday, Dec. 12, the choir and singers from Bates a cappella groups gather in the college chapel, College Street, for "Carols by Candlelight: A Communal Singing of Carols." Corrie will accompany on the chapel's 1982 Wolff organ. For more information, please call 207-786-8272.
"Carmina Burana" may get its broadest exposure nowadays through the popularity of its opening theme as end-of-the-world movie soundtrack music. But in fact Carl Orff's monumental choral work is a musical setting of poems, dating back to the 12th century, that celebrate nature, fate, tavern society and especially love.
"Carmina Burana" is the title that Johann Andreas Schmeller gave to the collection of these poems, some in German and most in Latin, that he published in 1847. Their source was a 13th-century German manuscript from a Benedictine abbey in the Bavarian city of Benediktbeuren.
"I based the decision to perform the 'Carmina' on the desire to find a large choral work that is as much an orchestra work," says Corrie. Accompanying the 72-voice choir will be a 50-piece orchestra, composed mostly of students.
"This music has been used in so many ways — for movie soundtracks and commercials for jewelry, automobiles and even football," Corrie notes. "People will certainly recognize this music."
For the year's edition of the annual "Carols by Candlelight" program, members of the choir and four a cappella groups — the all-female Merimanders, the all-male Deansmen and Manic Optimists and the mixed-gender Crosstones — will sing holiday music. The program is still being finalized, but will include two contemporary works, Morten Lauridsen's "O Magnum Mysterium" and John Tavener's "The Lamb."
A Lewiston resident, Corrie is a lecturer in music at Bates, where he directs the choir and teaches harpsichord, organ, voice and musicianship. Since 1982, he has been organist and choir director of the Church of St. Mary the Virgin, Falmouth. He performs throughout Maine and New England as a singer and on harpsichord and organ.
"My particular historic musical interest is in the Baroque," Corrie says, "particularly works by Bach, Rameau and DuPhly on the harpsichord. But working with students has allowed me to expand my interests in other time periods as a pianist-accompanist."
"I would characterize my work with Bates students as the sharing of the joy of music making, no matter what the literature," he says. "Their energy and skill bring the delight and wonder to creating wonderful sounds together."
Corrie holds degrees from Oberlin Conservatory, Northwestern University and Yale University. In 1972-73, he attended the renowned Hochschule für Musik in Vienna, Austria, as a Fulbright-Hays scholar.
View Comments