Basketball teams start 2004-05 undefeated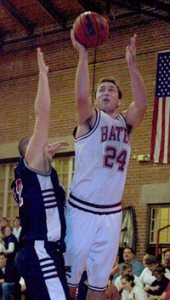 Both the men's and women's basketball teams have gotten off to impressive starts at Bates College, with both teams undefeated through the first three weeks of the season.
The men's team is off to the best start in program history, winning its first eight games, including tournament titles at Brandeis, UMass Boston and Norwich. The Bobcats have dominated the competition, winning by an average of more than 17 points and leading at halftime in all but one game. The team also started the Colby-Bates-Bowdoin series with a win, defeating Bowdoin in Brunswick, 85-66.
The women's team is ranked 21st nationally by D3hoops.com. The Bobcats are 6-0, gaining national attention with a 61-37 drubbing of the University of Southern Maine, ranked second nationally, in the third game of the season. Olivia Zurek '05 (Arlington, Mass.) was named the NESCAC Player of the Week on Dec. 6 and became the 13th member of the 1,000-point club earlier this season.
The men face the University of Maine at Farmington at 7 p.m. in Alumni Gymnasium on Wednesday, while the women host the University of Maine at Presque Isle on Friday at 6:30 p.m.
For the latest sports news, scores and updates, visit the Bates Athletics Web site.
View Comments