MLK Day events highlight legacy of labor, justice, and dignity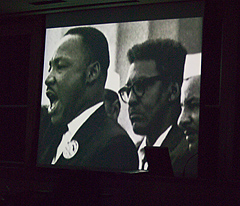 The Rev. John Mendez, pastor of the Emmanuel Baptist Church, Winston-Salem, N.C., and the Winston-Salem Chronicle's 1994 Man of the Year, is the keynote speaker for the 2005 Martin Luther King Jr. Day observances at Bates College. Classes at the college are canceled and special programming is scheduled throughout the day with an emphasis on the theme From Montgomery to Memphis: Martin Luther King's Legacy of Labor, Justice and Dignity.
Scheduled for 10:45 a.m. Monday, Jan. 17, in the Bates College Chapel, Mendez's address is part of a celebration of King's life and work that includes performances, workshops, exhibitions and a debate with Bates, Morehouse and Spelman college participants. All events are open to the public free of charge. For more information, call 207-786-6400 or see a complete list of scheduled events for Martin Luther King Jr. Day.
On the eve of King's 1968 assassination, the civil rights leader was in Memphis, Tenn., organizing striking sanitation workers and planning for a poor-people's march in the nation's capital. King's support for non-unionized labor is a central component of his legacy that is often overlooked, says John McClendon, associate professor of African American and American cultural studies at Bates. Chaired by McClendon, the Bates committee that organizes the annual observance of King's birthday chose to recognize King's commitment to labor as this year's theme.
MLK Day events at Bates start with an opening reception at 4:30 p.m. Friday, Jan. 14, in Chase Hall Gallery, Campus Avenue, for Unfree Labor and the Production of Language: An Exhibition of Words, a display curated by Czerny Brasuell, director of multicultural affairs, and Baltasar Fra-Molinero, associate professor of Spanish. On display through Jan. 24, the exhibition showcases artifacts reflecting the Creole languages that arose as a result of slavery and the African diaspora.
In a second exhibition honoring King's birthday and Black History Month, the college displays The Photography of Griffith Jerome Davis from Jan. 10 to Feb. 15 in the George and Helen Ladd Library. The first roving editor for Ebony Magazine, Davis was a photojournalist and U.S. foreign service officer who was mentored by the Morehouse College President Benjamin Mays, Bates Class of 1920. The exhibition includes images from the U.S. civil rights movement, the independence movements of Africa and African American life in segregated Atlanta. Davis' daughter, Dorothy Davis, will speak about his life and work at 4:45 p.m. Monday, Jan. 17, in Ladd Library.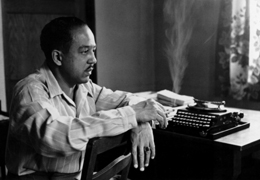 The college also co-sponsors an annual MLK Day Read-In where faculty, staff, students and members of the community will share a picture book with Martel School students in grades 4-6 at 1 p.m. Thursday, Jan. 20, and Friday, Jan. 21. Those interested in volunteering should e-mail Brooke Miller at this bmiller@bates.edu or call 207-786-8273.
The King Day observance begins on the eve of the holiday, at 7 p.m. Sunday, Jan. 16, with a memorial service of worship, including a sermon and music,  in the College Chapel, College Street.
Student debaters from Bates, Morehouse and Spelman colleges kick off King Day itself when they argue the topic, "College Employees Should Unionize." The debaters will be introduced at 9 a.m. Monday, Jan. 17,  in Chase Hall Lounge, Campus Avenue.
The debate will begin at 9:30 a.m. The match has historic resonance for the schools, which share a continuing commitment to collaborative projects. Founded in 1881, Spelman is one of the nation's most highly regarded colleges for women. The nation's largest liberal arts college for men, Morehouse was Martin Luther King Jr.'s alma mater. One of its longtime presidents was Bates graduate and accomplished debater Benjamin Mays,  a lifelong adviser to the great civil rights leader and the assassinated King's eulogizer in 1968.
The Rev. John Mendez delivers his 10:45 a.m. keynote address in the Bates College Chapel.
A native of New York City, Mendez has pastored the Emmanuel Baptist Church in Winston-Salem for the past 21 years. Noted for his contributions to civil and human rights, Mendez has served as a consultant on many fact-finding missions, including investigations of Hawaiian land rights; pollution on Vieques Island, Puerto Rico; U.S. war crimes in Nicaragua and El Salvador; peace initiatives in Angola; the Mount Graham Apache Sacred Site; and the land rights of the Black Hills Lakota.
Widely recognized for his activism and community service, Mendez has received the Wendell-Wake County NAACP Humanitarian Award, the President's Award of the Winston-Salem NAACP and Honorary Keeper of the Constitution given by the North Carolina Secretary of State.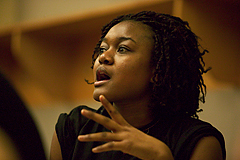 An experienced lecturer, Mendez is a founding member of Re-framing the Dialogue on Racism, an organization that recruits, trains and builds a community of 100 white clergy from different denominations across the country to create strategies, ministries and programs at the congregational level that address racism in the white community.
Mendez participated in a pilot project on the black church's economic responsibility for a new urban agenda at the Harvard University Divinity School. Mendez is a graduate of Shaw University in Raleigh, N.C.; Southeastern Baptist Theological Center in Atlanta, Ga; and the New York-based Postgraduate Center of Mental Health in pastoral counseling, psychoanalysis and psychotherapy.
A series of concurrent Monday afternoon workshops hosted by various academic departments and student organizations begins at 1:15, 2:30 and 3:35 p.m. respectively in Pettengill Hall in classrooms throughout the building. The workshops, featuring speakers and discussion, will focus on labor justice. Topics range from the life of 19th-century African American Bates alumna Stella James Sims to the interaction between King-era social activism and labor, from Lewiston labor history to impacts of the Vietnam War on the U.S. working class. For more information about the workshops, call 207-786-6400 or see a complete listing.
The afternoon's events culminate with Dorothy Davis' 4:45 p.m. talk in Ladd Library about her father, Griffith Jerome Davis, and his life, work and close connection to Morehouse College president Benjamin Mays '20. A pathfinder in the field of international public affairs and special events, Ms. Davis has built international platforms for dialogue to promote respect for cultural differences. Her multicultural consulting firm, The Diasporan Touch, extends her commitment to build bridges between people, cultures and issues worldwide. The firm's clients include the Executive Office of the Secretary General of the United Nations, the World Health Organization and The Alliance of Mayors and Municipal Leaders on HIV/AIDS in Africa. Davis also manages and curates "Photos by Griff Davis," her father's 55,000 photographic images.
The entire King Day observance concludes with a performance at 7:30 p.m. in the Olin Arts Center Concert Hall featuring The Fruit of Labor Singing Ensemble, the cultural arm of the civil rights and worker rights organization Black Workers for Justice. The six-member group performs songs from the history of people's movements for social change, using African American music styles of rhythm & blues, gospel, reggae, jazz, folk, work songs and chants. The ensemble's interactive performance includes a video presentation and invites audience participation.
View Comments